Note: The following is the third post in a series of posts from GET//OUT regarding its BLgT USA 50-state food tour. Each week, we'll be sharing updates, photos and more as the BLgT team travels across the country helping to raise awareness about and celebrate LGBT equality.
New England is a wrap! From the countryside of Connecticut to the coast of Maine, the BLgT Burban (officially nicknamed "Ginsburg") crossed through New England, collecting stories, and getting people out for BLgTs. Seven states down, forty-three to go. Thanks for sharing the sandwich love.
We began week two in Avon, Connecticut, which was a homecoming for co-founder Taryn Miller-Stevens. Her family's third generation business, Miller Foods, hosted the event and raised $1,000 for community partner New Haven Pride Center. After Connecticut, we trekked east to Providence, Rhode Island, to spend time with the brilliant kids at Youth Pride, Inc, our Rhode Island community partner. Departing from Providence, we arrived in Portland, Maine, to get out for a special BLgT (oh heyyy, guanciale) with Equality Maine at East Ender. And we closed out the region in Boston, connecting with Kickstarter backers and taking a moment to view rainbow sky dancing art. Not a bad first leg.
The Sandwiches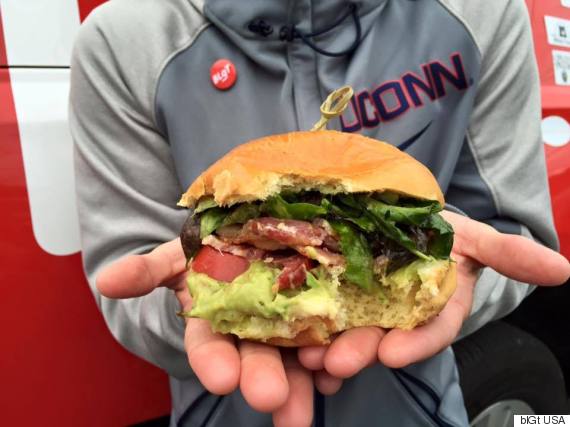 Avon, CT: Bacon, Lettuce, Tomato, with guacamole on homemade potato rolls made by Chef Chris Prosperi of Metro Bis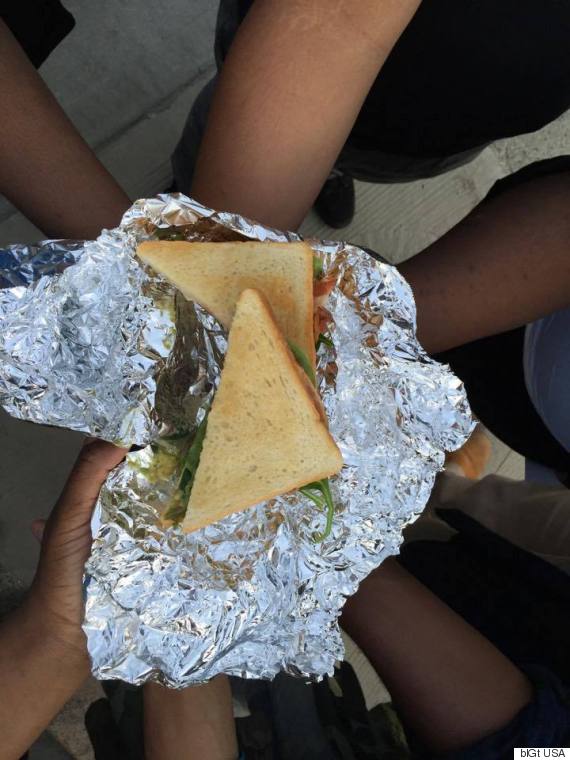 Providence, RI: Bacon, Lettuce, Tomato, with guacamole made by Thee Red Fez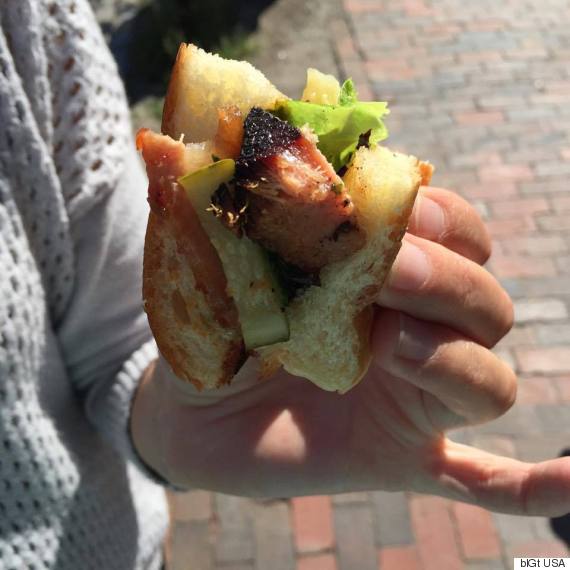 Portland, ME: Bacon (pork belly), Lettuce, Tomato Jam with guanciale made by Chefs Karl Deuben and Bill Leavy of East Ender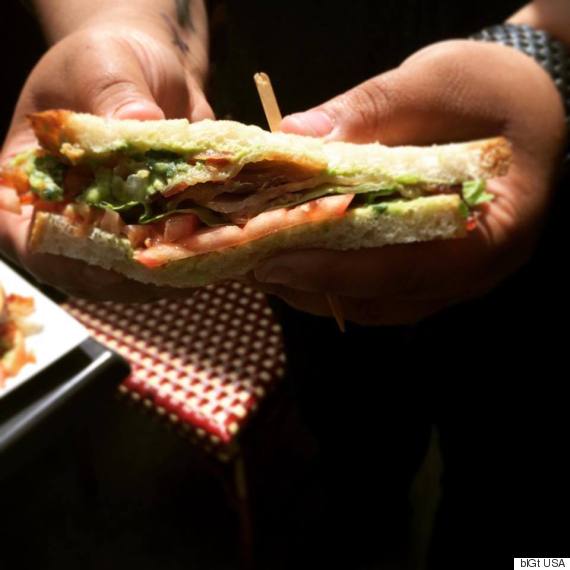 Boston, MA: Bacon, Lettuce, Tomato with guacamole made by Chef Chris at SiP Wine Bar and Kitchen
The People
From a trans rights activist to a local celebrity chef, this week's sandwich stories are beyond delicious. Links to stories below. Full transcripts on our BLgT blog.
Alexis Hall // Youth Pride, Inc, Providence, RI
Josh O'Connell // New Haven Pride Center + Stephanie Johnson // The Hartford Insurance, Avon, CT
Stephanie + Hildy Laffin // BLgT Lovers, Avon, CT
Angela Rappolli // Fenway Health, Boston, MA
Gia Drew // Equality Maine, Portland, ME
Elise Johansen // Equality Maine, Portland, ME
Denise Lyn-Shue // BLgT Lover, Boston, MA
Pamela Goldberg // BLgT Lover, Boston, MA
Karl Deuben + Bill Leavy // Chefs and Co-owners, East Ender, Portland, ME
Steph + Bill Molnar // BLgT Lovers, Avon, CT
Cal Miller-Stevens + Capri Frank // Miller Foods, Avon, CT
The Lessons
1. The kids are not alright
This week we sat down with 20 youth members of Youth Pride, Inc. with donated sandwiches from Thee Red Fez to talk about their experiences. The members, ages 14-21, shared stories of triumph and of challenge, telling their truths in candid, powerful and meaningful ways. Many of the youth choose not to tell their parents where they spend their time, instead telling them that they "were at a friend's house" or a more generic after school program. Youth Pride also runs a food bank and, according to one of the youth volunteers, as many as 40 students come there per week for much of their weekly food.
Of the students present, only a handful said they attended a high school that was friendly to LGBT people. Others talked about their experiences as being subtly hostile, or openly hostile. Many of these young people, LGBTQ or otherwise, sought shelter at the center because, "I can just be myself here," as one poignantly put it.
When asked what the biggest challenge is in their lives right now, an overwhelming majority responded with, "JOBS!" -- how to find one, keep one, plan for one. If you're thinking about stepping up efforts to support LGBTQ youth, add recruitment and job training to the top of your list.
2. Anti-LGBT backlash is for real
While talking with people from Equality Maine, the consistent message was that while progress has been made, they are still experiencing legislative difficulties through religious freedom bills. Similar to the law in Indiana, Sen. Burns proposed an ambiguous religious freedom law that sparked controversy throughout the state. Though he later retracted the proposal, it is clear that these are the kinds of battles being seen across the country. The issue blew up in Indiana and Arkansas, but was mostly quiet in Maine. Keep your ears peeled for more of this backlash in the future.
3. People want to talk about about transgender people and their rights. Right now.
From Avon to Boston, conversations about trans identity and equality were pleasantly pervasive. Whether it was discussing reactions to Caitlyn Jenner's Vanity Fair cover, or the desire to support trans youth, people from every stop were interested in asking questions and sharing stories. We found that some New Englanders struggled with the right language. "What's okay to say? Where can I learn more?" Our friends at GLSEN and Campus Pride have resources to help answer these questions.
4. People in New England love their guacamole.
As the leading "g" ingredient, we're curious to see if this trend continues throughout the 50 state tour...
5. High Fives + Saying Thanks
We're on the road for four months to raise local visibility and funding for LGBT community centers, and highlight the rad restaurants and chefs getting it done. This means A LOT of high fives and thank you's. It takes a village to make a 50-state tour happen, and people appreciate being appreciated. Big thanks to our supporters, sponsors, and partners for making this summer happen.
Upcoming
Week three, baby! We're off to the Jersey Shore, where our community partner the New Jersey Pride Center and our restaurant partner is Hoagitos host BLgT USA in Asbury Park on Tuesday. From there we head to Rehoboth, Delaware, where we will be working with Camp Rehoboth and Arenas Deli and Bar to get people out for BLgTs and sandwich stories. Rounding out the week is our stop in Philly on Saturday, where our partners are Cherry Bomb and The Attic Youth Center. Mid-Atlantic... can you throw down harder than New England? Get out with us + RSVP for your BLgT // blgt.us.
PS: You can follow the tour in real-time on Instagram, Facebook, and Twitter.