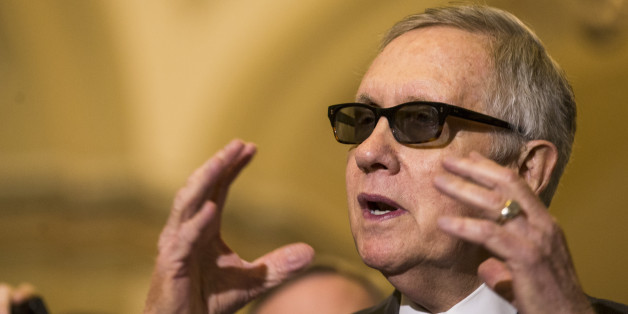 Senate Minority Leader Harry Reid (D-Nev.) criticized the National Football League on Tuesday for shutting down a fantasy football event, but failing to take action against one of its teams' racist names.
After the NFL canceled a Tony Romo-organized fantasy football convention in Las Vegas, claiming the event violated league rules, Reid -- a longtime advocate for renaming Washington's NFL team -- tweeted his frustration.
It is a sad state of affairs for the NFL that they care more about cancelling a fantasy football convention than a racist franchise name.

— Senator Harry Reid (@SenatorReid) June 9, 2015
Reid also issued a press release criticizing NFL commissioner Roger Goodell for canceling the Las Vegas event just weeks before it was set to take place.
"As the top trade show destination for more than two decades, there is no better place than Las Vegas for the inaugural Fantasy Football convention," Reid said in the statement. "Forcing an event to be cancelled a few weeks in advance is unprofessional and unfair to the thousands of workers who rely on the business for their livelihood ... Once again, Commissioner Goodell's actions have left many shaking their heads and questioning whether the NFL cares more about their profits or their fans."
Reid made a similar critique of the NFL last month, when the league swiftly addressed the "deflategate" scandal.
I find it stunning that the NFL cares more about how much air is in a football than it cares about a racist franchise name.

— Senator Harry Reid (@SenatorReid) May 12, 2015
The Washington team's owner, Dan Snyder, refuses to change the offensive team name, even after the U.S. Patent and Trademark Office canceled six federal trademark registrations for the name last June.

BEFORE YOU GO
PHOTO GALLERY
Redskins Name Change Advocates