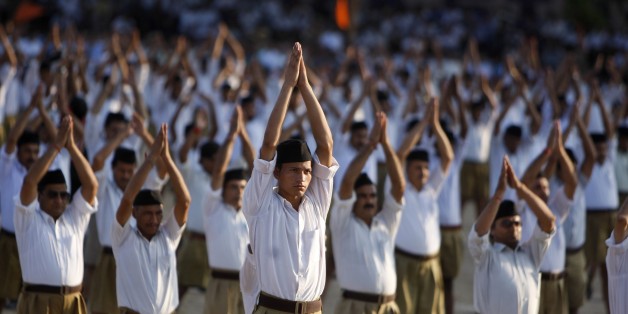 Less than two weeks before the first annual International Yoga Day, controversy over the June 21 holiday is brewing.
The UN General Assembly adopted a resolution in December for an international day of recognition for the practice, which originated in India. Prime Minister Narendra Modi has organized a 35-minute yoga session in New Delhi to mark the day. Organizers hope up to 45,000 people will participate in the event, which is expected to break records as the largest yoga gathering ever held.
But some religious minorities in India have raised concerns about the event, saying that yoga is in conflict with their religious teachings because of its Hindu roots. The All India Muslim Personal Law Board, a non-governmental organization, is one group that has raised objections to the inclusion of surya namaskar, a set of poses commonly known as the "sun salutation." The group argued that the exercise amounted to worship of the sun, which conflicts with its religious teachings.
A member of the group's executive council told The Hindu that surya namaskar and yoga "go against the beliefs of the Muslims" and "should not be imposed on their children." A primary concern was the fact that students enrolled in schools and colleges have been asked to attend International Yoga Day celebrations.
In response to these objections, organizers decided to drop the "surya namaskar" from the 15 asanas, or postures, planned for the event. Yogi Adityanath, a lawmaker from Modi's Bharatiya Janata Party, said Monday that those who objected to the exercise should live in a closed room or jump in the sea.
The religious identity of India and respect for pluralism has been a pressing issue for the country in recent years. Given the history of tension among traditions, the prime minister has called for a 10-year moratorium on religious violence. Modi, who is devoutly Hindu, has made a point of promoting yoga's religious roots in India.
As June 21 approaches, Modi has plugged the event by sharing various asanas on Twitter.
Bhadrasana, also known as the firm/auspicious posture keeps the body firm & stabilises the mind. #YogaDay https://t.co/gcpYUslfvM

— Narendra Modi (@narendramodi) June 8, 2015
The prime minister will attend the event but will not actually perform yoga during the celebration, according to government representative Sushma Swaraj.
The debate over yoga's religious significance is ongoing and has been taken to court several times. In 2013, India's Supreme Court considered whether yoga was too religious to be part of the country's physical education curriculum in public schools.
In the same year, a California couple sued a local school district for promoting religion by offering voluntary yoga classes. The judge ruled that yoga did not infringe upon the separation of church and state, despite its religious roots.
BEFORE YOU GO
PHOTO GALLERY
Sanskrit Names Of Yoga Poses