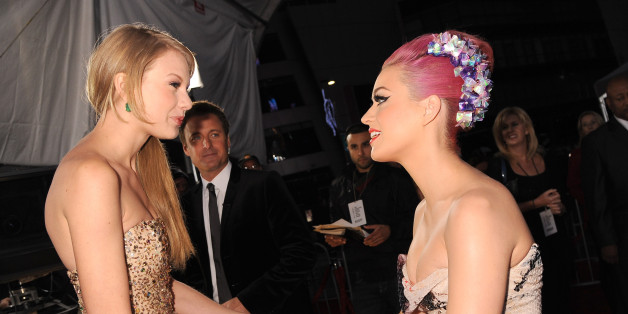 UPDATE: Reps for Katy Perry told Billboard that reports the singer intends to seek revenge against Taylor Swift with a song called "1984" are completely untrue.
"Katy Perry's managers at Direct Management Group confirm that this story is completely false," a rep for the singer at Universal told the website. "Katy Perry was not involved in writing, singing, recording or registering this song."
UPDATE 2: According to TMZ, the song "1984" was registered by Andreas Carlsson, who co-wrote Perry's hit "Waking Up in Vegas." Carlsson is listed as one of the four composers of "1984," which was actually registered five days after all the drama with Swift went down back in September, according to the website. Sources also told TMZ that BMI is expected to pull the song from its registration.
PREVIOUSLY: Katy Perry has five years of life experience on Taylor Swift, so we'd like to think she's wiser and knows better than to get sucked into feuds where tabloids end up being the only clear winner.
Here's the deal, Perry reportedly registered a new song with her music publisher, BMI, called "1984," which is significant because she was born in 1984 and her alleged pop rival Taylor Swift's top-selling album is called "1989" -- also her birth year.
And anyone who is reading this in the first place probably knows that, Swift's song "Bad Blood" is rumored to have been written about Perry because she apparently jacked Swift's backup dancers (even though said dancers have claimed Swift always knew they planned on leaving her tour to return to Perry's).
After Swift told Rolling Stone she had written "Bad Blood" about a fellow pop star, Perry basically confirmed the Internet's gut feeling on the whole thing when she made a comment on Twitter insinuating America's Sweetheart was actually the Queen Bee of mean girls, writing, "Watch out for the Regina George in sheep's clothing...."
This was all going down back in September, so is Perry really planning her "revenge" (which is the term gossip sites are throwing around) with a song, eight months later? Short answer: No one really knows. Also, it's important to consider that Perry didn't diss the superstar during her Super Bowl performance as she was rumored to, either.
Then again, she told Billboard at the time, "​If somebody is trying to defame my character, you're going to hear about it."
Bring on "1984."
BEFORE YOU GO
PHOTO GALLERY
Celebrity Feuds