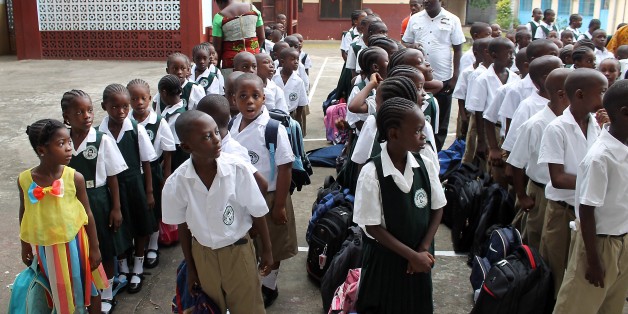 Thousands of Liberian schools are being given educational tools in an effort to bolster post-Ebola recovery efforts, UNICEF reported on Monday.

The organization began distributing 700,000 learning and teaching kits to 4,460 schools across the West African country this week, the group said in a statement.
The learning kits contain items like pencils, notebooks, geometry sets and school bags, while the teaching kits hold several resources to aid instructors, such as chalk, poster sheets, markers, folders and lesson plan books.
"Every child in Liberia needs to have an equal opportunity to education," George K. Werner, Liberia's minister of education said in the statement. He also thanked the U.S. Agency for International Development, which funded UNICEF's provision of the kits. "Our goal is to create an enabling environment for children to go to school, engage in educational activity and realize their full potential."
Liberia is on the mend after enduring what's been deemed the world's worst Ebola outbreak. The country -- which lost about 4,700 people to the deadly virus, according to the World Health Organization -- was declared Ebola-free in May, The New York Times reported.
So far, it's the only one out of the three hardest-hit nations to achieve the status. Although they've experienced significant progress in reducing the number of new infections since the peak of the outbreak, Guinea and Sierra Leone have yet to become Ebola-free.
Last Saturday, the presidents of both countries extended their health emergency statuses to at least the end of this month "given the persistence of the epidemic," according to AFP.
In Liberia, the learning kits signal a positive step toward full recovery.
More than 1 million Liberian children were affected by school closings during the epidemic, as noted by UNICEF representative Sheldon Yett. After the humanitarian group provided infection prevention and control kits to help those schools reopen, the learning kits are a welcomed next step in moving forward.
"We are providing these materials to assist students and teachers to teach and learn effectively using basic resources," Yett explained. "So that children become productive citizens and future leaders of Liberia."
Support UNICEF's efforts to combat Ebola through the fundraising widget below.
BEFORE YOU GO
PHOTO GALLERY
Liberia Turns Towards Normalcy As Fight Continues To Eradicate Ebola