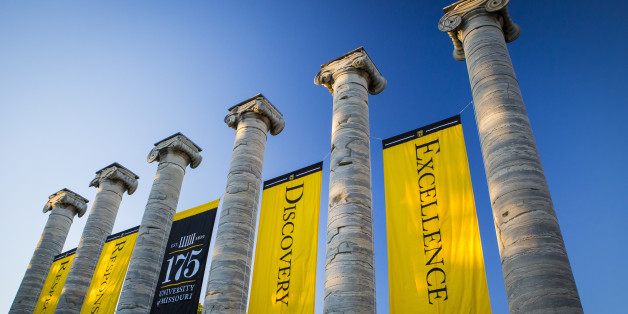 In an attempt to address sexual assault on campus, the University of Missouri is considering drastic changes to its Greek life system, including banning women from fraternity houses during typical party hours.
According to a list of proposed policy changes that leaked online last week, the university may ban out-of-town formals, prohibit hard liquor in fraternity houses and forbid female "guests" from entering fraternity houses between 10 p.m. and 3 a.m. on Thursday, Friday and Saturday nights.

The MU Fraternity Alumni Consortium crafted the proposal, which is calls "Safety of Women Students in Fraternity Houses." Founded in 2009, the consortium is an unofficial assembly of Greek alumni that acts as an advisory group for the administration.
"Some [policies] still under consideration, some are not. We are very, very early in the process, and the things you are seeing are coming from a document over two months old and dated information," consortium spokesman Ted Hellman told The Columbia Daily Tribune last week.
One suggested policy would have subjected all sorority and fraternity members living in Greek housing to mandatory drug testing. This proposal resulted in a torrent of criticism from the student body and has since been removed from the list, The Columbia Daily Tribune reports.
The consortium showed the suggested changes to Tim Wolfe, who presides over all four University of Missouri System campuses, including MU. The school's Panhellenic Association and the Interfraternity Council then read the suggestions and wrote a letter to Chancellor R. Bowen Loftin to express concern with them.
Although members of the university's Panhellenic Association have said they support policies like prohibiting hard liquor, they raised a number of concerns about administered drug testing, uniform sexual assault education for male and female students, and the designation of women as "guests" in fraternity houses, which they say would allow a pretense of male entitlement to prevail within the Greek community.
"We are concerned by the very premise of this proposal," the Panhallenic Association wrote. "The goal is to address the safety of women students in fraternity houses, but the proposal was written by men who are not entrenched in daily campus, fraternity and sorority life."
Reinforcing their position, the council released a statement on Friday describing some of the polices as "ineffective and uneducated."
In addition, the Twitter account @StopLoftin was created to criticize the Greek life policy proposals. Many of the tweets claim a lack of representation for the very people the policies seek to support. One post pointed out that no assaults were reported as having occurred within a MU fraternity house in the last academic year. According to campus security records, the tweet is accurate.
So fraternities are the threat for sexual assault? Hmm... @bowtieger @MizzouGreekLife @mizzou pic.twitter.com/AQQKvnVUZT

— Stop Loftin (@stopLoftin) June 3, 2015
Fair representation? A select group of alum, IFC, and university officials AREN'T the only opinions that matter. pic.twitter.com/bu4Z6yMiuv

— Stop Loftin (@stopLoftin) June 3, 2015
Mr. @bowtieger, make this a bigger venue where CURRENT Greeks have the ability to be heard. #OccupyTheSummit https://t.co/8BcsK3XOn9

— Stop Loftin (@stopLoftin) June 3, 2015
Due in part to research linking members of Greek life with higher sexual violence rates, the system has been under increased scrutiny in recent years. Fraternity members are more likely to be perpetrators of sexual assault than non-fraternity members, a 2013 study found. Other research has shown that approximately 29 percent of sorority women report having been sexually assaulted in college, while the rate for non-sorority women is 7 percent.
MU spokesman Christian Basi told The Huffington Post the proposals are not finalized, and are not ready to be put into effect right away.
"The proposed policies ... will be discussed at an upcoming summit with MU Chancellor R. Bowen Loftin and student leaders," Basi wrote in an email. "The purpose of the upcoming summit is to review the proposed policies and seek input from student leaders on the implementation of the policies."
The Chancellor's Summit on Sexual Assault & Student Safety in Fraternity Houses is scheduled to occur on June 20, and is only open to people who have been invited. When asked if the university would wait until more students were on campus to decide whether to implement the proposals, Basi responded, "The proposals, along with any type of implementation timeline, are part of the discussion at the summit. Because the proposals and the timeline are still under discussion, I can't speculate on when they might be implemented."
The University of Missouri Panhellenic Association did not respond to a request for comment.