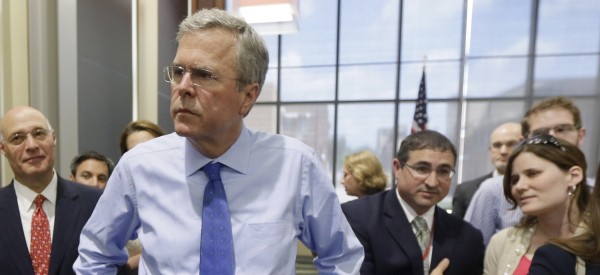 TOP STORIES
To get The Morning Email, HuffPost's daily roundup of the news, in your inbox, sign up here.
JEB BUSH SHAKES UP CAMPAIGN TEAM "Jeb Bush shook up his staff on Monday a week before formally jumping into the 2016 Republican presidential fight, picking a veteran of party politics, Danny Diaz, as his campaign manager in what was seen as a surprise move. Diaz' appointment was unexpected because Bush had believed to have penciled in another experienced political strategist, David Kochel, as his campaign manager when he hired him earlier this year." [Reuters]

OBAMA IS NOT HAPPY WITH THE SUPREMES President Obama said the Supreme Court should not have taken up King v. Burwell, the Obamacare challenge. [Daniel Marans, HuffPost]
REPORT: BRIAN WILLIAMS OUT OF ANCHOR CHAIR PERMANENTLY Current negotiations have Williams either taking another role within the network or leaving NBC. Lester Holt is expected to stay on as the anchor of "NBC Nightly News." [CNN]
HSBC TO CUT 50,000 JOBS The move is part of a $5 billion cost cut. [WSJ]
GOVERNMENT WILL FORGIVE STUDENTS' FEDERAL LOANS FOR CORINTHIAN COLLEGE The for-profit college company closed last month amid rampant claims of fraud. According to Secretary of Education Arne Duncan, the department plans "to develop a process to allow any student -- whether from Corinthian or elsewhere -- to be forgiven their loans if they had been defrauded by their colleges." [NYT]
FIVE DEAD IN RARE CHINA SHOOTING The shooting in northern rural China killed two police officers. The private ownership of firearms is banned in China, making gun violence in the country incredibly rare. [AP]
FDA MULLS APPROVING DRUGS THAT COULD DRAMATICALLY REDUCE HEART ATTACK RISK "A federal advisory committee this week will decide whether to recommend approval of the first in a new class of drugs many experts believe could significantly cut the risk of strokes and heart attacks, a leading cause of death for Americans. The highly-anticipated new drugs have been shown in clinical trials to sharply reduce levels of bad, or LDL cholesterol, representing the first major advance in the area since widely used statin drugs hit the market in the late 1980s." [WaPo]
WHAT'S BREWING
US WOMEN'S SOCCER TROUNCES AUSTRALIA We could watch that first goal all day long. Next game is Friday at 8 p.m. EST. [HuffPost]
IN 'THE MARTIAN' TRAILER, MATT DAMON GETS LOST ON MARS What NASA crew would leave Matt Damon behind? [HuffPost]
NETFLIX LANDED A BRAD PITT MOVIE The streaming service will produce "War Machine," a satire loosely based on the late journalist Michael Hasting's book, The Operators: The Wild and Terrifying Inside Story of America's War in Afghanistan. [HuffPost]
IS YOUR AIRPLANE AIR SAFE? "Seventeen former and serving cabin crew are planning to take legal action against British airlines because they say contaminated air inside plane cabins has made them seriously ill, the Victoria Derbyshire program has learned." [BBC]
APPLE MAY HAVE KILLED ITUNES With its own streaming music service. [HuffPost]
WHY THE SHARING ECONOMY IS MAKING YOU POOR All those Uber rides add up. [Washington Monthly]
HOW TO SAVE GROCERY MONEY It's as easy as just moving your food around. [HuffPost]
WHAT'S WORKING
CHIPOTLE WORKERS TO RECEIVE PAID SICK LEAVE AND VACATION "Late last week the company announced that effective July 1, it will offer hourly workers paid sick leave, paid vacation and tuition reimbursement -- benefits that were previously only on offer to salaried workers." [HuffPost]
ON THE BLOG
RESPECTING THE OCEAN "It's not an exaggeration to say that we depend upon the ocean for our very existence. It regulates our climate and our weather. It generates half of the oxygen we breathe. It provides food and income for billions of people." [HuffPost]
BEFORE YOU GO
~ Watch American Pharoah race Secretariat.
~ Lauren Graham's TV daughters are not huge fans of each other.
~ What good creative directors do.
~ Prepare yourself for more iPhone battery life -- imagine what you can do in a world where you aren't asking for a friend's charger every five seconds.
~ Zoe Saldana's husband has taken her last name.
~ In case you need a reminder of the dangers of texting and driving.
~ Beyonce's shorts do not technically qualify as shorts -- they're that short.
~ Gwyneth Paltrow and her daughter could be twins.
~ Can Jane Fonda and Viola Davis invite us the next time they hang out?
~ A history of how the most famous photo in woman's sports was almost never taken.
~ Thousands of piglets are on the loose in Ohio.
Send tips/quips/quotes/stories/photos/events/scoops to Lauren Weber at lauren.weber@huffingtonpost.com. Follow us on Twitter @LaurenWeberHP. And like what you're reading? Sign up here to get The Morning Email delivered to you.