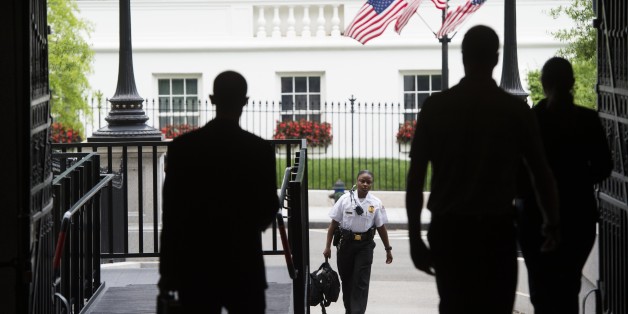 After journalists had been evacuated from the White House briefing room for a bomb threat on Tuesday, a man walked up to an unmanned camera transmitting live to CNN and covered it with a T-shirt.
Meanwhile, TV cameras that crews had left on the White House lawn were swiveled toward the ground, according to journalists' tweets, presumably moved by Secret Service agents during their sweep of the premises.
After the threat was called off and the news briefing resumed, ABC News White House correspondent Jon Karl asked White House press secretary Josh Earnest who had tampered with the cameras. Karl reminded the press secretary that the cameras "are owned by the news organizations" and not the White House. Earnest, who evacuated the room at the same time as the press corps, said he didn't know what happened.
A Secret Service spokeswoman told The Huffington Post that the agency could not comment on its methods.
It's rare for the briefing room to be evacuated, especially during a briefing. Journalists were whisked off the White House premises and across the street, indicating that the phoned threat was taken seriously.
President Barack Obama remained in the Oval Office during the evacuation, according to CNN. Earnest and some White House staffers moved to the press secretary's office, located in the West Wing near the briefing room.
Earlier Tuesday, Capitol police evacuated part of a Senate building during a hearing because of a threat.
UPDATE: 5:45 p.m. -- Christi Parsons, a Los Angeles Times reporter and president of the White House Correspondents Association, responded to the incident in a Wednesday email to The Huffington Post.
"Any time a law enforcement or government agent lays hands on a journalist's equipment, we get concerned." Parsons said. "At the moment, the WHCA board is trying to figure out exactly what happened in the briefing room on Tuesday and to determine the appropriate response."
BEFORE YOU GO
PHOTO GALLERY
Most Iconic Photos Of Obama's First Term