Four tourists accused of posing naked on Malaysia's highest mountain and blamed by locals for last week's deadly earthquake were arrested on Tuesday.
A 6.0-magnitude earthquake struck Borneo island's Sabah state on Friday, triggering landslides on Mount Kinabalu that killed 18 people. Local officials blamed the disaster on a group of ten tourists who reportedly posed naked for a photograph on the mountain, saying the foreigners angered the mountain spirits at the sacred site.
Members of the the local Kadazan Dusun tribe believe that Mount Kinabalu houses the spirits of their dead ancestors.
The allegations sparked popular outrage in Malaysia, and authorities ordered the tourists not to leave the country. Several were reported to have already fled.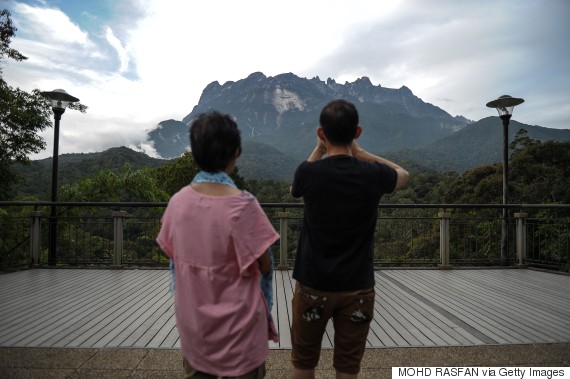 A tourist takes pictures of Malaysia's Mount Kinabalu a day after the earthquake, June 6, 2015. (MOHD RASFAN/AFP/Getty Images)
On Tuesday, Malaysia authorities arrested 23-year-old Eleanor Hawkins. The British woman was detained when she tried to board a flight in Malaysia's Tawau airport. Later Tuesday, Dutch tourist Dylan Snel, 23, and Canadians Lindsey Petersen and his sister Danielle turned themselves in to Malaysian police, the Malay Mail reported.
The four tourists appeared in a Malaysian court on Wednesday and were remanded in custody for four days pending further investigation, according to Sabah's state tourism minister Masidi Manjun.
Their lawyer Ronny Cham told The Guardian they will liked be charged with public obscenity and could face a fine as well as a three-month jail term.
Cham told The New York Times that Malaysia police are still searching for others who appeared in the naked group photo.
BEFORE YOU GO
PHOTO GALLERY
Through Your Lens: Beautiful Photos From Around The World