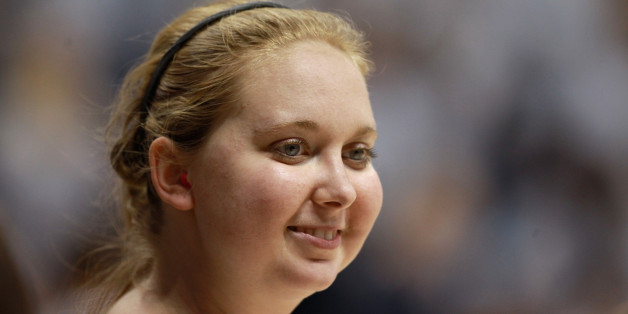 A woman who never even met the late Lauren Hill was so touched by her story that she donated an engraved brick in her name to the the Indiana Basketball Hall of Fame. The brick reads: "Lauren Hill: Hero."
Lauren Hill- Hero, now displayed forever in our brick courtyard thanks to Shannon Frogge's donation. @layup4lauren pic.twitter.com/p1XNdyWK79

— IN Basketball HOF (@HoopsHall) June 10, 2015
Hill, a 19-year-old freshman forward at Mount St. Joseph University in Cincinnati, gained national attention as she played college basketball in spite of battling terminal brain cancer. For her triumphs, she was given the Pat Summit Courage Award and a honorary Doctorate of Humane Letters degree from her university while she was still alive. She died in April .
Although she never met or spoke to Hill, Shannon Freeman-Frogge, a former all-star basketball player at her Indiana high school, said she was inspired by Hill's efforts to raise money for cancer research.
"She has done so much to raise money and has been phenomenal in her inspiration to so many people," Freeman-Frogge told the Indianapolis Star. "She's such a good role model."
Hill, an Indiana native and graduate of Lawrenceburg High School, endured a high-profile battle with cancer while pursuing a college basketball career. In November 2014, she scored the first points of Mount St. Joseph's season. The following month, she raised $1 million for cancer charity The Cure Starts Now.