Potential spoilers if you have yet to see "Jurassic World." Also, go see "Jurassic World." It's awesome.
Claire Dearing, played by Bryce Dallas Howard, is a woman in charge. And not in charge of just anything, but in charge of the second iteration of a famous dinosaur amusement park, which is newer and, supposedly, safer than ever. When a mishap leads to (SPOILERS!) the biggest and meanest dino getting loose, she's forced to run around the park as she helps love interest Owen Grady, played by Chris Pratt, save the day.
Hero indeed. And she does it all in heels. Which is cool, if you overlook the fact that she doesn't do much? Also, turns out Howard had to specially train for her action sequences because of her wardrobe. Which begs the following questions ...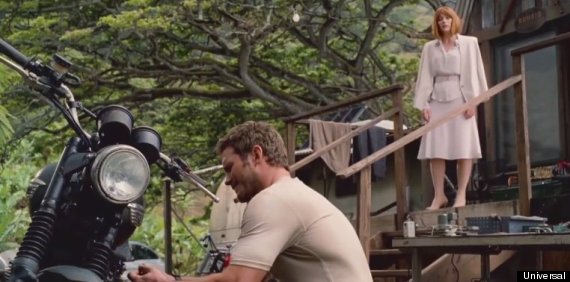 1. Really?
2. There were no extra boots available anywhere around the park?
3. Shouldn't someone have been in charge of stocking extra field gear?
4. Did Claire actually sprain her ankle about two minutes into the action and just took it like a champ for the rest of the movie?
5. What does it say about Owen's physical endurance when a person burdened by heels can keep pace with his sprinting?
6. How many toes did she fracture?
7. Will she need podiatric surgery right away, or ... ?
8. Is Claire the real hero of "Jurassic World"?
9. Might she have kept a pair of running shoes in her car?
10. If not, couldn't she have sent someone else to fetch her practical footwear?
11. Or made one of her underlings go tradesies?
12. Doesn't going barefoot seem preferable to stilettos?
13. Honestly, wouldn't the heels have just broken off at some point due to the strain?
14. Who designed those things?
15. Are they the real hero of "Jurassic World"?
16. Does she regret the sartorial decisions she made that day?
17. Could the heels have been Claire's idea of a last-ditch weapon against toothy predators?
18. Would that have justified her wearing them??
The world may never know.
BEFORE YOU GO
PHOTO GALLERY
"Jurassic Park"