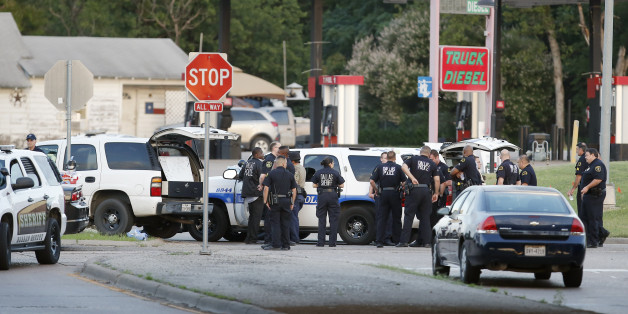 The suspect in a standoff that followed Saturday's shootout at Dallas Police headquarters has been confirmed dead by police.
The man's identity has yet to be officially confirmed, the Dallas Police Department tweeted.
#Breaking We can now confirm that the susp in the van is deceased but unable to confirm ID pending Med Ex. identification #DallasPDShooting

— Dallas Police Depart (@DallasPD) June 13, 2015
The suspect was shot by a police sniper earlier, as officers tried to gain access to his armored van, which had been disabled by a police sharpshooter in a Hutchins, Texas, parking lot.
The suspect, who identified himself to police as James Boulware, opened fire on officers outside Dallas Police headquarters Saturday morning after ramming his van into a squad car, Dallas Police Chief David Brown said in a news conference Saturday.
He then led cops on a chase to a Jack in the Box parking lot in suburban Hutchins, where a standoff ensued. Police shot the engine block of the suspect's vehicle with a sniper rifle.
Cops shot the suspect with the sniper rifle just after 5 a.m. local time.
Boulware, who was in contact with police via cell phone, had been negotiating with officers. He said he had been hurt, Reuters reported.
There has been no contact with the suspect in over 4 hours - believe it likely that he is deceased #DallasPDShooting

— Dallas Police Depart (@DallasPD) June 13, 2015
The suspect had not been heard from in hours as of 7:30 a.m., the Dallas Morning News reported.
A police sniper fired on the vehicle with a .50-caliber rifle in an effort to gain access to the inside of the vehicle, according to law enforcement tweets.
#Breaking @DallasPD will use the .50 rifle to strategically take out the windshield of the susp veh w/ 4 or more shots #DallasPDShooting

— Maj. Max Geron (@MaxDPD) June 13, 2015
RE: PT - Goal is to enable access inside that susp vehicle. #DallasPDShooting We're advising to alert the public so no alarm at gunfire

— Dallas Police Depart (@DallasPD) June 13, 2015
Officers used the sniper rifle after an "explosive breach" of the armored van's windshield failed.
The suspect had told police negotiators that he had "C4" explosives in the van, Brown told the AP. As a precaution, police used a camera-equipped robot to inspect the van and determine whether the suspect was dead or alive.
#Breaking @DallasPD attempted to take out the windshield of the susp veh with an explosive breach. It had no effect #DallasPDShooting

— Dallas Police Depart (@DallasPD) June 13, 2015
Police found four bags outside headquarters, at least one of which contained a pipe bomb that exploded when a bomb squad robot attempted to move it early Saturday. Police carried out a planned detonation of at least one other explosive device.
In addition to the four bags, a suspicious briefcase was found in a dumpster near police headquarters. By 6:20 a.m., all five packages had been cleared.
This is where the Explosive Ordinance Robot attempted to move one of the bags. #DallasPDShooting pic.twitter.com/mgbgytBhWv

— Dallas Police Depart (@DallasPD) June 13, 2015
Up to four suspects were reported by witnesses at the scene of Saturday's shooting outside of police headquarters.
Boulware's family says that he had a history of making violent threats, and that he blamed police for losing custody of his young son.
"He blames the police for taking his son away from him," his father, Jim Boulware, told the Dallas Morning News. "I tried to tell him that the police are just doing their job."
Police arrested Boulware in 2013 after he choked his mother and threatened to kill adult members of his family, KTEN reported at the time.
"He had been talking about the schools and churches being soft targets, being easy targets because no one in them was armed," Boulware's brother, Andrew, told the station.
During the 2013 arrest, police found a small arsenal including at least four long guns, three pistols and tubs full of ammunition at James Boulware's home in Paris, Texas.
Jim Boulware told the Dallas Morning News that his son wasn't able to hold a steady job after that incident. He lost custody of his son to the boy's mother.
The suspect's van had a Georgia license plate, and a vehicle similar to the one used in the attack was recently sold on eBay for $8,250 by a company in Newman, Georgia, according to the Dallas Morning News. Jenco Sales Inc., the company that sold the vehicle, described it on Facebook as "armor plated" with "bullet proof windows," according to the newspaper.
WFAA reporter Jason Whitely shared photos of the vehicle allegedly used by Boulware:
#BREAKING: Van reportedly used in #DallasPDShooting bought on eBay from GA, @DPA_PoliceAssoc says. pic.twitter.com/9rXY9i2gOe

— Jason Whitely (@JasonWhitely) June 13, 2015
Video of the confrontation shows the moment the suspect rammed into a police cruiser with his van.
Armored van lured police, fired upon, and rammed police pic.twitter.com/luf2U1SMje

— Madhu (@madwho12) June 13, 2015
Bullets can be heard whizzing by in a different angle of the shootout.
In a news conference, Brown said that the headquarters were being treated as an active crime scene.
Dallas Police shared photos of the damage to headquarters on Twitter. No officers were injured in the assault on the building, or in the subsequent shootout.
Here are some pictures of the damage at HQ. pic.twitter.com/ic18axSTPO

— Dallas Police Depart (@DallasPD) June 13, 2015