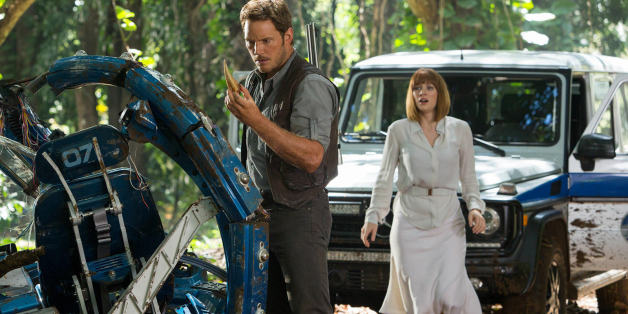 Dinosaurs are back and breaking records.
"Jurassic World" opened on Friday, earning an estimated $82.8 million at the box office, which includes $18.5 million from Thursday's late-night screenings. That makes "Jurassic World" the third biggest opening day film of all time, behind "Harry Potter and the Deathly Hallows, Part 2" ($91 million) and "Avengers: Age of Ultron" ($84.4 million).
However, as Scott Mendelson of Forbes points out, "Jurassic World" has broken another record. If you subtract the $18.5 million earned from Thursday previews, the Friday-only gross of Colin Trevorrow's film is $64.3 million. That means "Jurassic World" technically had the largest "pure Friday/opening day" of all time, Mendelson says, beating out "Furious 7" ($51.6 million), "Iron Man 3" ($53.25 million), "Avengers 2" ($56.86 million) and "The Avengers" ($62.7 million).
Friday-night estimates were predicting that the film, which stars Chris Pratt, would have a $155 million opening weekend, but that has since skyrocketed. According to Box Office Mojo, Universal is now estimating a total of $181.4 million, while Deadline reported Saturday morning that weekend estimates were between $190 million and $200 million.
Those figures would make the Indominus Rex pass out.
"The Avengers" currently holds the record for the biggest opening weekend of all time at $207.4 million. However, the dinosaur film is expected to beat "Furious 7," which currently holds the record for Universal's top opening weekend at $147.1 million. Regardless, you better hold on to your butts until the final weekend numbers are in.
BEFORE YOU GO
PHOTO GALLERY
Celebrity News & Photos