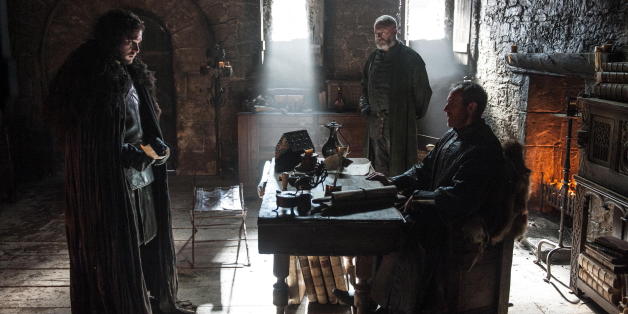 As you continue to recover from Sunday night's devastating "Game of Thrones" Season 5 finale, you're probably still going through the many stages of grief. But we have some possible good news for book readers.
Major spoilers for Season 5, Episode 10, "Mother's Mercy."

Image via HBO/HuffPost
The season finale left off with the most shocking death scene yet as Jon Snow was stabbed and killed by Olly and his brothers of the Night's Watch. Kit Harington has already confirmed that, yes, Jon is officially dead. "I've been told I'm dead," he told Entertainment Weekly. "I'm dead. I'm not coming back next season." Still don't believe him? Harington also confirmed the death to Vulture. "It's final," he told the site. "I'm dead."
But then again, what exactly does "dead" mean anyway? This is "Game of Thrones," after all, and a permanent, gone-for-ever-and-ever death is pretty rare. We've already speculated the numerous theories about Jon's death and the ways he could possibly return to the show. But even if his fate on the HBO series seems sealed, there is still hope for the character in George R.R. Martin's books.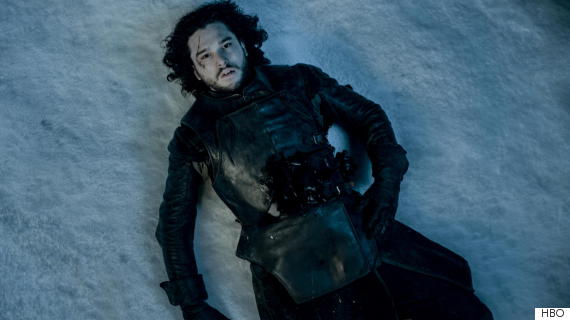 In Martin's A Dance with Dragons, Jon dies similarly as he does in the show, however clues hint that he may have warged out of his body and into that of his direwolf Ghost. When Martin was asked about Jon's death in the future A Song of Ice and Fire books back in 2011, the author responded, "Oh, you think he's dead, do you?" Further fanning the flames of hope, Martin also said his readers "should know better than to take anything as gospel." When Entertainment Weekly asked him again about Jon recently, Martin said, "If there's one thing we know in A Song of Ice and Fire is that death is not necessarily permanent."
We may still be deep in denial, but it seems pretty likely that Jon isn't gone for good in the books. So are showrunners Dan Weiss and David Benioff just teasing us? Will Harington be absent from Season 6 for a surprise return in Season 7 -- Melisandre is at the Wall now, so couldn't she try to resurrect the Lord Commander eventually? Only Martin, Weiss and Benioff know those answers, so excuse us while we keep falling down the rabbit hole of speculation.
BEFORE YOU GO
PHOTO GALLERY
"Game Of Thrones"