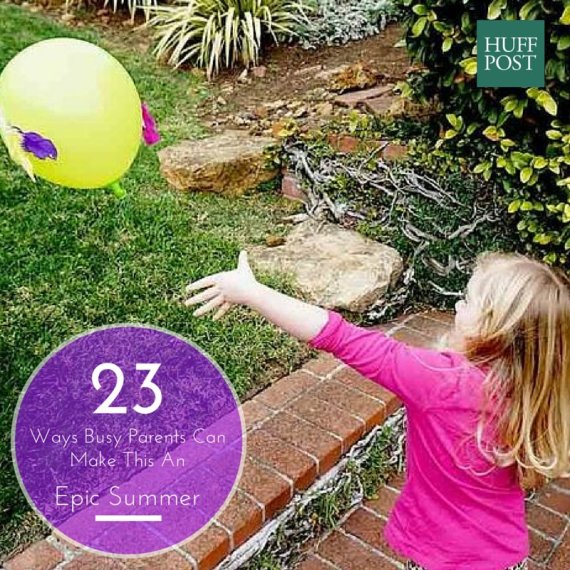 Image: Left Brain Craft Brain
Raise your hand if you haven't planned weeks of elaborate activities, out-of-the-way trips and incredible crafts to entertain your kids for 100-plus days of summer yet! OK, everyone put your hands down. Of course you didn't. We didn't, either. But here's what we did do. We partnered with Clorox and asked some of the most creative bloggers around about simple ways to have fun this summer with just a few supplies and -- just as important -- very little effort. Whether you're busy, bogged down or just don't want to spend an hour at the art store, these 23 easy and clever activities are for you:
1. Water Balloon Bounce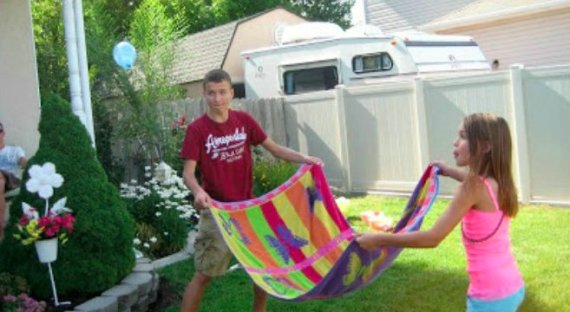 Image: Love, Play and Learn
Grab some water balloons and towels for this old-school game from Brittany at Love, Play and Learn. The directions are easy: just bounce and gently catch. Or bounce and don't gently catch…. and get wet.
2. Solar S'mores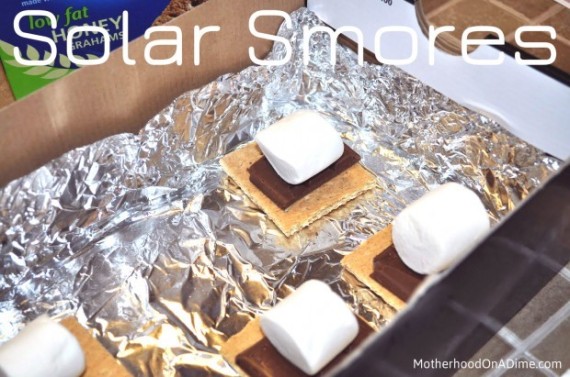 Image: Motherhood On A Dime
Solar S'mores, courtesy of Stacie Nelson from Motherhood On A Dime, is an earth-shatteringly simple science experiment with phenomenal, edible results.
3. Homemade Bubble Wands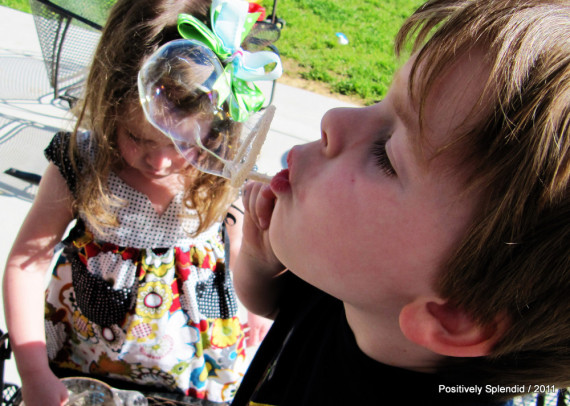 Image: Positively Splendid
Make homemade pipe cleaner wands and three-ingredient bubble solution, courtesy of Amy Bell from Positively Splendid, and let your kids find out if different shapes yield anything but round bubbles. (Spoiler alert: they don't!)
4. Watercolor Ice Painting


Image: Learn~Play~Imagine
What's fun, feels good on a hot day and keeps your kiddos busy? It's watercolor ice painting, and Allison at Learn ~ Play ~ Imagine has some great tips on creating vibrant images.
5. Water Balloon Launch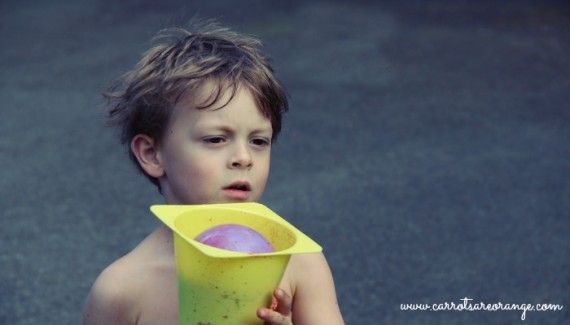 Image: Carrots Are Orange
You will find directions for this easy water balloon launch, as well as nine other silly water-balloon activities, on Marnie Craycroft's website, Carrots Are Orange.
6. Magic Seed Stars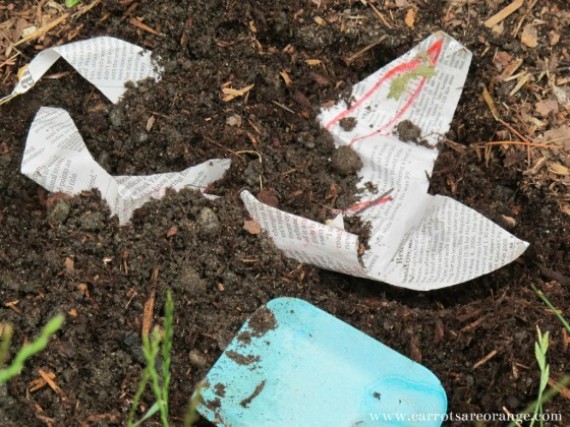 Image: Carrots Are Orange
Marnie also has this incredibly simple and very special "Magic Seed Stars" project that introduces little hands to the magic of growing things.
7. Balloon Experiment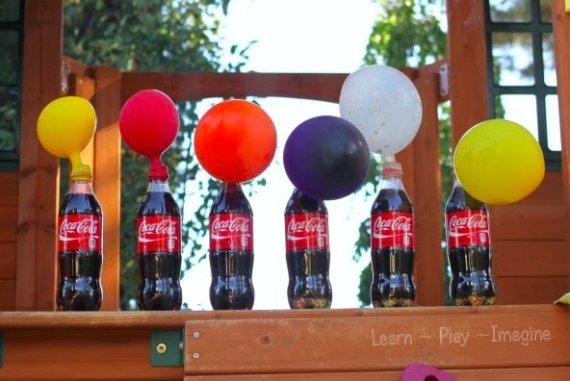 Image: Learn ~ Play ~ Imagine
Watch young jaws drop when you use only three things, soda bottles, balloons and -- wait for it -- Pop Rocks, to conduct this simple-yet-awesome science experiment also courtesy of Allison at Learn ~ Play ~ Imagine.
8. Glow-In-The-Dark Ballerina Skirt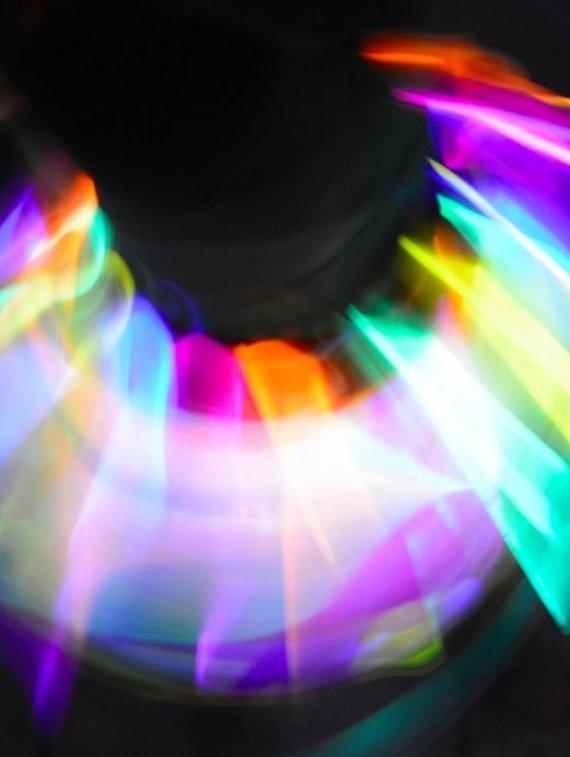 Image: Meri Cherry
Throw what is destined to become a legendary nighttime dance party for your kids with just glow sticks, duct tape and a later bedtime thanks to art instructor and blogger Meri Cherry, who created this glow-in-the-dark tutu. Yep! Just glow sticks and duct tape!
9. Doughnut Cake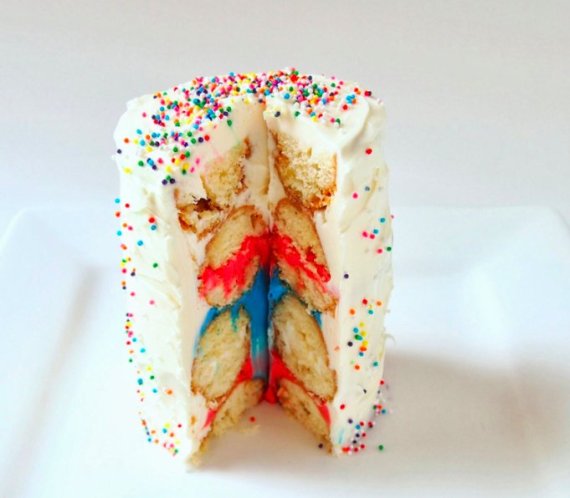 Image: The Tiny Funnel
Whip up this clever doughnut cake using only doughnuts, frosting and sprinkles thanks to the always creative Kimberly Stoney at The Tiny Funnel. By the time you would have found and opened a box of cake mix, the doughnut cake is ready to be eaten.
10. Homemade Slime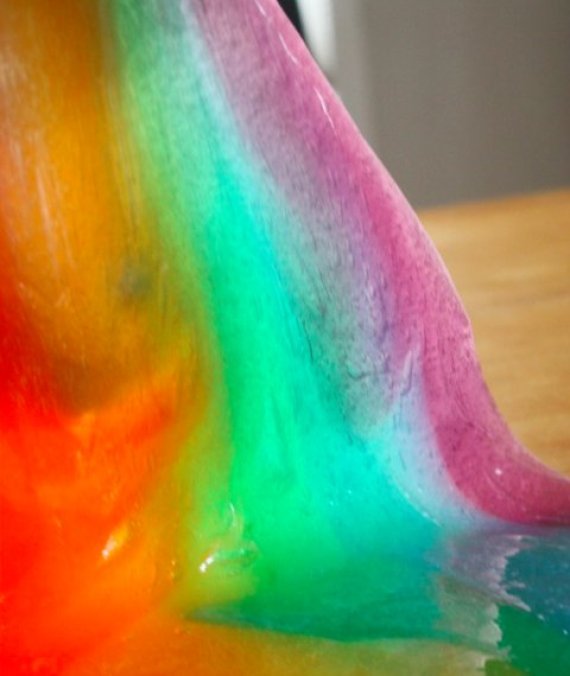 Image: Little Bins for Little Hands
Sarah at Little Bins for Little Hands, has a three-ingredient recipe for homemade slime … and about a zillion things you can do with it, including options for spider slime, glitter slime and rainbow slime, pictured here.
11. Whirly Twirly Flying Birds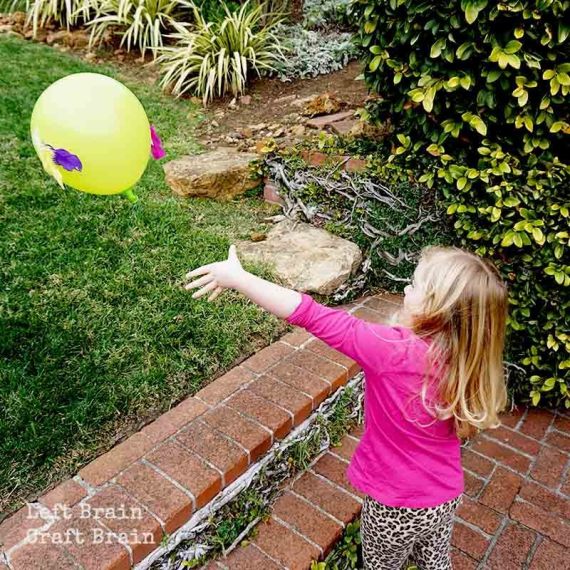 Image: Left Brain Craft Brain
Make "Whirly Twirly Flying Birds" that really fly using balloons, feathers, tape and clothespins, thanks to Anne of Left Brain Craft Brain.
12. Salad Spinner Art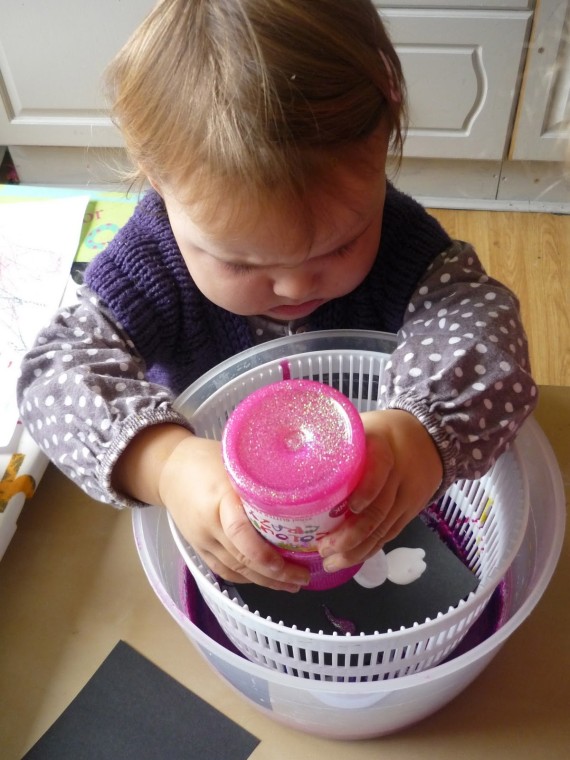 Image: The Imagination Tree
If your salad spinner is gathering dust, Anna at the Imagination Tree can tell you how to use paper and paint to turn it into a spin art maker.
13. Sandbox Volcano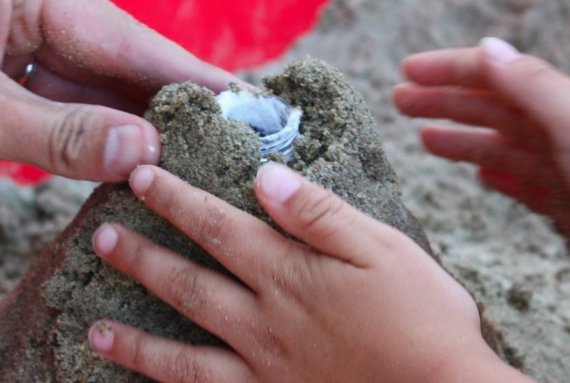 Image: Little Bins for Little Hands
Constructing your very own erupting volcano seems like it would take hours to set up. But it doesn't when you follow easy instructions from Sarah at Little Bins for Little Hands; her creation consists mostly of baking soda, vinegar, sand and a water bottle.
14. Rockin' Art Records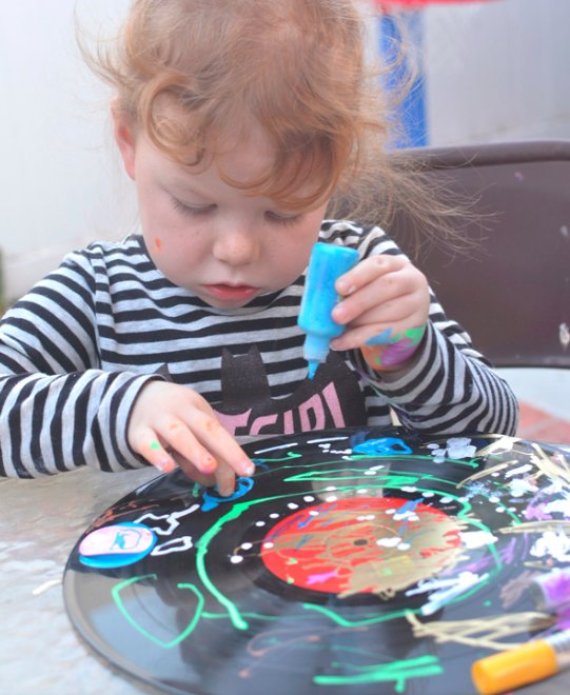 Image: Meri Cherry
Paint and some old vinyl records are all you need for this delightful kids' activity that doubles as a brilliant decorating idea for a family room or hallway courtesy, again, of Meri Cherry.
15. Garden Soup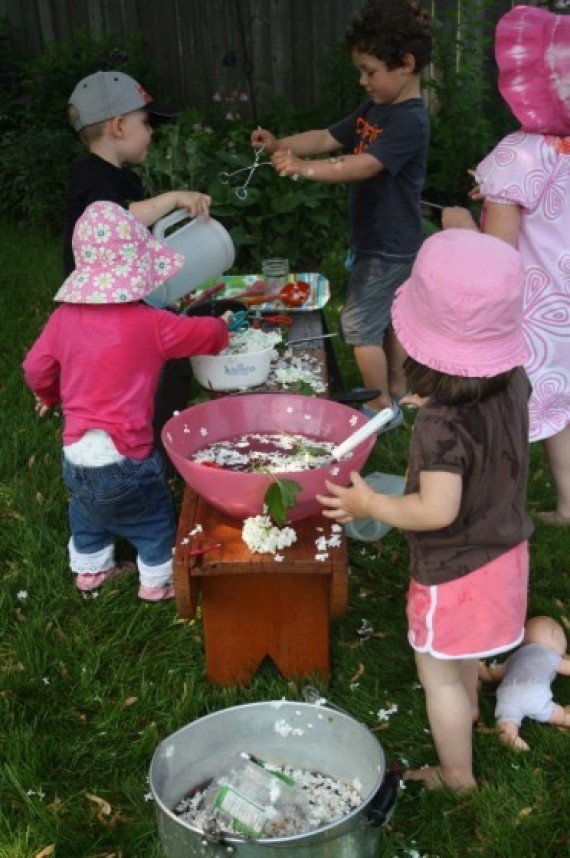 Image: Happy Hooligans
If you have a bowl and a backyard, your kids can make "garden soup" like you see here from Jackie Currie at Happy Hooligans. And, if you don't have a backyard, take a walk and collect your ingredients!
16. Shaving Cream Car Wash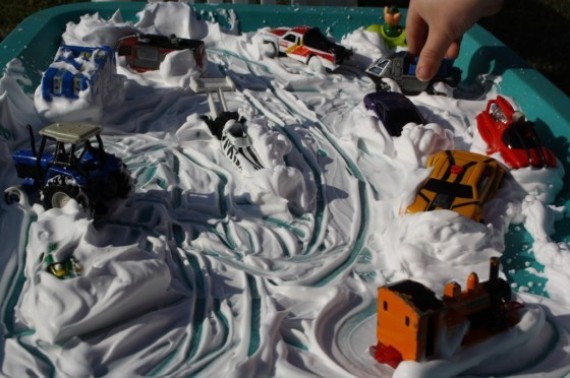 Image: Happy Hooligans
Jackie from Happy Hooligans also dreamed up the "Shaving Cream Car Wash," which you can quickly make with one ingredient. Try to guess what it is!
17. Five-Minute Homemade Face Paint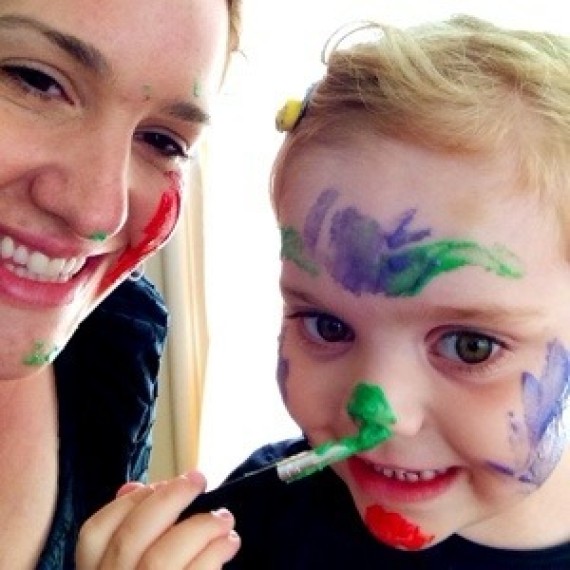 Image: Left Brain Craft Brain
Good news! You don't need to stand in line and pay money at a far-off carnival to get your child's face painted! Anne from Left Brain Craft Brain has a simple, homemade recipe for face paint.
18. Cosmic Sun Catchers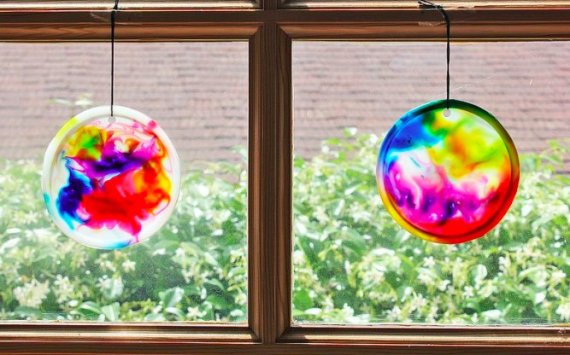 Image: Babble Dabble Do
Upcycle old plastic container lids into stunning suncatchers using just white glue and food coloring. Ana Dziengel at Babble Dabble Do offers an easy-to-follow how-to.
19. Frozen Beehive Excavation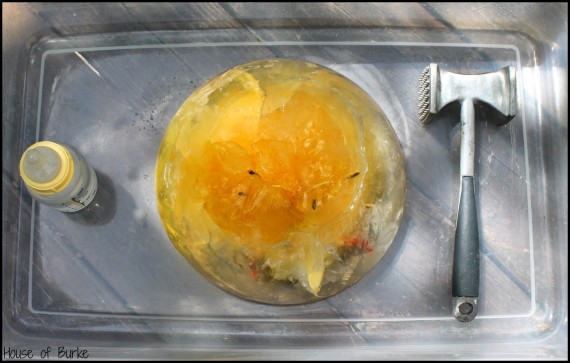 Image: House of Burke
Frozen Beehive Excavation activity looks and sounds a lot more complicated than it actually is. And you can make something like it with any little plastic toy, water and a freezer. Blayne Burke at House of Burke has the simple instructions.
20. Custom Concentration Game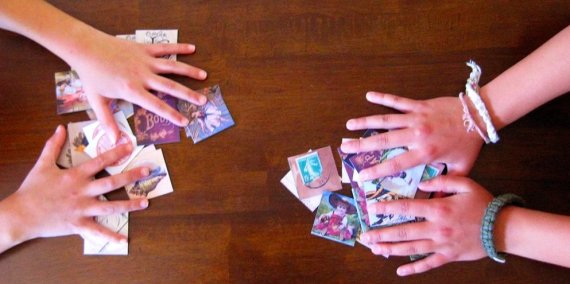 Image: Just Something I Made
Older children can make their own customized game of Concentration using printouts of vintage graphics, some cardboard and not much else, courtesy of Cathe Holden from Just Something I Made.
21. Oatmeal Container Straw Game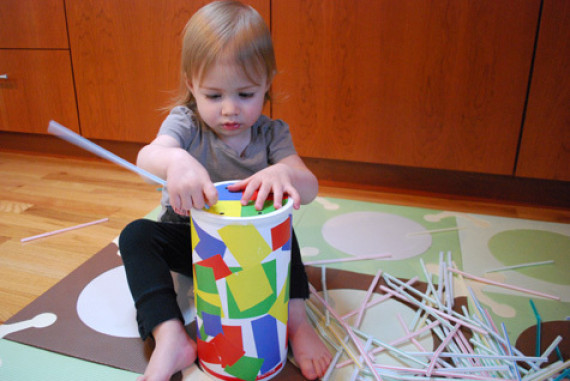 Image: Merriment Design
Kathy Beymer at Merriment Design came up with a new use for an old oatmeal container. Grab some straws and upcycle it by turning them all into the "Disappearing Straws" game. There's something incredibly satisfying about watching straws disappear into magic holes. Kathy has instructions and a printable cover on her website.
22. CD Rainbows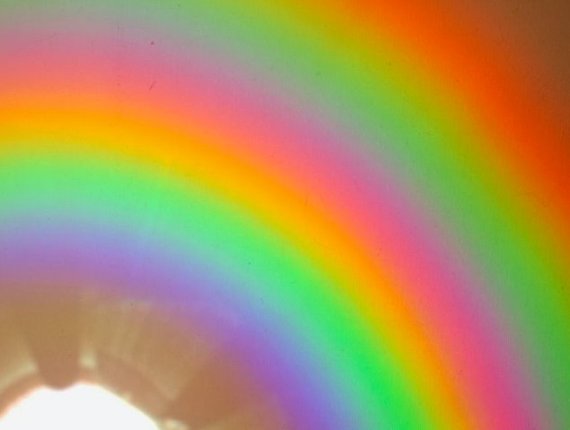 Image: Pink Stripey Socks
When you can't go outside, impress your kids by making an indoor rainbow using only a CD and a little sunlight with a one-second tutorial courtesy of Leslie from Pink Stripey Socks.
23. Donut Bobbing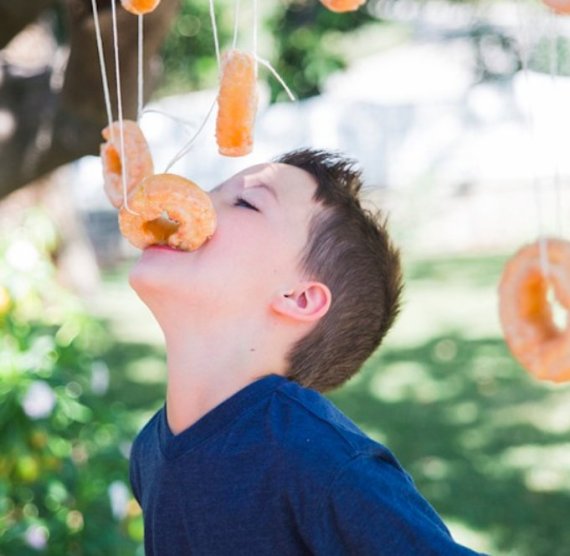 Image: The Chic Site
Rachel Hollis at The Chic Site introduced us to bobbing for doughnuts! It's a piece of cake. OK. It's more like a piece of doughnut.
Whatever you end up doing, making or playing this summer, have fun and don't worry about the mess because Clorox® ScrubSingles™ can help you clean up quickly.