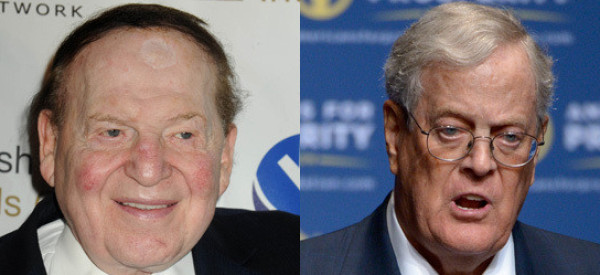 TOP STORIES
To get The Morning Email, HuffPost's daily roundup of the news, in your inbox, sign up here.
WHEN SUPER MONEY UNITES "Historically, the Koch network and Adelson have had different top-line priorities. Kochworld has focused largely on domestic matters, with a particular emphasis on shrinking the federal government and minimizing regulatory and tax burdens on businesses. Adelson's primary interests, meanwhile, have long been Israel, expanding defense spending and hawkish foreign policy in general. But the megadonors, conservatives say, share a number of political and ideological concerns. They have certain aims in common, from curbing union power and killing estate taxes to developing better voter-data operations and mobilizing veterans to vote." [Peter Stone, HuffPost]

LIBYA'S GOVERNMENT CONFIRMS AIRSTRIKE KILLED WANTED TERRORIST While the U.S. confirmed the airstrike was targeting Mokhtar Belmokhtar, "an Algerian militant who became a major figure in insurgencies across North Africa and the Sahel and had earned the nickname the 'Uncatchable' from the French military," Libya verified the strike hit its target. [Reuters]
JEB BUSH TO OFFICIALLY LAUNCH CAMPAIGN TODAY With a snazzy new logo that drops the word Bush from the campaign's imagery, Jeb is ready to take on the primary nomination battle with an announcement in Miami. [Paige Lavender, HuffPost]
SAUDI ARABIA OPENS STOCK MARKET TO FOREIGN INVESTORS The $590 billion market is being opened to foreign investors for the first time in a play to alleviate the strains of a weak oil market. [WSJ]
HEAVY WEAPONRY HEADED TO EASTERN EUROPE "In a significant move to deter possible Russian aggression in Europe, the Pentagon is poised to store battle tanks, infantry fighting vehicles and other heavy weapons for as many as 5,000 American troops in several Baltic and Eastern European countries, American and allied officials say." [NYT]
TWO ESCAPED NEW YORK INMATES COULD BE 'IN MEXICO BY NOW' While the search for the two killers who escaped from Clinton Correctional Facility in New York continues for the tenth day, Governor Andrew Cuomo said they could be "in Mexico by now." The prison worker arrested for aiding in their escape will appear again in court today. [AP]
EU-GREECE BAILOUT TALKS FALTER "Talks between Greece and its European creditors collapsed over the weekend, setting up a high-stakes showdown in which the country's prime minister is gambling he can wrest a softer bailout deal directly from eurozone leaders ... If he fails, a default on the country's debt and a possible exit from the currency bloc loom." [WSJ]
TRAIL TO THE CHIEF: THE CANDIDATES VS. THE WORLD Ranking the foreign policy chops of the 2016 crop. [Howard Fineman, Jason Linkins and Lauren Weber, HuffPost]
WHAT'S BREWING
ABOUT LAST NIGHT'S 'GAME OF THRONES' FINALE Here are some happy puppy and kitten videos, because we're still in mourning. They won't fix it, but they'll bring a half-smile back to your face. If you want to relive the tragedy, check out these recaps and reactions, as well as an Entertainment Weekly interview that makes things look pretty dire for you-know-who. Still crying, it'll be fine. Maybe. Probably never. [HuffPost]
JURASSIC WORLD EATS THE COMPETITION Yes, we went for the easy joke there. But the movie did have the highest global weekend opening of all time, raking in $511.8 million. We're still confused about how Bryce Dallas Howard managed to run away in heels the whole time, but whatever. [Variety]
TWO TEENS LOSE LIMBS IN NORTH CAROLINA SHARK ATTACK The attacks happened within an hour of each other in the same North Carolina town. Bystanders kept referring to the horrific scenes as looking like something out of "Jaws." [AP]
WANT YOUR LOST LUGGAGE? It's for sale in this store. [Quartz]
JOHN STAMOS THANKED THE POLICE After getting arrested for a DUI. We're with Vulture -- has any other celebrity ever thanked the police after being busted for a DUI? [Vulture]
HOW COLLEGE ATHLETES ESCAPE CRIMINAL CHARGES This ESPN expose gives you a lot of faith in the system. [ESPN]
FORGET THOSE MOSQUITO BITES When you're armed with this homemade repellent. [HuffPost]
AND PERFORMANCE OF THE YEAR GOES TO DAVE GROHL The Foo Fighters frontman came back to finish a concert after breaking his leg in Sweden. [HuffPost]
WHAT'S WORKING
FROM RETIRED BUS TO HOMELESS SHELTER "Group 70 International, a Honolulu-based architecture company, is working on retrofitting five retired city buses into a fleet of mobile shelters that could provide homeless people with everything from a place to sleep to an equipped space to wash up, Hawaii News Now reported." [HuffPost]
ON THE BLOG
CLEAN EATING: WORTH THE CASH? "I'd been combing through Buzzfeed's Clean Eating Challenge for a few days, and a lot of the recipes looked easy, healthy and delicious. It was only two weeks, and I would certainly save money by cutting out alcohol and restaurants. Plus, I wanted to feel better. What did I have to lose? Well, it wasn't easy. Actually, it was a somewhat anti-social, labor-intensive and expensive two weeks." [HuffPost]
BEFORE YOU GO
~ Why the Moleskin will never die.
~ Catch of glimpse of "one of the most rarely seen animals on Earth."
~ The real-life Olivia Benson met Taylor Swift's cat Olivia Benson, and it was perfect.
~ Did "The Bachelorette" accidentally reveal the winner on Snapchat? (Obviously, do not click unless you enjoy spoilers.)
~ When you're a federal employee who doesn't know how much information Chinese hackers have on you.
~ Brainstorming Brian Williams' next move. Personally, we'd say take the $50 million and enjoy life on an island, thank you very much.
~ Congrats to Benedict Cumberbatch and Sophie Hunter, who welcomed a baby boy.
~ Meet the internet's "original troll."
~ A life regained after losing 700 pounds.
~ The Magna Carta at 800.
~ Turns out even Prince George wears Crocs. And yes, Kate looks fabulous as ever in her first public appearance after giving birth.
~ Abandoned Soviet space shuttles.
Send tips/quips/quotes/stories/photos/events/scoops to Lauren Weber at lauren.weber@huffingtonpost.com. Follow us on Twitter @LaurenWeberHP. And like what you're reading? Sign up here to get The Morning Email delivered to you.