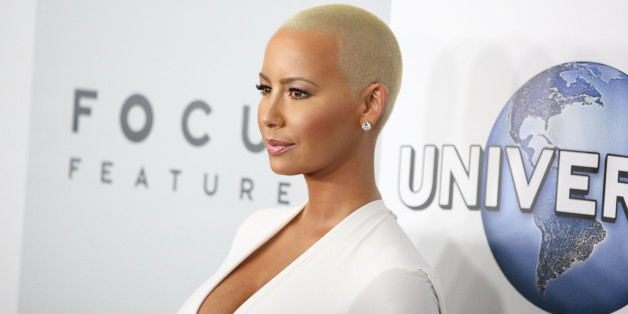 Amber Rose credits her feminist awakening to social media.
The 31-year-old model and entertainer recently sat down with Cosmopolitan to talk about her career, celebrity feuds and how she stumbled upon feminism through social media. "I was always about girl power, but I didn't quite get it because I did always feel like I had to be completely submissive to a man," Rose told Cosmo. " I was always very unhappy doing that. I think I needed time to grow up."
She told Cosmo's Eliza Thompson that she's always considered herself a feminist, but she didn't really grasp the movement until recently. Rose, who has over 6 million Instagram followers, says she gets her fair share of haters who slut-shame and body-shame her. This sexist backlash, she says, has helped her become a stronger feminist.
"You get to a certain point in your life where you really find out who you are, and sometimes that happens when you're 25, but for me, it was 31," she said. "I didn't quite know that before. I guess social media did help create the feminist monster that I've become."
At just 15 years old, Rose started stripping to make money in her hometown, Philadelphia. She described her experience to Cosmo: "I was very, very young," she said. "I did it and I was like, 'Oh, hell no, I cannot do this.' I was a kid. I think I was still a virgin at the time. Being onstage with my boobs out, it was like, 'Oh my god, this is not for me.'"
After a few years of stripping, Rose said she became much more comfortable on stage and now she looks back at the experience fondly. "That was the best time of my life!" she said. "Oh my god, I had so much fun. I really did. All the girls were really cool. The guys weren't allowed to touch you. I was never sexually assaulted or [anything]. I was young, beautiful, I was onstage, I wasn't really ashamed of my body. I made lifelong friends."
Rose told Cosmo she's been giving anti-slut shaming talks to college women around the country and she plans to host an Amber Rose SlutWalk this summer in Los Angeles.
You do you, Amber. Because that's feminism.
Head over to Cosmopolitan to read the rest of the interview.
BEFORE YOU GO
PHOTO GALLERY
Feminist Gift Guide