After nearly a decade together, George Carrancho and Sean Franklin's dream of a white wedding finally came true this weekend, with a little help from "Ross the Intern."
As part of Marriott International's Love Travels campaign, Carrancho, 49, and Franklin, 47, tied the knot in spectacular style, atop a float during the annual Capital Pride Parade in Washington, D.C. on June 14. The wedding, which took place right along the parade route, was officiated by none other than E! News personality Ross Mathews, who was also featured as a judge on "RuPaul's Drag Race" this past season.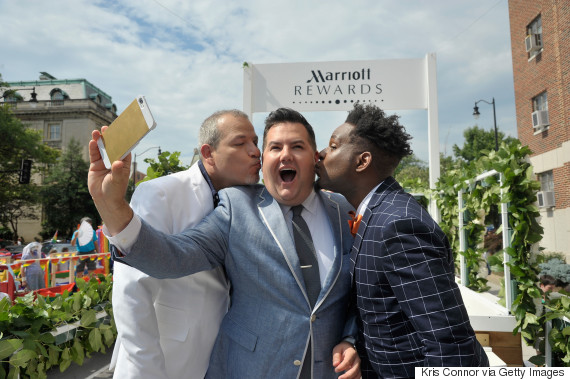 During the ceremony, Carrancho, left, and Franklin smooched Mathews.
Mathews, who shot to fame as an intern on "The Tonight Show with Jay Leno," told The Huffington Post in an email that officiating the nuptials in the nation's capital just ahead of the U.S. Supreme Court's anticipated rulings on same-sex marriage felt particularly appropriate.
"Maybe they'll look out their windows as we're doing it in this big fashion in the middle of Capital Pride with Marriott, and they'll see the big celebration of love with hundreds of thousands of people," he said. "And they'll see George and Sean, and they'll see me on that float really sharing a special moment and who knows, maybe we'll be the tipping point."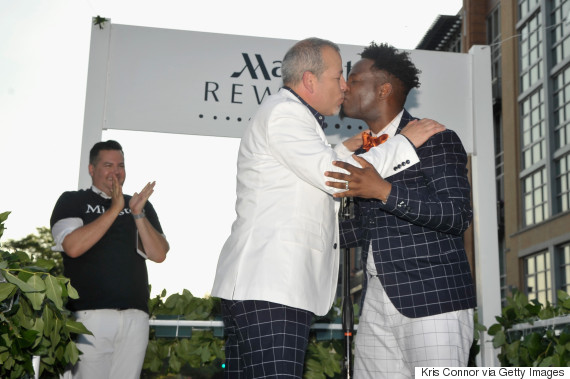 Carrancho and Franklin share their first kiss as a married couple.
Mathews added that this wasn't the first wedding he officiated, as he previously performed a straight pal's ceremony 10 years ago, but would jump at the opportunity to take on more.
"I like a celebration, honey, so maybe I'll do more," he quipped.
Carrancho and Franklin, who met in Texas in 2007 before relocating to New York in 2011, had been attempting to plan a wedding for the past three years, but the logistics never seemed in their favor. As it turns out, the impromptu, "pop-up" feel of the June 14 ceremony suited them just fine.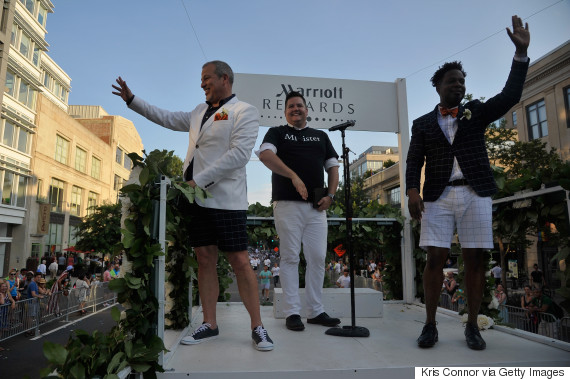 Carrancho, Mathews and Franklin wave to the crowd.
"There was no year and a half of planning and stress, it was just three weeks of planning and stress, which is actually amazing and we actually loved it," Carrancho, who is the Director of Business Development at Tzell Travel Group, told The Huffington Post.
Added Franklin, who is the Director of Client Services at L7z Group: "Ross is a hilarious guy ... he's a great activist for the community, and you want someone who is a part of that and gets it and that's what makes him the perfect person to officiate."
BEFORE YOU GO
PHOTO GALLERY
Ross Mathews Officiates Gay Wedding