Authorities released the panicked phone calls of beachgoers who dialed 911 after two people were badly injured in shark attacks on the same North Carolina beach on Sunday.
A 12-year-old girl lost her left arm below the elbow and injured her leg on Sunday afternoon while swimming in waist-deep water off Oak Island, according to The Associated Press.
Two miles away and an hour and 20 minutes later, a shark bit off the left arm above the elbow of a 16-year-old boy. He was also swimming in waist-deep water about 20 yards from the shore.
"His arm is gone," the female caller tells the dispatcher in the 911 call for the boy, obtained by WECT.
"OK, are you near the subject right now?" the dispatcher asks. "He's right down from me," the caller answers.
(Story continues below.)
After the girl was injured, a frantic female caller tells the dispatcher, "It looks like her entire hand is gone from what I can tell."
New Hanover Regional Medical Center spokeswoman Martha Harlan identified the teenage boy as Hunter Treschel of Colorado Springs, Colorado, according to the AP. He's recovering at the hospital as of Tuesday afternoon.
No name or medical information was available for the young girl because her family did not want details released to the public.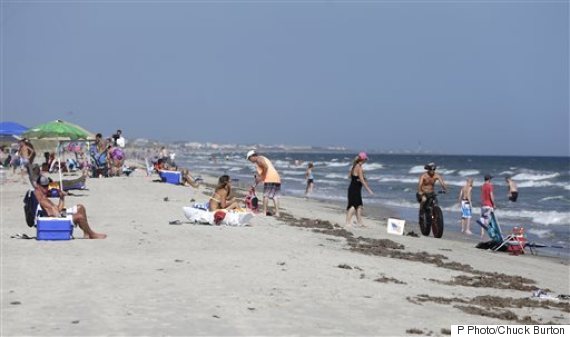 Vacationers relax on Oak Island, North Carolina, on June 15, 2015, the day after two shark attacks within 2 miles of each other. (AP Photo/Chuck Burton)
Town Manager Tim Holloman told the AP that Oak Island has no ordinance that allows officials to close beaches, even after shark attacks.
After the incidents, authorities did warn people away from the water, and the AP reported that members of the public seemed to voluntarily stay away from the water or remain in very shallow areas.
"It's pretty obvious we're staying close to the shore," Holly Helmig, 39, of Raleigh said. "I talked to the kids about it before we came."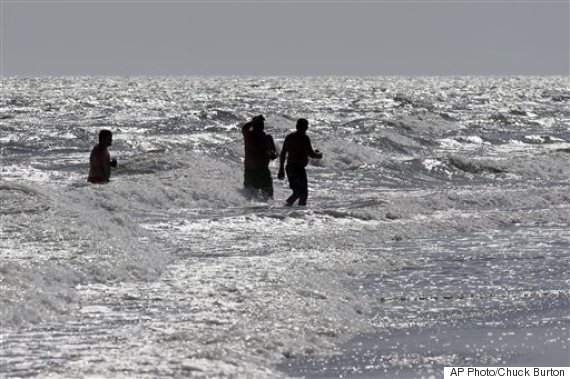 Vacationers walk in the surf off Oak Island, North Carolina, on June 15, 2015, the day after two children were injured in two separate shark attacks. (AP Photo/Chuck Burton)
Contact The Author
BEFORE YOU GO
PHOTO GALLERY
North Carolina Shark Attack