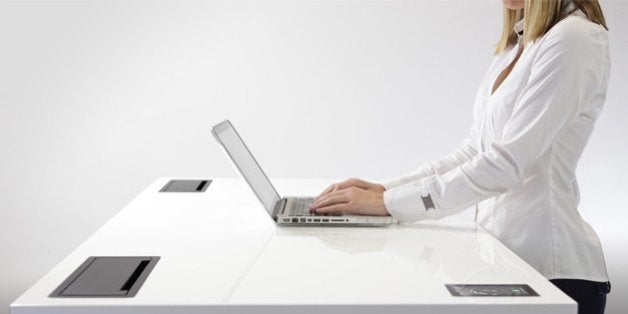 J.P. Labrosse was already feeling better.
Just weeks after he arrived at Apple to lead the special products team developing the iPod Classic and Shuffle, the standing desk he was assigned was starting to pay off. He felt healthier.
"Immediately I noticed I felt more energetic," he said, excitedly jolting forward on the couch where he sat on a recent Friday afternoon. "I was getting more fit."
But as work on various iPod models mounted, Labrosse found himself rarely rising from his chair. Hours piled up. He felt lucky to make it out the door in time for a late dinner or to catch a plane to China, let alone to remember to stand up during the workday.
"Even though I knew it was good to do, I started never moving out of the seated position," he said. "I was tired."
Labrosse -- now the CEO of the standing desk startup Stir -- wasn't alone. About 70 percent of people with height-adjustable desks never leave the sitting position, according to a survey of dozens of companies with height-adjustable desks, conducted by Stir.
So, he set out to fix that. He left Apple in 2005 and, after a brief stint in the solar industry, founded Stir, which produces intuitive standing desks that work in tandem with fitness trackers.
Stir desks have built-in screens that allow users to set the number of calories they want to burn and how often they want to stand. The desk rises with a soft double-tap of the screen.
But the key to Stir's success -- the 3-year-old company is already pulling in $30 million from commercial projects and average users get up once per hour -- is the way it reminds a user that it's time to get up. Rather than buzz or blink a flashing light, the desk gently rises about an inch, then moves back down. Timed to the average rhythm of a inhale and exhale, Stir dubbed the action "whisper breath."
"We tried all these different things. We could buzz your phone, we could flash a light, we could vibrate your wearable, we could do all this different stuff, but so many of those things were interruptive," Labrosse said. "The tech needs to enhance our experience without overtaking our experience. It can't interrupt us."
Standing desks began gaining favor about four years ago, when The Wall Street Journal ran the cheeky headline: "Standing Desks Are on the Rise." Beyond just helping to improve focus, the devices are widely considered the easiest way to combat the health detriments of remaining sedentary for prolonged periods of time. As has been declared countless times in the past year, sitting is the new smoking.
But Stir does face one major problem -- it's costly. Each unit sells for about $3,000, making it prohibitively expensive for many individuals. That could be an issue for Stir as it tries to tap into the growing market of freelance professionals. There is a plethora of cheaper, albeit less intuitive, options. Yet, given how infrequently people adjust the height up on their low-tech desks, a Stir unit may be worth it.
"Technology should interact without interrupting," Labrosse said. "Our technology is there when you need it and it's virtually invisible when you don't."