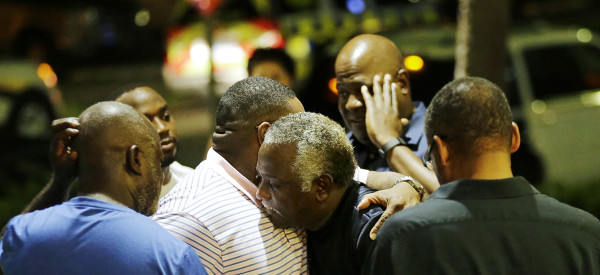 TOP STORIES
To get The Morning Email, HuffPost's daily roundup of the news, in your inbox, sign up here.
NINE DEAD IN REPORTED CHARLESTON HATE CRIME A gunman is on the loose after a suspected hate crime shooting at the historic Charleston Emanuel African Methodist Episcopal Church that left nine dead, including the Church's pastor, state Sen. Clementa Pinckney. The at-large gunman is a white male in his early 20s, described as "extremely dangerous." [Ed Mazza and Kelly Chen, HuffPost]
POPE RELEASES CLIMATE CHANGE ENCYCLICAL CALLING ON HUMANS TO PROTECT PLANET "In the lengthy treatise, more broadly addressed to 'every person' who lives on Earth, the pope lays out a moral case for supporting sustainable economic and population growth as part of the church's mission and humanity's responsibility to protect God's creation for future generations." Read the encylical in its entirety. [Jaweed Kaleem, HuffPost]
WOMAN TO APPEAR ON $10 BILL Say goodbye to Alexander Hamilton, because come 2020, a woman will take his place. [Mollie Reilly, HuffPost]
OBAMA'S SECRET PEACE DEAL "Qatar and the United Arab Emirates, two U.S. allies that have been fighting a proxy war in Libya since shortly after the 2011 overthrow of Libyan dictator Muammar Gaddafi, have agreed in principle to resolve their differences, The Huffington Post has learned. This previously unreported commitment, made between top leaders under pressure from President Barack Obama during talks at Camp David on May 14, suggests that peace negotiations in Berlin between the Gulf states' Libyan proxies may yet bear fruit." [Akbar Ahmed, HuffPost]
BRIAN WILLIAMS TO STAY AT NBC But the embattled anchor loses his "Nightly News" job and is reportedly moving to MSNBC as a breaking news reporter. [Andrew Hart, HuffPost]
OVERDOSE DEATHS ON THE RISE According to the nonprofit group Trust for America's Health, the number of drug overdose deaths doubled between 1999 and 2013. [Reuters]
CIA DIDN'T KNOW STRIKE WOULD KILL AL-QAEDA'S NUMBER TWO "Nasir ­al-Wuhayshi, who also served as ­al-Qaeda's overall second-in-command, was killed in a 'signature strike,' in which the CIA is permitted to fire based on patterns of suspected militant activity even if the agency does not know the identities of those who could be killed." [WaPo]
WHAT'S BREWING
CALIFORNIA JUDGE RULES UBER DRIVERS EMPLOYEES, NOT CONTRACTORS And destroys Uber's model of having its drivers shoulder the expense for healthcare and other necessities. [HuffPost]
WHY YOUR FAVORITE SHIRTLESS PHOTOS OF PUTIN EMPOWER HIM "The shirtless photos and bathing suit shots aren't just a way for Putin to show off his presidential dad bod, they're also a way for him to highlight his health and strength. It's a reminder to the Russian public -- and to the Russian elite, whose support Putin relies on -- that Putin is healthy, he is in control, and he is going to stay that way." [Vox]
GOLDMAN TELLS INTERNS THEY HAVE TO GO HOME AT MIDNIGHT But only on weeknights -- weekends don't apply. [HuffPost]
MADONNA MADE ALL HER FRIENDS APPEAR IN HER LATEST MUSIC VIDEO Copying Taylor Swift's "Bad Blood" idea. [HuffPost]
THE RISE OF SILENT DISCOS "[Meet the] silent disco, a phenomenon that has taken off at music festivals (Coachella, Bonnaroo), bars and weddings as a way to party without running afoul of noise ordinances and curfews — or in the case of universities, studying students (U.C.L.A. recently held one in the library rotunda in the run-up to finals). This is clubbing for people who don't want to be subjected to the will of one D.J. for the evening and, because the wearer controls the volume, clubbing for people who don't want ringing ears and sore throats the next morning." [NYT]
MELISSA RIVERS TO CO-HOST 'FASHION POLICE' Following in her mother's footsteps, Rivers will revive the show with co-hosts Giuliana Rancic and Brad Goreski. It premiers August 31. [HuffPost]
THE BENEFITS OF DOODLING Besides the fact they'll be worth millions when you're famous. [HuffPost]
WHAT'S WORKING
THE MEGA-CABBAGE THAT LAUNCHED 80 GARDENS "After seeing the impact of just one seedling, the then-9-year-old was hooked and, using a plot of land donated by her elementary school, she created a community garden aimed at feeding the hungry as well as getting more classmates excited about gardening. Today, according to a 2014 Time magazine article, that garden is responsible for supplying 3,000 pounds of donated produce to local charities." [HuffPost]
ON THE BLOG
WHAT I LEARNED WHEN MY BROTHER DIED "In the days and years that followed it was a crash course in living life without my brother. I quickly learned that there were no books, no articles, no nothing. Nothing that could help me learn how to cope, know how to feel, or what to expect. No one really talked about the 'leftover kid.'" [HuffPost]
BEFORE YOU GO
~ Anarchy reigns as enforcement of the Yale Club's dress code slips.
~ Defining transracial.
~ Sean Penn and Charlize Theron are no more.
~ It hurts us to do this, but here are some holes in the popular theory about this season's "Game of Thrones" finale.
~ TBT with the Statue of Liberty.
~ The breathtaking over-exposed photos of Africa's ancient trees under the stars.
~ Turns out Michael Oher of "The Blind Side" fame isn't a huge fan of the movie.
~ We're scared of Burger King's red burger.
~ You all can stop hyperventilating: there will not be a Corona shortage this summer.
~ Experimental drug may offer the first cure for dwarfism.
~ And the Trump announcement story just keeps getting better: the candidate allegedly paid actors $50 to cheer for him at his rally.
Send tips/quips/quotes/stories/photos/events/scoops to Lauren Weber at lauren.weber@huffingtonpost.com. Follow us on Twitter @LaurenWeberHP. And like what you're reading? Sign up here to get The Morning Email delivered to you.