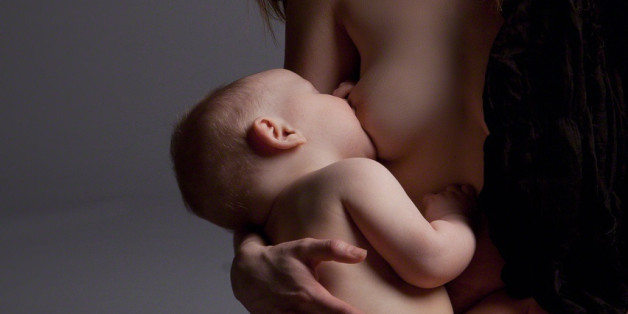 A judge in Australia has banned a mother from breastfeeding her infant son because she recently got tattooed -- a decision that has breastfeeding advocates up in arms.
Federal Circuit Court Judge Matthew Myers ruled that the woman's decision to get tattooed in May "exposed her 11-month-old baby to an unacceptable risk of harm," the Australian Broadcasting Corporation reports.
Although the mother tested negative for both hepatitis and HIV, the judge claimed the tests were inconclusive.
According to the Sydney Morning Herald, the case was brought before the court amid a bitter custody dispute between the woman and the baby's father. The latter reportedly raised concerns after the woman decided to get a finger and foot tattooed.
Myers said he relied on guidelines published by the Australian Breastfeeding Association in making his ruling. However, Rebecca Naylor, the association's chief executive officer, said this week that she strongly disagrees with the ban.
"Tattooing is a regulated industry, so if you go to a tattoo parlor that is reputable then the chances [of contracting an infection] are very low," Naylor told the Australian Broadcasting Corporation. "I think unless there's evidence that she has contracted an infection as a result of that tattoo, then it is unreasonable… We would absolutely encourage women who have had tattoos to breastfeed their babies for as long as they choose to."
Breastfeeding advocates the world over have expressed alarm at the judge's decision.
A representative of the UK's National Childbirth Trust told the BBC that "there are very few circumstances for a woman to be medically advised not to breastfeed."
"Breast milk from a mother who has had a tattoo, as long as it was done properly in hygienic surroundings, would not put a baby at risk," the rep added.
Jake Marcus, a Philadelphia-based attorney with expertise in breastfeeding and mothering law, told Yahoo! Parenting that she was concerned the judge's decision might set a worrying precedent.
"My fear in this, as with all other cases in which breastfeeding is court-limited, is the very dangerous precedent of examining every detail of a breastfeeding person's life in a way that impinges on her rights," Marcus said. "What is next? Will breastfeeding people be monitored for unprotected sex, which has a far greater risk of passing blood-borne pathogens than a non-prison, non-street tattoo? I can't help but wonder whether this is a case of a clever attorney for the father having the luck of an ignorant and socially-biased judge."
The Family Court in Sydney will hear an appeal against the breastfeeding ban on Friday.
BEFORE YOU GO
PHOTO GALLERY
Memorable Breastfeeding Moments In Hollywood