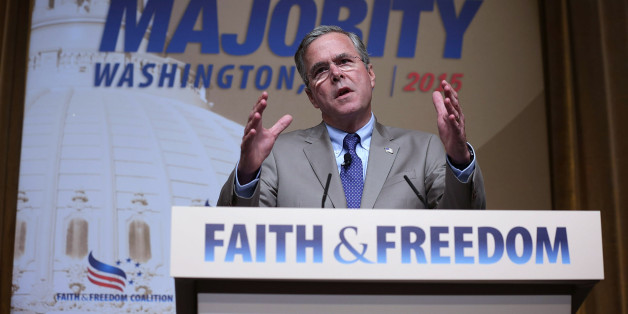 Republican presidential candidate Jeb Bush told a group of conservative Christians on Friday that he will continue to support traditional marriage regardless of whether the Supreme Court legalizes same-sex marriage this month.
"In a country like ours, we should recognize the power of a man and a woman loving their children with all their soul as a good thing, as something positive and helpful for those children to live successful lives," the former Florida governor said at the Faith & Freedom Coalition conference. "And while there are people who disagree with this, we should not push aside those who do believe in traditional marriage. I for one believe it's important and I think it's got to be important over the long haul, irrespective of what the courts say."
The high court will rule this month on whether same-sex couples have a constitutional right to get married and whether states should be required to recognize same-sex marriages that were performed in other states. While Bush has not said he would support a constitutional amendment that limits marriage to a man and a woman, he has said Christian business owners should be able to deny services to same-sex couples "if it's based on a religious belief."
Bush reiterated his support for those conscience protections on Friday.
"We need to make sure that we protect the right not just of having religious views, but the right of acting on those religious views," he said. "Conscience should also be respected for people of faith who want to take a stand for traditional marriage."
BEFORE YOU GO