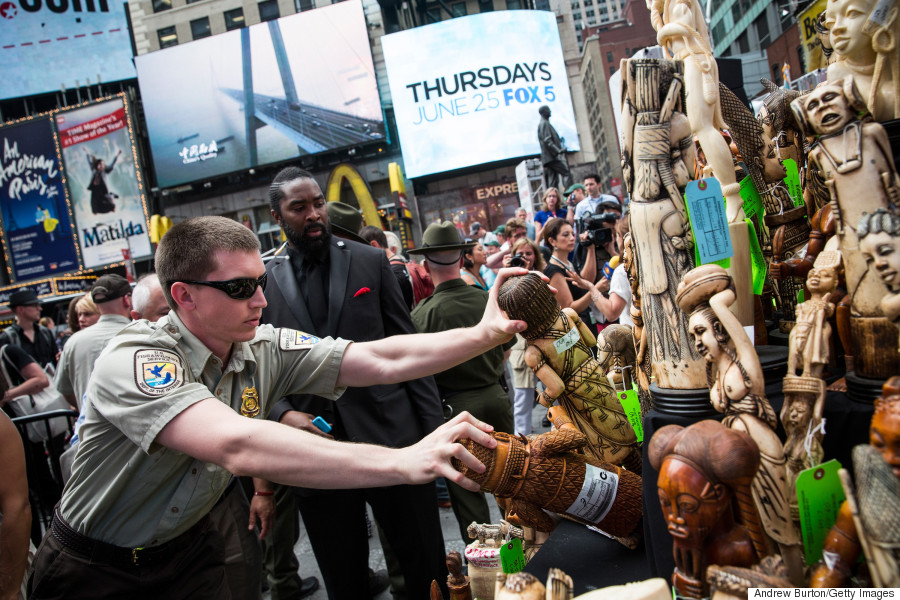 One ton of confiscated ivory trinkets were crushed to bits in New York's Times Square on Friday morning as part of the government's attempt to stamp out the thriving, illegal trade.
Officials from the U.S. Fish and Wildlife Services pulverized the elephant-derived goods with a 44-foot-long by 13-foot-wide machine used for crushing rocks while a number of conservation groups looked on with approval.
"Today the United States sent a strong message that it will not tolerate wildlife crime," World Wildlife Fund president and CEO Carter Roberts told The Huffington Post in a statement. "For Africa's vanishing elephants, these are the most desperate of times and more needs to be done."
Trailing only China, the U.S. is home to the world's second-largest ivory market, with New York City leading the U.S. in illegal imports.
The U.S. has banned the import of all raw ivory and products made from ivory harvested after 1976. The country also outlawed the domestic sale any ivory imported after 1990.
But wildlife groups studying the industry have found that merchants easily lie about their products' origins.
African elephant populations have dropped from 1.2 million in 1989 to just 420,000 in 2012, largely because of poachers killing the gentle giants so that manufacturers can carve their tusks into trinkets and other decorative art pieces. In recent weeks, studies showed that half of Mozambique's elephant population and 60 percent of Tanzania's were wiped out in the past five years.
The state of elephant populations inspired a similar ivory crush in China last month, where officials announced the country's pledge to phase out all ivory sales.
"The US must do the same, urgently," Roberts wrote.
See photos from the Times Square ivory crush below.
PHOTO GALLERY
Ivory Crush