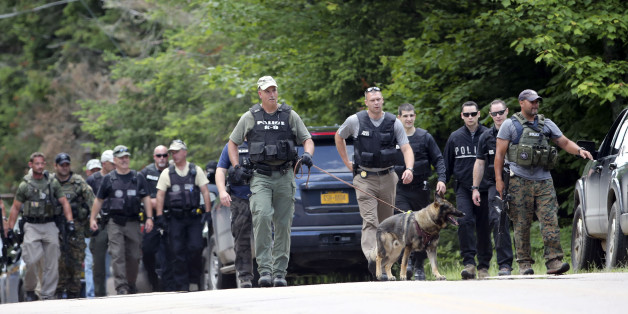 The first major lead into the whereabouts of escaped murderers Richard Matt and David Sweat came with the discovery of prison-issue underwear in a remote hunting cabin in upstate New York.
As the manhunt for the two escapees reached a 17th day on Monday, DNA matching the killers -- and the discarded underwear -- were found in a cabin in Franklin County, an unnamed official told The New York Times Monday.
The cabin, near the hamlet of Owls Head, is roughly 20 miles west of the Clinton Correctional Facility in Dannemora, where Sweat and Matt escaped June 6. Possible sightings of the men in Franklin County have thus far been unconfirmed, according to local station WPTZ.
"We have law enforcement from the area and nation searching for more evidence," state police Maj. Charles Guess said in a Monday press conference, according to the Adirondack Daily Enterprise. Though the Times confirmed via anonymous sources that the DNA samples matched the escapees, Guess refused to publicly divulge more details.
"We cannot give the specifics of the items we discovered while investigating this particular lead," Guess said. "We have recovered specific evidence from that cabin and forwarded it to the appropriate laboratory and reached a conclusive determination."
Sweat, 35, was serving a life sentence without parole in the killing of a sheriff's deputy. Matt, 48, was doing 25 years to life for the kidnap, torture and hacksaw dismemberment of his former boss. The two cut their way out of the maximum security facility using power tools.
Officials suspect the escapees had inside help. One guard has been suspended and a civilian prison tailor shop instructor has been arrested on charges of aiding the inmates.
New York Gov. Andrew Cuomo (D) previously announced a $100,000 reward for information leading to men's capture.
BEFORE YOU GO
PHOTO GALLERY
Shawshank Redemption-style prison break