Meryl Streep has been called one of the greatest actresses alive. She's been nominated for 19 Academy Awards, and won three. Oscar winners over the past decade are more likely to thank her than God. In an industry that's shockingly unfair to aging women, her career continues to flourish -- praise Meryl.
But some of her work in smaller or less critically acclaimed projects has been forgotten. In honor of her birthday on June 22, we're here to remind you of some of the (often very odd) roles she's played, in no particular order.
She-Devil (1989)
Roseanne Barr and Streep go up against each other in an unexpected comedy about a famous romance novelist Mary Fisher (Streep) who sleeps with an accountant married to a less fabulous woman (Barr). Accountant Bob (Ed Begley Jr.) dreams of working for the rich and famous -- as an accountant, but still. Mary is wonderfully oblivious to the threat posed by his wife, who begins almost immediately plotting elaborate revenge against the two, becoming the titular "she-devil." Between a lot of slapstick humor, Barr sets about her plan, learning to stand on her own two feet in the process.
"She's a real glamour puss," Streep told The New York Times in an interview about her novelist character at the time, explaining how appearances were more troublingly important in public life than ever. ''Look at who's in Congress, who's running the studios. I see more people having plastic surgery," she said. "It's too bad.''
Netflix? No, sadly. It is on Amazon, though.
Quote: "That's your wife? That's too bad."
Postcards from the Edge (1990)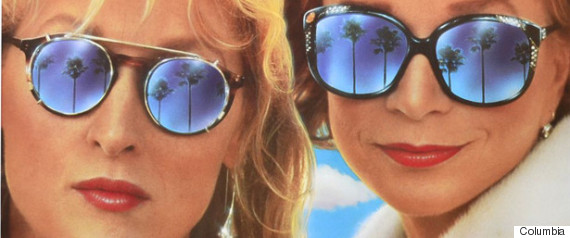 Meryl Streep plays a cocaine-addicted actress named Suzanne whose life is sort of in shambles. We see her wake up from a one-night stand, and she's barely functional on the set of her latest film. Her actress mother, played by Shirley MacLaine, drinks too much white wine and can't allow herself to concede attention to her struggling daughter. (After Suzanne is convinced to sing at a party, her mother cuts in to show off her own, fuller voice for guests.) Following a stint in rehab, Suzanne meets handsome movie producer Dennis Quaid -- and slowly realizes she doesn't need a man to make her happy.
Netflix? Nope, over on Amazon.
Quote: "Do you always talk in bumper stickers?"
Alice At The Palace (1982)
Probably her most perplexing role of all time, Streep plays a 7-and-a-half-year-old girl in this New York Shakespeare Festival adaption of "Alice In Wonderland." She's a grown woman in baby-pink overalls who slips down a rabbit hole into a fantasy world. She drinks a mysterious liquid and dances uncontrollably! She plays air guitar with a stuffed flamingo! She dance-fights with a Jabberwocky! And she does all this between a lot of singing, which somehow scores her the crown to Wonderland. She rules until she wakes up and realizes it was all a dream …
Netflix? Nope, but it's all on YouTube if you're inclined to spend an hour feeling deeply confused.
Quote: "Beautiful soup! So rich and green! Waiting in a hot tureen."
Defending Your Life (1991)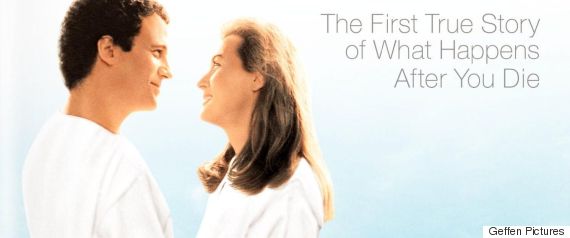 An ad executive (Albert Brooks) finds himself in Judgment City after crashing his new BMW into a bus (typical) and awaits his fate. Will he go to heaven? If it's determined that he didn't learn from his mistakes as a living person on Earth, he'll have to go back and start again. Which kind of means Earth is hell. Which really makes a lot of sense. Anyway, things aren't looking too great for our ad bro when along comes Meryl Streep in a flowing white gown. Her fate is pretty much certain because she's a dead ringer for heaven's newest angel. The stakes are high for ad bro: Prove he wasn't a terrible person, or lose his newfound love interest.
Netflix? Nope. Amazon.
Quote, describing how she died: "It's embarrassing. I tripped."
Before and After (1996)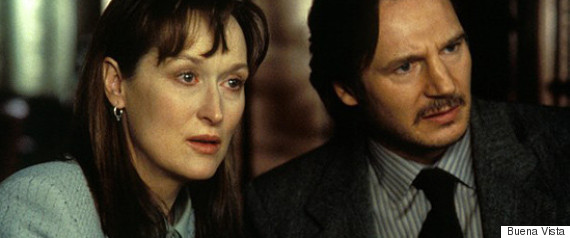 When her son is accused of murdering his girlfriend, Dr. Carolyn Ryan (Streep) and sculptor husband (Liam Neeson) are thrown into a small-town tragedy. Did he do it? Does it matter? Shouldn't they protect him because he's their son, even if he is seemingly a creep? The town is understandably not on their side. The film had a not-so-great reception, but Streep and Neeson were all right in it.
Netflix? Maybe one day. For now, Amazon.
Quote: "Do everyone's parents destroy evidence and lie to the police?"
Music of the Heart (1999)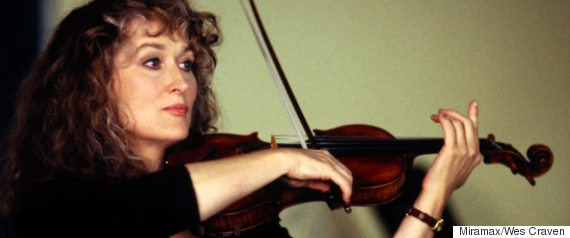 Streep whips a bunch of ragtag inner-city kids into a high school orchestra worthy of Carnegie Hall in this wholly predictable film. She's a somewhat reluctant yet inspiring music teacher. Angela Bassett is a principal just trying to do the best with what little funding she's got. Everyone believes in these kids. And if they can just band together to fight the system, we'll arrive at the heartwarming ending we saw coming all along. It's based on a true story, though, and directed (mysteriously) by Wes Craven.
Netflix? Yes!
Quote: "Now listen to me. I want you all to play from your heart. Forget about the audience. Watch me; you'll do just fine. Just play from here [puts hand over heart]. Okay?"
The Simpsons: Season 6, Episode 7 (1994)
Lucky Bart -- Meryl Streep voiced his secret girlfriend Jessica Lovejoy back in the '90s. She's, like, sooo pretty and smart and her father is the reverend at church! But it turns out her behavior is worse than Bart's. When some of the church's collection money goes missing and Bart gets blamed, it takes clever Lisa to uncover the real thief -- Jessica. J'accuse!
Netflix? Nope. DVD.
Quote: "Because, if you tell, no one will believe you. Remember, I'm the sweet, perfect minister's daughter, and you're just yellow trash."
BEFORE YOU GO
PHOTO GALLERY
Actresses Told They Weren't Pretty Enough