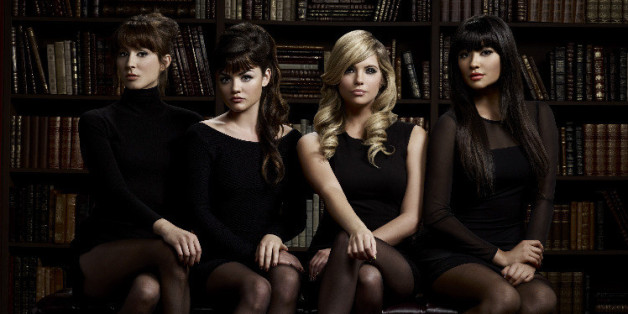 "Pretty Little Liars" fandom requires a special kind of love. For the past five seasons, we've tuned in each week to get a fingernail-sized clue toward solving a mythical giant-sized mystery. This year, we've been promised a #SummerofAnswers as the show moves toward wrapping up its central arc ... yet, so far, Season 6 has felt very similar to all those Summers and Winters of No Answers.
So while we keep tuning in for great Hannah quips, Spencer trivia factoids, Emily sighs and Aria's skirt patterns, we doubt that the "Pretty Little Liars" viewing experience will ever actually change. Which means, as you tune in to tonight's episode, your thoughts will probably go something like this:
Wow. If last week's teaser is any indication, we're going to learn something MAJOR about "A" tonight.

Hmmm. The line from the promo that was teased as a big reveal actually didn't tell us anything new. It's probably setting up, like, a major reveal for the last moment of the episode, though.

OMG. "A" IS DOING A NEW HORRIBLE THING!!! Why do any parents in Rosewood let their children leave the house?

I wonder where this arc with the detective/cop acting super shady is headed.

Ugh. Aria's eyebrows are ON FLEEK.



Interesting. A 20-something is hitting on a 17-year-old and everyone's acting like it's normal. This is really not normal or at all okay.

Huh. Still learned nothing new about "A" yet.

Why would you go anywhere alone, Aria/Spencer/Hannah/Emily? Get out of that attic/closet/alley!!!

Great, another adult putting their teen in danger by NOT GETTING IT.

I guess that detective/cop thing is more of a season-long question. Not something we're going to find out a single thing about, or even return to in this episode.

You know ... Still learned nothing new about "A."

Ali ... are you good or bad rn?

Okay, I guess good.

Wait ... bad?

Whoa. According to the teaser, we're going to learn something MAJOR about "A" next week.

BEFORE YOU GO
PHOTO GALLERY
"Pretty Little Liars"