Surf City USA knows a thing or two about epic waves, but this one is going down in history.
On Saturday, 66 people at southern California's Huntington Beach Pier mounted a giant board and surfed their way into a new Guinness World Record for the most people ever to ride a single surfboard.
The surfers -- who included surfing legends, locals and even California Rep. Dana Rohrabacher -- balanced the board and surfed together for 13 seconds, breaking the previous record set by a group of 47 Australians who surfed a wave together for 10 seconds in 2005.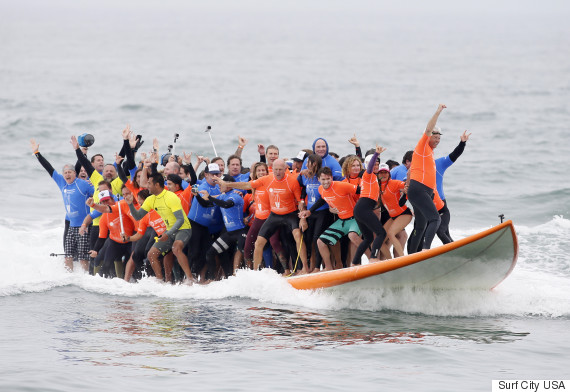 On Monday, Guinness World Records confirmed that Visit Huntington Beach, the city's visitor bureau that organized the event, broke another world record for creating the world's largest surfboard.
The record-breaking board was about 42 feet long, 11 feet wide, 16 inches thick and, according to the Huntington Beach Independent, weighed 1,300 pounds.
Its surf fins were designed to withstand the weight of the board, plus 10,000 more pounds for the collective weight of its riders.
The board was intended to be a giant replica of a shortboard used by pro surfer and Huntington Beach native Brett Simpson, and was designed to perform "exactly as a high-performance surfboard should," Kelly Miller, president of Visit Huntington Beach, told the HB Independent.
"It truly is a piece of art as well as a very functioning, high-performance, record-breaking-worthy surfboard," Miller said.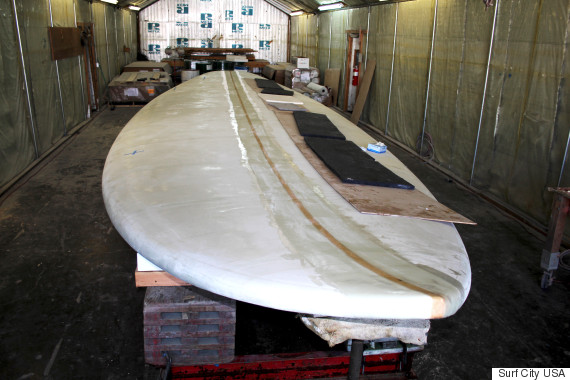 Now that the epic surf session has ended, the board has been put on display at the city's International Surfing Museum.
Below, take a look at what it's like to ride a wave with 65 other surfers:
BEFORE YOU GO
PHOTO GALLERY
Amazing Waves