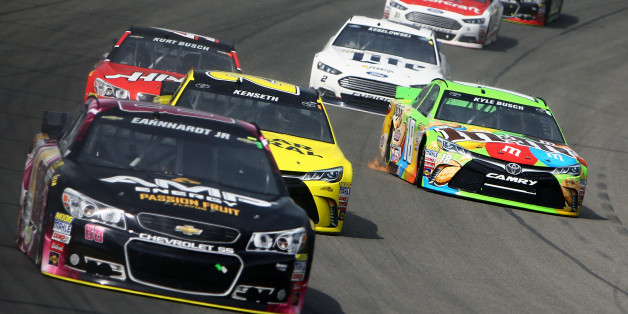 NASCAR said Tuesday it agrees with widespread calls for South Carolina to stop flying the Confederate flag on the grounds of the state Capitol.
"As we continue to mourn the tragic loss of life last week in Charleston, we join our nation's embrace of those impacted," the organization said in a statement.
"NASCAR supports the position that South Carolina Governor Nikki Haley took on the Confederate Flag on Monday," it added. "As our industry works collectively to ensure that all fans are welcome at our races, NASCAR will continue our long-standing policy to disallow the use of the Confederate Flag symbol in any official NASCAR capacity. While NASCAR recognizes that freedom of expression is an inherent right of all citizens, we will continue to strive for an inclusive environment at our events."
Since last Wednesday's racist massacre of nine black churchgoers in Charleston, South Carolina, government officials have faced increased pressure to take down the Confederate flag. Flags across the state were lowered to remember the deceased, but the Confederate flag near the Capitol in Columbia stayed put. By law, the South Carolina General Assembly must vote to take down the flag.
Haley convened a press conference on Monday and called for the flag's removal. She said she would use her authority to call legislators in for a special session to deal with it if they did not act.
In 2012, NASCAR canceled plans to have professional golfer Bubba Watson drive a car from the television series "The Dukes of Hazzard" that featured a Confederate flag on its roof at an event in Phoenix.
"The image of the Confederate flag is not something that should play an official role in our sport as we continue to reach out to new fans and make NASCAR more inclusive," NASCAR spokesman David Higdon said at the time.
Want more updates from Amanda? Sign up for her newsletter, Piping Hot Truth.