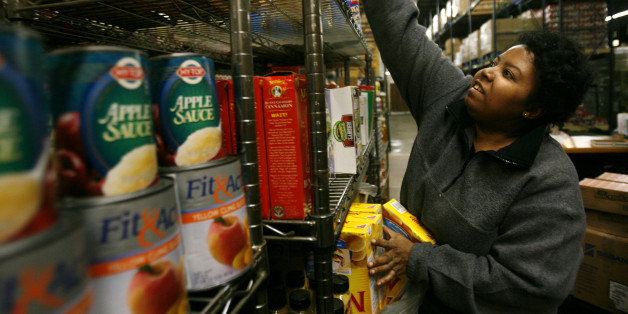 A food pantry in the nation's capital is taking a fresh approach to efficiently identifying and feeding the hungry -- with surprising results.
As the Washington Post reported last week, the Capital Area Food Bank in Lorton, Virginia, is using maps drawn from a variety of data sets to more accurately determine which parts of the metro area are most in need of food.
The new push has come largely thanks to the work of an ambitious young programmer named Michael Hollister. In a June 12 blog post on CAFB's website, Hollister explained that the maps relied on data from a variety of sources, including from the group's internal documents, U.S. Census Bureau survey data, the U.S. Department of Agriculture's food desert map and Feeding America's Map the Meal Gap study.
Initially, according to the Post, the maps confirmed what they already knew, that the 7th and 8th wards in D.C. and parts of Prince George's County were home to the most food insecure people, but when they overlaid a map of where Capital Area Food Bank and its partner organizations were already providing services, some surprising gaps between need and services were identified.
Many suburban areas near D.C. were flagged as having unmet hunger needs and that information is now being used to inform decisions such as how the food bank spends its resources and which partner organizations it works with.
Among those decisions, according to Hollister's blog post, were prioritizing school locations for a new partnership between the food bank and Martha's Table, another area nonprofit, in an effort to provide healthy food for all 7th and 8th ward elementary schools. The mapping also helped identify Prince William County in Virginia as the host for the organization's first mobile feeding bus, a retrofitted school bus that will deliver meals for children in the suburban community starting this month.
Also playing a role in the food bank's use of new technology in addressing hunger is a pro-bono partnership with Applied Predictive Technologies (APT), a predictive analytics software company. According to an APT press release, APT helped create the organization's hunger "heat map" and conducted an analysis to help optimize the bank's food purchases, namely which food categories were experiencing the most consistent demand.
The nation's capital was previously identified by Feeding America as home to the nation's highest rate of food insecurity among children. According to the CAFB, an estimated 14.5 percent of D.C. residents are food insecure and more than a quarter of the district's children under the age of 18 — 27.9 percent -- live in a food-insecure household.
BEFORE YOU GO
PHOTO GALLERY
The Hungriest States In America