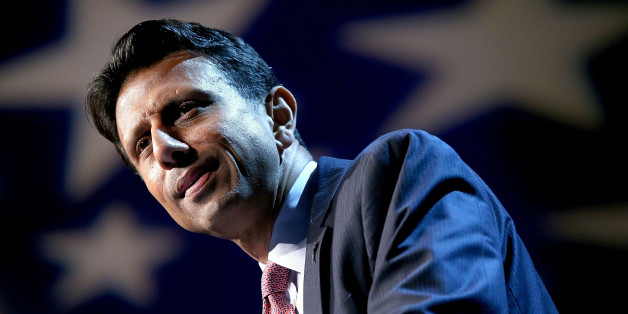 WASHINGTON -- Louisiana Gov. Bobby Jindal (R) kicked off his campaign for president Wednesday with the standard fare. He called President Barack Obama's handling of foreign policy misguided, and questioned former Secretary of State's Hillary Clinton's credentials for the presidency.
But Jindal did something in his announcement no other Republican 2016 candidate has done so far: call out a GOP presidential rival by name.
"You've heard [former Florida Gov.] Jeb Bush say that you've got to be willing to lose the primary in order to win the general election. We're going to help him do that," Jindal said, drawing applause from a crowd of supporters at his announcement speech in Pontchartrain Center in Kenner, Louisiana.
"What Jeb is saying is we need to hide our conservative ideals," Jindal added. "Let's boldly speak the truth without fear."
Bush argued in December that in order to win the White House, a candidate should be willing to "lose the primary to win the general, without violating your principles." Bush, former governor of Florida, is an establishment Republican who has recently cast himself in a more moderate light. He has said that he would remain faithful to his positions on immigration and the Common Core education standards, which some conservatives have taken issue with as too liberal.
What would motivate Jindal to attack Bush so directly, especially in a speech that is typically reserved as a positive, uplifting introduction of himself to the nation? His poll numbers, for one. Jindal ranks at or near the bottom of the 2016 Republican presidential field, at approximately 1 percent. Any attention among a crowded race would serve his interest, considering that where things stand now, he wouldn't qualify for the first GOP debate held by Fox News in August.
BEFORE YOU GO
PHOTO GALLERY
Declared 2016 Presidential Candidates