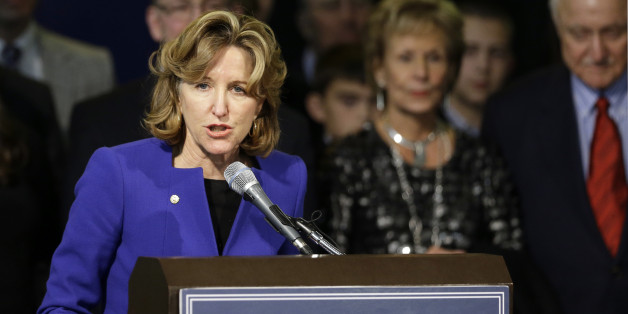 WASHINGTON -- Former U.S. Sen. Kay Hagan (D-N.C.) has decided against challenging Republican U.S. Sen. Richard Burr in 2016, leaving Democrats to weigh various other options for what could be one of the country's most competitive races next year.
Roll Call first reported on Hagan's decision to pass on a bid Tuesday, citing calls Hagan was making to donors. The Huffington Post confirmed the news Wednesday.
Then-state House Speaker Thom Tillis (R) defeated Hagan by less than 2 points in 2014 in a harsh cycle for Democratic incumbents. But Democrats still consider North Carolina to be one of the nation's swing states, especially in presidential election years: President Barack Obama narrowly won the state in 2008 and narrowly lost it in 2012. Democrats need to pick up at least four seats to win back the Senate in 2016.
Burr is usually cited as one of the most vulnerable GOP incumbents among the Democrats' pick-up options, and Hagan had been the top choice for national Democrats until this week.
Leading the Democrats' wish list for 2016 are Transportation Secretary Anthony Foxx and state Treasurer Janet Cowell. Tom Ross, the outgoing president of the University of North Carolina system, former Democratic Rep. Heath Shuler, state Senate Minority Whip Josh Stein and state Senate Minority Leader Daniel Blue have also been mentioned as potential candidates.
The problem for Democrats is that Foxx personally told Burr he wouldn't run and Cowell said earlier this year she would run for re-election to her current position. Stein is expected to run for attorney general. Convincing any of the above candidates to run could be difficult, but then again, the Democratic Senatorial Campaign Committee changed the minds of Hagan for 2008 and former state Sen. Cal Cunningham for 2010 when they had initially decided against U.S. Senate bids.
Democrats point to Burr's mixed approval ratings in his second term to make the case that they will be able to define him negatively in next year's race. A June poll from Public Policy Polling found that 35 percent of voters approve of the senator's job performance, 36 percent disapprove and 30 percent are not sure how they feel about him.
But Republicans said Hagan's pass means Democrats saw "the writing on the wall."
"Another embarrassing recruitment failure for Senate Democrats with Kay Hagan's decision not to run for Senate in 2016," National Republican Senatorial Committee spokesman Matt Connelly said in a statement. "In the Senate, Hagan was part of the problem -- missing key national security hearings for fundraisers, padding her families pockets with stimulus cash, North Carolina voters sent her a clear message last November and thankfully she finally heard it."
BEFORE YOU GO
PHOTO GALLERY
2014 Election Results: Winners & Losers