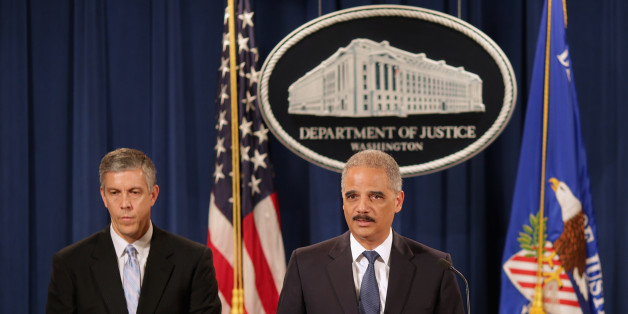 New data from the U.S. Department of Justice strongly suggest that the Education Department missed thousands of violations of federal law when it publicly exonerated Navient Corp., one of its favored student loan contractors, of intentionally cheating troops on their federal student loans.
In May 2014, the Justice Department filed and settled a lawsuit against Navient accusing the company of deliberately overcharging an initially estimated 60,000 active-duty service members on their federal and private student loans, in violation of federal law.
The Justice Department lawsuit prompted an Education Department investigation. The probe, finalized last month, concluded that Navient likely had only overcharged about 176 of the nearly 53,000 eligible service members whose Education Department-owned loans the company serviced during the five-year period ending in May 2014. On May 26, the Education Department absolved Navient of wrongdoing and allowed the company to keep its lucrative government contract to collect borrowers' monthly payments.
But the Justice Department's newly released figures indicate that the Education Department may have undercounted instances of potential wrongdoing on Navient's part by a factor of more than 100. It found that Navient overcharged some 19,000 service members on their Education Department-owned student loans. That's as much as one-third of all eligible service members with Navient-serviced government loans.
In interviews with The Huffington Post, federal sources criticized the Education Department's conclusions, arguing they were based on a narrow and shoddy investigation and thus vastly undercounted the number of harmed service members. Those points are supported by the Justice Department figures.
The Justice Department data on the number of service members overcharged on Education Department-owned loans, previously unreported and provided to HuffPost, underscore a deep divide between the Education Department and Justice Department over how to punish companies accused of violating federal law. It also revives lingering concerns that the Education Department views Navient, a former unit of student loan giant Sallie Mae and one of the nation's largest student loan specialists, as too big to fail.
"The Department of Education needs to show that there's a real cop on the beat," Sen. Elizabeth Warren (D-Mass.) said in a speech earlier this month, in reference to the Navient probe. "It's time to get tough."
Navient is the nation's largest servicer of student loans, collecting more than 12 million borrowers' monthly payments and counseling them on repayment options for both Navient-owned loans and loans the company services for other lenders. About half of its borrowers' accounts are serviced for the Education Department, making the department one of its biggest clients.
Navient has reaped $323 million in revenue under the Education Department contract over the last three years, according to the company's most recent annual report filed with the Securities and Exchange Commission.
The allegations federal prosecutors and bank regulators raised against Navient in 2014 concern whether the company complied with the Servicemembers Civil Relief Act, a World War II-era law that caps interest rates at 6 percent for loans that service members incur prior to going on active duty. The law is designed to relieve financial burdens for troops, and was applied to federal student loans in 2008 as part of a string of updates following the launch of U.S. wars in Afghanistan and Iraq.
In the 2014 case, authorities at the Justice Department and Federal Deposit Insurance Corp. alleged that Navient cheated active-duty military personnel by misleading them about the law's benefits, ignoring their requests for a reduced interest rate, and generally making it harder for them to secure a lower rate.
Federal prosecutors sued the company, but settled the suit the same day it was announced. The FDIC also settled its accusations. Navient neither admitted nor denied the allegations.
Student advocates and labor groups subsequently pressured Education Secretary Arne Duncan to end Navient's lucrative 2009 contract in response to the Justice Department's lawsuit. Duncan's department had missed the alleged misconduct that occurred under its watch, and breaking the law regarding service members' loans almost certainly constituted a violation of Navient's contract.
Duncan said on May 13 of last year that he had begun an investigation to determine whether Navient had indeed breached its contract to service student loans owned by his department.
"Everything is on the table and there's no presumption of guilt or innocence," Duncan said of the possibility of terminating Navient's contract. "We'll do a thorough review and we'll go where the facts follow." As part of the review, Duncan said the agency would also investigate whether its three other major loan contractors complied with the service members law.
At the time of the lawsuit, the Justice Department didn't specify how many of the 60,000 troops were illegally overcharged on loans owned by the Education Department. But in their complaint, federal prosecutors said an audit revealed that 8 percent of the loans to service members in Navient's database that carried illegally high interest rates were Education Department-owned loans.
Federal prosecutors said a majority of troops who were illegally charged higher interest rates had provided Navient with military documents indicating their eligibility for reduced rates.
A year later, and some eight months after the probe was supposed to be completed, the Education Department announced on May 26 that its four contractors had complied with the law "in the vast majority of cases" and that its investigation showed that the companies, including Navient, had "incorrectly" denied troops' requests "in less than 1 percent of cases." There was little evidence of wrongdoing, according to Duncan's team.
The Education Department looked at a sample of 300 troops' files to determine whether there was any wrongdoing under Navient's contract to service loans on its behalf, and concluded that Navient had overcharged just one active-duty service member with a federal student loan in violation of the service members law.
The Education Department's investigation found an error rate of just 0.33 percent, which implied that Navient had wrongfully overcharged just 176 service members from the start of its June 2009 contract to the May 2014 settlement.
On May 28, two days after the Education Department cleared Navient of wrongdoing and said the company would keep its federal contract, the Justice Department announced an update to its 2014 settlement with Navient.
The Justice Department said that 77,795 troops would receive refunds as part of its settlement with the student loan giant. The final tally exceeded Justice Department expectations by about 18,000 troops, or 30 percent.
Of the nearly 78,000 service members slated for refunds, about 19,000 of them had loans owned by the Education Department, Justice Department spokeswoman Dena Iverson said. The Justice Department's accounting of how many service members with Education Department-owned loans deserved refunds exceeds the Education Department's rough tally of 176 wronged troops by a factor of more than 100.
The Justice Department-ordered refunds depend on how long the interest rate exceeded 6 percent and by how much, and on the types of military documentation the service member provided. Military personnel with Education Department-owned loans are getting a total of $3.1 million in refunds for Navient's alleged overcharging.
Underlying the timing of the Justice Department's announcement was a long-simmering dispute between federal prosecutors and the Education Department over whether Navient violated federal law by overcharging service members.
Federal sources, who spoke on the condition of anonymity because they weren't authorized to discuss the matter, told HuffPost that the Education Department may have missed allegedly illegal conduct by Navient in part because its investigation was incomplete.
For example, the the Education Department didn't listen to recordings of telephone calls between Navient representatives and service members who may have requested a lower interest rate under the service members law, according to department spokeswoman Denise Horn.
HuffPost reported in October that an initial Education Department probe into Navient's compliance with the service members law did not include reviews of call recordings.
That stands in contrast to the Justice Department investigation, in which federal officials reviewed call recordings between Navient employees and active-duty troops to spot instances in which service members were illegally told they were ineligible for the interest rate benefit.
Call recordings are critical in investigating financial companies' compliance with the service members law because the telephone remains the primary way for borrowers to communicate with their loan companies, sources told HuffPost.
That may be why the Education Department didn't find nearly as much wrongdoing as the Justice Department. The discrepancy raises questions about the Education Department's decision to not review call recordings between Navient and service members.
The FDIC, which oversaw part of Navient before its former owner, Sallie Mae, split into two separate companies, said in its settlement with the company that it found evidence that Navient had wrongly told borrowers that active-duty troops had to be deployed in order to receive the interest rate benefit under the service members law.
FDIC examiners found this after listening to call recordings. Separately, the Justice Department investigated individual borrowers' cases that were sparked by the borrowers' complaints to the Consumer Financial Protection Bureau, or CFPB, sources said.
In 2012, the CFPB reported that it had received complaints from service members who said that after contacting their loan servicers for advice prior to their active-duty service, they had been "guided" into repayment plans that temporarily delayed their required monthly payments, rather than lowering the monthly amount in accordance with the service members law.
The military members were unaware that their total debt would balloon as a result of the accumulation of unpaid interest, the CFPB said. They were steered away from invoking their right to a lower interest rate -- an apparent violation of the Servicemembers Civil Relief Act.
"These individuals reported that, while they were vaguely aware of the 'benefits' available to service members on active duty, they relied heavily on their servicer to provide complete information about available options, including risks and benefits associated with each option," the CFPB said.
The Education Department investigation did not look into cases in which a service member had phoned Navient to request a lower interest rate after being called to active duty.
Horn, the Education Department spokeswoman, said the department's rules at the time required service members to specifically request a lower interest rate in writing. And the department's investigation only focused on cases in which eligible service members submitted their requests in writing. Because of that, Horn said, "oral communications were not as important."
The Education Department's investigation stands in sharp contrast to a separate investigation it conducted into its contracted debt collectors, which handle defaulted student loans.
In that case, the department listened to recordings of calls between its debt collectors and distressed borrowers to determine whether the debt collectors were misleading borrowers in violation of federal law. The department stopped sending new accounts to five of its debt collectors after alleging that they had misled troubled borrowers "at unacceptably high rates."
The Education Department declined further comment to HuffPost. It also declined multiple requests to interview senior officials, including Undersecretary Ted Mitchell, who publicly praised the results of his department's investigation into Navient. Iverson, of the Justice Department, didn't respond to additional queries.
Some Senate Democrats have questioned the strength of the Education Department's investigation into Navient.
"I've been deeply disappointed with the Department of Education's conduct from the moment the appalling mistreatment of our service members by student loan servicers was first discovered. Unfortunately, this report appears to raise even more questions instead of providing the answers and accountability our service members are owed," Sen. Patty Murray (D-Wash.), the top Democrat on the Senate Health, Education, Labor, and Pensions Committee, said last month.
To some borrower advocates, the Education Department investigation reflects its main priority: Keeping Navient as one of its student loan contractors.
"The Department of Justice is making very clear that it has found systemic and institutional practices that amounted to wrongdoing, while the Education Department is actively trying to clear Navient's name," said Chris Hicks, an organizer who leads the Debt-Free Future campaign for Jobs With Justice, a Washington-based nonprofit. "Navient continues to receive special treatment from the Education Department."
Patricia Christel, a Navient spokeswoman, didn't respond to multiple requests for comment. The company "disagrees" with the Justice Department allegations, according to a claims administration website it set up for harmed troops.
Navient has told investors that the Justice Department allegations are based on a "revised and broader definition of eligibility [for the service members law's benefits] than previously required by the statute and regulatory guidance."
Navient claims that only around 5 percent of troops due refunds are getting them because of what the company described as "operational errors."
"These were human mistakes and do not reflect Navient's commitment to service members," Navient said in a question-and-answer document it posted online last year following the Justice Department settlement. "We take full responsibility for any mistakes that have occurred."
BEFORE YOU GO
PHOTO GALLERY
Elizabeth Warren