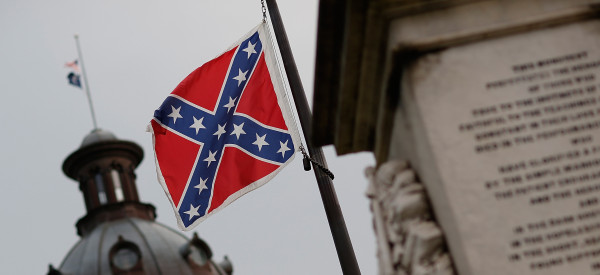 TOP STORIES
To get The Morning Email, HuffPost's daily roundup of the news, in your inbox, sign up here.
CALLS TO REMOVE CONFEDERATE BATTLE FLAG SPREAD "What began as scattered calls for removing the Confederate battle flag from a single state capitol intensified with striking speed and scope on Tuesday into an emotional, nationwide movement to strip symbols of the Confederacy from public parks and buildings, license plates, Internet shopping sites and retail stores." Supporters of the flag are suddenly finding themselves in the minority amidst the public outcry. These six companies have publicly declared they will no longer sell items displaying the banner. And looking beyond the flag, here are other tributes to the Confederacy across the South. [NYT]

FRANCE DEMANDS U.S. AMBASSADOR EXPLAIN SPYING ALLEGATIONS "France summoned the U.S. ambassador to the Foreign Ministry on Wednesday following revelations by WikiLeaks that the U.S. National Security Agency eavesdropped on the past three French presidents." [AP]
WINNERS AND LOSERS FROM THE TRADE DEAL After President Obama's trade agenda cleared the Senate yesterday, a look at who won and lost in the bitter debate. [Zach Carter, HuffPost]
IRAN'S SUPREME LEADER WALKS BACK KEY PARTS OF NUCLEAR DEAL WEEK BEFORE FINAL DEADLINE Ayatollah Ali Khamenei stated on national television that he would not accept the nuclear deal until sanctions were lifted. [NYT]
AUTOPSY: FREDDIE GREY SUFFERED SINGLE HIGH-ENERGY INJURY "Freddie Gray suffered a single 'high-energy injury' to his neck and spine -- most likely caused when the police van in which he was riding suddenly decelerated, according to a copy of the autopsy report obtained by The Baltimore Sun. The state medical examiner's office concluded that Gray's death could not be ruled an accident, and was instead a homicide, because officers failed to follow safety procedures 'through acts of omission.'" [The Baltimore Sun]
FACEBOOK WORTH MORE THAN WALMART The social network's stock market valuation passed $238 billion yesterday, surpassing Walmart's $234 billion valuation. [AP]
U.S. HOSTAGE POLICY SHIFTS Families of hostages will no longer be threatened with charges of funding terrorism if they pay terrorists' ransom demands. [Reuters]
REASSESSING THE 'PERCEPTIONS OF TOP TERRORIST THREATS' "Since Sept. 11, 2001, nearly twice as many people have been killed by white supremacists, antigovernment fanatics and other non-Muslim extremists than by radical Muslims: 48 have been killed by extremists who are not Muslim, compared with 26 by self-proclaimed jihadists, according to a count by New America, a Washington research center." [NYT]
WHAT'S BREWING
IN CELEBRATION OF GMAIL'S UNIVERSAL UNSEND BUTTON Say goodbye to regretting that crazy break-up email or passive-aggressive roommate screed. [HuffPost]
ONE OF WORLD'S WORST INVASIVE SPECIES HAS TAKEN UP RESIDENCE IN FLORIDA Meet the New Guinea flatworm, which is a two-inch thing from your nightmares. [HuffPost]
INSTAGRAM JUST UPPED ITS SEARCH FUNCTION So you can more accurately stalk that person from high school who just got married. [Instagram]
MORE AMERICANS ARE OBESE THAN OVERWEIGHT Not the kind of stats we want to have. [The Guardian]
MEET THE NEW SPIDER-MAN And no, you're not allowed to make a joke about how you feel like we've done this song and dance recently. [HuffPost]
THE ROYAL ALLOWANCE Find out how much Prince William, Prince Harry and Kate live off of a year. Hint: it's more than a couple thou. [People]
WHAT'S WORKING
IKEA LIKED RAISING ITS MINIMUM WAGE SO MUCH, IT'S DOING IT AGAIN "A year after it first announced a major minimum wage hike in its U.S. stores, Ikea said Wednesday that it plans to implement another nationwide raise to its wage floor next year, bringing the average store's starting pay to nearly $12 per hour." [HuffPost]
ON THE BLOG
LIFE AFTER YOUR BROTHER DIES "You are coming home next weekend to see your niece. She just started walking. You were so excited. You said this was the trip where you two would really bond  -- where she would remember you after you left. You are supposed to be coming home next weekend. You are supposed to be coming home alive." [HuffPost]
BEFORE YOU GO
~ Amazon lands Kevin Spacey's "Elvis & Nixon" movie.
~ Of course Maya Rudolph has a great Rachel Dolezal impression.
~ The most popular baby names of 2015 so far, so your kid can be just like everybody else in his kindergarten class.
~ Sorry, humanity: Prince George's Croc-wearing has caused sales of the hideous shoes to skyrocket.
~ Tom Brady made his case against his deflategate suspenion to NFL Commissioner Roger Goodell for ten hours.
~ Keurig coffee: paying more to drink less.
~ In case you like knowing what a miniscule percentage you make according to your company's CEO, here's the chart for you.
~ Catching a foul ball and hanging onto your baby? Dad for the win.
~ Channing Tatum just laid out his hate for "G.I. Joe: The Rise of Cobra."
~ Living in fear as a female janitor.
~ Lego plans to ditch plastic in an attempt to make its toys more sustainable.
~ And Don Featherstone, the inventor of the pink lawn flamingo, has died.
Send tips/quips/quotes/stories/photos/events/scoops to Lauren Weber at lauren.weber@huffingtonpost.com. Follow us on Twitter @LaurenWeberHP. And like what you're reading? Sign up here to get The Morning Email delivered to you.