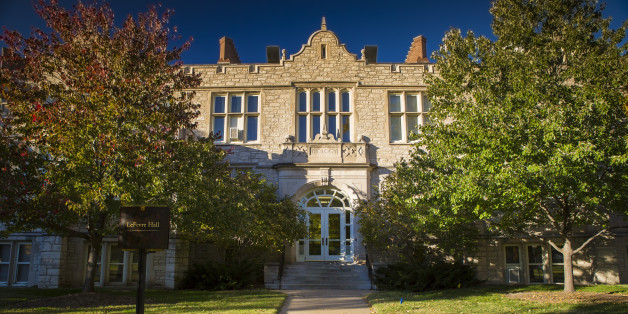 A recent summit to discuss sexual assault prevention policies at the University of Missouri has calmed anger over previous proposals targeting fraternities and sororities, as a plan to ban women from fraternity houses during typical party hours appears to have been taken off the table.
The invitation-only summit held June 20 attracted more than 200 members of MU Greek life, alumni and school administrators, according to a university news release. On the table were four proposals from the MU Fraternity Alumni Consortium that would have drastically changed Greek life at the university, including policies largely opposed by students.
A document leaked before the summit, which the university said was only a draft, had proposed mandatory drug testing, prohibiting hard alcohol and banning out-of-town events, in addition to banning women from fraternities during "high risk periods." While the summit provided a space for students to voice their discontent -- and prompted the dropping of the more contentious proposals -- it yielded few tangible results.
"I didn't even have answers for the questions students were bringing to me over the last few weeks," Jason Blincow, president of the MU Interfraternity Council, told The Huffington Post. "It's not that we disagree with all of the consortium's ideas, because we like what they are trying to accomplish. We just didn't like the approach they took by never inviting students to the table to discuss our thoughts, especially since we live this environment day to day."

Others criticized the male-only Fraternity Alumni Consortium for proposing policies affecting female students. "Consortium members are not women so, well, you're not women," Panhellenic Association President Allison Fitts declared during the summit.
Of the four proposals from the draft "Safety of Women Students in Fraternity Houses" document, jointly authored by Office of Greek Life and the MU Fraternity Alumni Consortium, only the ban on alcohol received unanimous support. However, the Panhellenic Association has also expressed approval of another proposal which would ban out-of-town formals. The proposal for mandatory drug testing was previously dropped as was the suggestion for women to be "restricted from being guests during high-risk periods." Instead, the consortium suggested fraternities keep a guest list to track who is coming in and out of their houses.
"I'll admit that the administration and the consortium left things unclear with their proposals," Blincow said. "Not that we weren't on the same page as to the direction we wanted to take with them, but I'm not sure that there are tangible next steps that were decided on."
University Chancellor R. Bowen Loftin insisted in a statement the summit was "not the end" and that discussions on safety measures would continue.
While discussions continue, student leaders of Greek life are moving forward on some reforms on their own, including the ban on hard alcohol within fraternities. That policy has become a trend among schools seeking to change their sexual assault reputation on campus. In recent years, Dartmouth College, the University of Notre Dame and Colby College, among others, have enacted similar bans. This fall, the University of Kansas will join in prohibiting "the presence or consumption of hard alcohol by any members or guests on fraternity property."