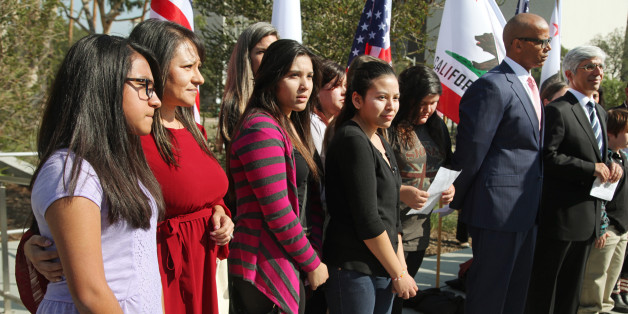 By Alex Dobuzinskis
LOS ANGELES, June 24 (Reuters) - California's tenure system for public school teachers shields the jobs of ineffective instructors in a "dance of the lemons" that disproportionately harms minority students, attorneys for students argued in appeals papers filed on Wednesday in support of a lower court ruling.
The arguments submitted to the state's Second Appellate District follows a ruling a year ago by a Los Angeles judge who, in a case known as Vergara v. California, struck down state laws granting tenure and other protections to public school teachers.
The ruling, put on hold pending appeal, gained nationwide attention. U.S. Education Secretary Arne Duncan called it a "mandate" to fix problems in education, and groups who call for reforming the nation's school systems and newspaper editorials heralded the ruling.
But politically powerful teacher unions called the decision unfair, and California's Democratic attorney general appealed the decision last year with the backing of Governor Jerry Brown.
Attorneys for the nine students who brought the lawsuit, in court papers submitted to the appeals court, cited figures showing that about two teachers a year are dismissed for poor performance in California, out of about 275,000 instructors.
"You don't need a lot of adjectives and adverbs to be able to figure out that's a broken system," plaintiff's attorney Marcellus McRae said in a conference call with reporters.
In the absence of being able to dismiss poor teachers, school principals often engage in a "dance of the lemons" by forcing ineffective teachers to transfer to other schools, the plaintiffs' attorneys wrote.
"And the schools most often on the receiving end of these 'lemon' transfers are schools serving predominantly poor and minority students," the attorneys said in court papers.
Frank Wells, a spokesman for the California Teachers Association, said laws the Los Angeles judge struck down have no bearing on where teachers are assigned.
"There's no evidence that the laws that are challenged in this case cause harm or would inevitably cause harm to anyone," Wells said.
A representative for the attorney general referred questions to Brown's office, and a representative for the governor could not immediately be reached.
For his part, Los Angeles Superior Court Judge Rolf Treu, based on testimony ahead of his landmark ruling, found that California has between 2,750 and 8,250 grossly ineffective teachers, according to court papers.
The appeals court is likely to make its ruling within six months to a year, plaintiffs' attorney Theodore Boutrous said. (Reporting by Alex Dobuzinskis; Editing by Eric Beech)
BEFORE YOU GO
PHOTO GALLERY
U.S. State Capitol Buildings