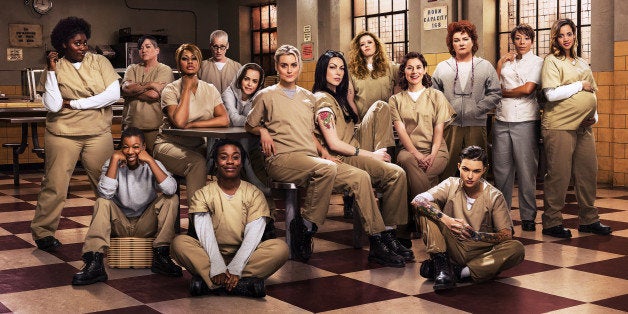 The third season of "Orange Is The New Black" came out this month, and many of us have already made our way through the 13 new episodes (not to mention fallen in love with Ruby Rose).
Still, the show is wildly popular, so some groups have sought to harness that popularity in a way that benefits women who are behind bars in real life.
Black and Pink, a Boston-based LGBT prison-abolition organization, is one of them. The group, which organizes a prisoner pen pal program and offers court accompaniment support and other services, launched a "solidarity fund" coinciding with the third season debut of the series.
The fund, an outgrowth from a Facebook post reminding viewers of the show that there is "nothing funny about prison," allows OITNB fans to make a pledge to donate money for every episode they watch to groups that work on behalf of LGBT and female prisoners.
Rev. Jason Lydon, Black and Pink national director, told The Huffington Post that his group saw the show's popularity as a rare opportunity to take advantage of the significant attention being paid to the experiences of incarcerated women -- particularly trans women and lesbian and bisexual women, thanks to groundbreaking roles portrayed by actresses including Laverne Cox and Uzo Aduba.
"We want to move people from the experience of viewing the show to actually building relationships with incarcerated people and then taking action to challenge the prison-industrial complex in all its forms," Lydon said. "And money along the way helps."
Lydon said he sees the effort as a powerful reappropriation of an inaccurate mainstream media message.
"People don't generally talk about incarcerated women and their experiences," he said. "It's essential to use this as an opportunity to say 'OITNB' is a show you can watch, but more importantly, if you're thinking about what the lives of these women are like, please get connected to the organizations that are doing the work."
BEFORE YOU GO
PHOTO GALLERY
'Orange Is The New Black' Cast On & Off Set