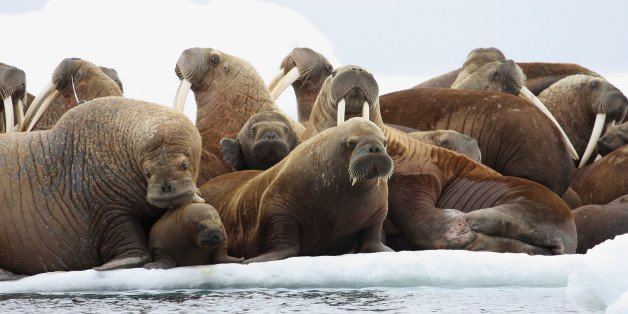 WASHINGTON -- A number of environmental groups are asking the Department of the Interior to rescind permission granted to Shell to begin exploratory drilling in the Arctic this summer because they say the company's plan would not adequately protect the walrus.
In particular, Shell's plan would violate federal rules limiting how closely a company can drill multiple wells, Earthjustice argued in a letter to Interior Secretary Sally Jewell, sent on behalf of 10 other groups. The rules, issued in 2013 by the Fish and Wildlife Service under the Marine Mammal Protection Act, state that such drilling operations should be at least 15 miles apart in order to "avoid significant synergistic or cumulative effects from multiple oil and gas exploration activities on foraging or migrating walruses." But Shell's two proposed drill sites are only 9 miles apart, the groups said.
The Interior Department granted Shell conditional approval to begin exploratory drilling this summer in the Chukchi Sea, off the northwest coast of Alaska.
"We ask you to take immediate action to address this basic deficiency in Shell's drilling plan and permit applications, protect the Pacific walrus, and ensure agency decisions resulting from the review of Shell's drilling proposal are defensible and lawful," wrote Earthjustice.
Annie Leonard, executive director of Greenpeace USA, argued in an email to HuffPost that the Obama administration must "not let an oil company make up its own rules in the Arctic." Greenpeace is one of the groups that joined Earthjustice's letter.
"Knowingly violating regulations intended to protect the Pacific walrus is just another example of how Shell is willing to put ecosystems and communities at risk with this reckless plan," Leonard said. "It's time for President Obama to take control of this situation before catastrophe strikes."
While the Pacific walrus is not currently listed under the Endangered Species Act, the Fish and Wildlife Service is considering it for federal protections and has said that listing it as either threatened or endangered would be warranted. The species has other protections under the Marine Mammal Protection Act.
Shell did not respond to a request for comment, but a spokeswoman told Alaska Public Media that the company is consulting with federal officials on the terms of their authorization before drilling begins.
"[The Fish and Wildlife Service] is reviewing Shell's program to ensure compliance with all applicable laws," an official with the Interior Department told HuffPost. "Their review will ensure that measures are in place to minimize potential disturbances to walrus and other marine mammals."

BEFORE YOU GO
PHOTO GALLERY
Landmarks That Climate Change Could Ruin