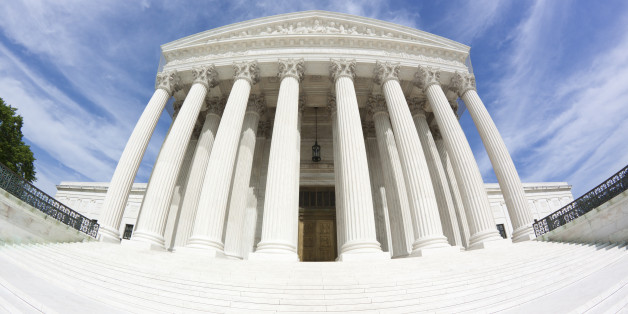 The Affordable Care Act won a major victory in the Supreme Court on Thursday when the justices, on a 6-3 basis, declined to stick a knife into one of the law's major organs. This was a major news story with huge implications for President Barack Obama's legacy and for millions of people relying on the health coverage the law provides. And like every other major news outlet in the country, The Huffington Post quickly published a piece underscoring the enormity of the decision.
But here's a little secret about how the media operates: We had another story ready to go had the Supreme Court struck down the health insurance subsidies the law provides to millions of consumers. (And we're not alone: the White House had a speech prepared for Obama to deliver if the court had ruled against him, which it declined to share with The Huffington Post.)
Here is the story you would have read had two people dressed in black robes simply changed their minds.
WASHINGTON -- The Supreme Court dealt a devastating blow to Obamacare on Thursday that could eliminate health coverage for millions of Americans, wreak havoc on the insurance markets in two-thirds of the states, and cripple the president's legacy.
The high court's five conservative justices outvoted their four liberal associates to rule for the plaintiffs in a case called King v. Burwell. The lawsuit asserts that the Affordable Care Act doesn't permit the federal government to subsidize health coverage in certain states -- namely, those states that have federally operated health insurance exchange marketplaces. After hearing oral arguments in March, the court sided with the Obamacare opponents in a ruling that could cause 8 million or more people to lose their health insurance.
The Affordable Care Act survived an existential threat when the Supreme Court affirmed the constitutionality of the law's individual mandate in 2012, but President Barack Obama and his signature domestic policy initiative didn't prevail in the latest confrontation.
"Words, thankfully, still have meaning," wrote Justice Antonin Scalia, in authoring the majority's decision in the case. "This case required us to decide whether someone who buys insurance on an Exchange established by the Secretary gets tax credits. The answer, clearly, is obvious -- so obvious it is surprising that there exists a need for the Supreme Court to hear a case about it."
The lawsuit's central claim was that a six-word phrase within the Affordable Care Act -- "an exchange established by the state" -- means the federal government doesn't have the authority to issue tax credit subsidies in states that didn't set up such health insurance exchanges and instead left the task to federal authorities. Health insurance consumers in 34 states, mainly located in the South, use these federal exchanges.
The victory for conservatives at the Supreme Court upends the politics of Obamacare. Shortly after the ruling, a clearly angered president took to the White House briefing room to demand a quick fix from Congress.
"The court's actions today will have devastating consequences for the people whose health care is at stake," he said. "Let me be clear, as president, I acknowledge the Supreme Court's authority in this manner and my administration will work to comply with its decision immediately. However, now is not the time to back away from a law that clearly works. I urge Congress and the leaders of the affected states to work with me quickly to restore affordable, quality health care for all Americans."

Lawmakers will be under public pressure to remedy the consequences of the court decision as people across the country -- mainly in Republican-run states -- drop off the health insurance rolls. Many, in fact, had privately worried in advance of the Court's ruling that they would be stuck with the blame for major insurance markets disruptions.
But help from elected officials at the federal and state levels isn't likely to come quickly. To some Republicans, the invalidation of the Affordable Care Act's subsidies offers an opportunity to undermine Obamacare by extracting concessions from the White House on other major parts of the law, like its individual mandate that most Americans obtain health coverage. To others, the Court's decision renewed calls for full repeal.
"This is the clearest signal yet that Obamacare isn't working, hasn't worked, and must be completely repealed," House Speaker John Boehner (R-Ohio) said in a statement. "Republicans are prepared to act. Over the coming weeks, we will be putting together consumer-minded reforms to fully replace this burden on the U.S. economy."
Without the input of Congress, the Obama administration says it is powerless to act in restoring subsidies. More than 7.3 million people have private health insurance they purchased through federally operated exchanges in the 34 states subject to this ruling. Eighty-seven percent of those people, or 6.4 million, received tax credit subsidies that they will soon lose, according to Department of Health and Human Services data through March 31.
The ramifications of the Supreme Court's decision won't be limited to those subsidized enrollees, because the ruling will have ripple effects in the insurance market unless new legislation is passed to prevent them.
Without subsidies, the demand for insurance in these states will likely shrink dramatically as prices rise, and the pool of customers is expected to include a disproportionately high number of people with costly medical problems who are eager to maintain coverage. The probable result will be higher premiums for everybody buying coverage on their own, leading large numbers of people to give up their insurance policies.
There are a number of ways to protect the health coverage of those who stand to lose it. As the Court noted, the 34 states subject to the ruling could set up their own exchanges, which would restore access to subsidies for their residents. However, in all of those states except Delaware, anti-Obamacare Republicans control the governor's mansion, the legislature or both.
Delaware and Pennsylvania each received conditional federal approval this month to open exchanges in 2016, and Arkansas received conditional approval to open one in 2017, but all three states have much more work to do.
Other states have taken no action in anticipation of the high court's ruling, and none appears prepared to erect an exchange that would retain subsidies for this year. Indeed, Republicans like Louisiana Gov. Bobby Jindal and Wisconsin Gov. Scott Walker -- both presidential contenders -- have vowed not to consider a state exchange. Other governors have remained mostly silent about what their plans might be, even as officials from multiple states gathered in May to weigh their options.
Establishing a state exchange is a politically fraught, costly, time-consuming and risky proposition that even blue states like Delaware and Illinois opted against three years ago, before enrollment began. Getting an exchange up and running before the beginning of the next Obamacare enrollment period, which starts Nov. 1, doesn't seem possible, a senior federal health care official said last month.
Congressional Republicans, including prominent lawmakers like Senate Majority Leader Mitch McConnell (Ky.) and House Ways and Means Committee Chairman Paul Ryan (Wis.), have pledged to provide "transitional" relief to Obamacare enrollees who lose their subsidies.
But Republicans haven't finalized their proposals -- and all of them aim to further unravel or even repeal the Affordable Care Act, meaning that people would eventually lose their insurance anyway, even in the states with their own exchanges. Meanwhile, a cadre of conservative Republicans like Sen. Ted Cruz (Texas) oppose even temporary aid to the people affected by the Supreme Court decision. And Obama will likely be loath to give ground on such a key part of his legacy.
BEFORE YOU GO
PHOTO GALLERY
Political Figures React To SCOTUS Upholding The Affordable Care Act