More than two dozen cops from 16 different police departments converged on a wedding reception in Ontelaunee Township, Pennsylvania, on Saturday -- and they weren't there to toast the couple.
Officers said a boozy brawl broke out at the party following an argument between guests and quickly got out of hand. By the end of the night, the groom and six attendees were in handcuffs, and the bride and a 14-year-old boy had to be treated for alcohol poisoning.
"It was messy for a little while, that's for sure," Northern Berks Regional Police Chief Scott Eaken told the New York Daily News. "We went there with the intent of telling everyone to leave and go home, but that unfortunately didn't happen."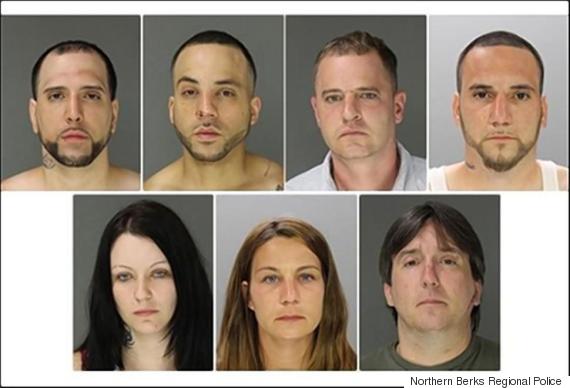 Top row from left: Groom Nicholas Papoutsis, Fabian Burgos, Jesse Groh and William Papoutsis. Bottom row from left: Jesse Papoutsis, Mandi Groh and Brian Pelker.
It all started when a female guest scolded the mother of the 14-year-old boy for allowing her son to drink beer at the wedding. A witness told police that the boy's mother responded by punching the woman in the face, and they began fighting. When a third guest tried to break it up, the women attacked him and broke his glasses.
Soon, numerous fights broke out. Doug Mehrkam, the owner of the venue, called the police when he saw things were getting out of control.
"I just saw three groups separating and fighting, and at that point I realized I needed some help," Mehrkam told WFMZ.
Northern Berks officers arrived at 8:30 p.m. to find about a dozen shirtless and bloodied guests tussling with each other, according to a police report obtained by the Reading Eagle.
Initially, only four officers -- two from North Berks and two from Muhlenberg -- responded to the call, but they had to call for backup when intoxicated guests began threatening them.
"Several people were trying to be a calming influence in all of this but at this point alcohol had taken over," Eaken told the Eagle.
In his incident report, North Berks Officer Sean Showalter said that the groom, 31-year-old Nicholas Papoutsis of Wernersville, was also intoxicated and kept challenging police officers to fight. Papoutsis faces misdemeanor charges of disorderly conduct, interfering with the administration of law, and public drunkenness.
Six other guests, including Jesse and Mandi Groh, the parents of the 14-year-old who got drunk at the start of the trouble, were also arrested.
Like Us On Facebook |

Follow Us On Twitter |

Contact The Author
BEFORE YOU GO
PHOTO GALLERY
Too Much To Drink?