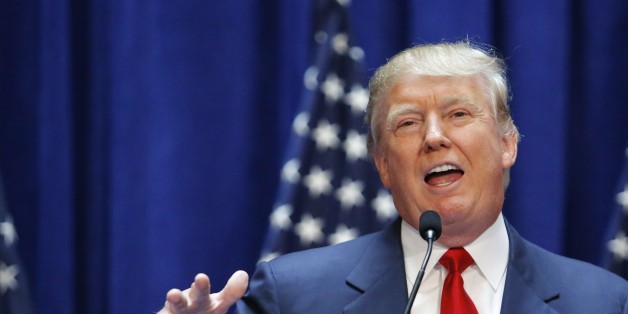 Shifts in the 2016 polls may be less meaningful than they seem. Donald Trump's "surge" may be less than meets the eye. And the latest CDC estimates show landlines are continuing to disappear from American households. This is HuffPollster for Friday, June 26, 2015.
A flurry of new national polls this week (from NBC/Wall Street Journal, Fox News and YouGov/Economist), as well as new surveys in Iowa and New Hampshire have political junkies buzzing, many focusing on a modest increase of support on some of these polls for businessman Donald Trump. With more than six months before the first primaries and over a year until the party conventions, it's a good time to revisit reasons why such minor shifts are less meaningful than they may appear.
National polls sample primary voters too broadly - National media polls ask their horserace questions on the Republican and Democratic nomination contests of very broad swaths of potential voters. Most report results among all registered voters who identify or lean to each party, amounting to roughly half of their samples of all U.S. adults.
Yet the actual turnout in the various primaries and caucuses is much lower. In 2008, the combined Democratic and Republican turnouts in all primary and caucus contests nationwide was roughly a quarter of the adult population. It fell to just over 10 percent in 2012 thanks to a non-competitive Democratic contest, according to voter turnout statistics maintained by University of Florida Prof. Michael McDonald.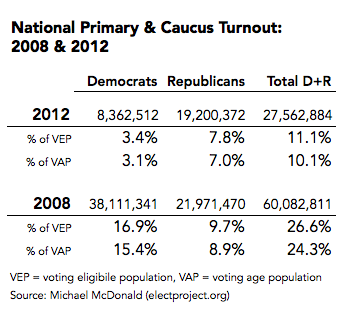 The bottom line, however, is that national polls are sampling a pool of potential primary voters that is two to three times larger than those who will participate in the primary process nationwide. This practice occurs as much by necessity as by design, since typical national poll samples would not yield sufficient numbers of interviews if screened more narrowly. Also, "likely voter models" are problematic enough even in general elections -- an effort to anticipate actual primary voting would need to account for widely varying turnout by states, including significantly higher turnout in primary than in caucus states.
Nevertheless, the national snapshots of voter opinion are taking into account the early preferences of many voters who will never engage in the nomination campaigns enough to want to participate in them.
Candidates in the news get poll bumps that fade - The overly generous sampling may help explain some of the volatility we see in early polling. One pattern is fairly predictable: Candidates who briefly dominate campaign news tend to get small and usually temporary "bumps" in their support. In a Republican contest where the so-called "front runners" barely break into double digits, this can make for some dramatic looking changes, but most of the "surges" so far have been small and have subsequently receded.
Consider the charts produced by Prof. Charles Franklin, the co-founder of Pollster.com, whose regression trend lines are very similar to those plotted by HuffPost Pollster charts. These show that Jeb Bush, Scott Walker, Marco Rubio, Ted Cruz and now Donald Trump have all received bumps, many temporary, from news surrounding campaign kickoffs or announcements of exploratory committees.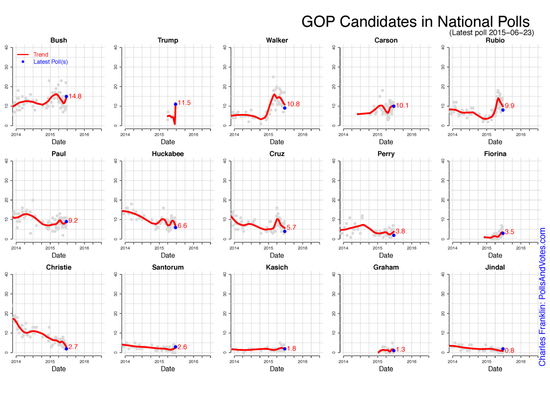 Again, much of this variation results from voters who are not particularly engaged in the campaign and are simply reacting to names they have heard in the news. Also, in this era when the response rates to polls has fallen into the single digits, we should not discount the possibility that true supporters of any given candidate may be more willing to be interviewed in the immediate aftermath of especially good news for their candidate (as likely occurred for Mitt Romney following the first general election debate in 2012).
For Republicans, there is no dominant front-runner - That's the one finding consistent across all of the recent polling on the Republican field and, for the moment at least, the only one worth paying attention to. A handful of candidates get support in the low teens, but for now at least, they all fall far short of the support they will need to capture their party's nomination.
Watch out for the "statistical tie" - A new University of New Hampshire poll released on Thursday gives former Secretary of State Hillary Clinton an 8 percentage point (43 to 35 percent) advantage over Sen. Bernie Sanders. Previous UNH polls had shown Clinton leading by much wider margins. Their release says Clinton "is now in a statistical tie" with Sanders in New Hampshire, because the margins of sampling error around each percentage (+/- 5) overlap.
The problem with statistical tie is that it implies the race is "tied." It isn't. It's just a small advantage not large enough to allow 95 percent or better statistical confidence that it's a lead (given a relatively small sample size). As the Associated Press style manual warns, that term "inaccurate if there is any difference between the candidates; if the poll finds the candidates are tied, say they're tied."
If the race were truly tied, some polls would give Clinton the advantage, some Sanders, with chance alone determining the which was a few points ahead. In New Hampshire, however, we now have four polls, all conducted since Sanders' announcement of his candidacy, all showing Clinton ahead by various margins (see also @MysteryPollster for more from Twitter).
Are Trump's numbers "too good to be true?" - Daniel Strauss: "Real estate tycoon Donald Trump has been gleefully calling attention to a Suffolk University poll showing him in second place among the large 2016 Republican primary field, and whispers of a Trump surge are making the rounds. It might be wise to take a deep breath....'Everybody should calm down,' Andy Smith, the director of the University of New Hampshire's Survey Center, said. 'What you're seeing is real in the sense that people who are paying any attention to this in the last week or so have seen Donald Trump on TV. That doesn't mean they're going to vote for him.'...'When you're asking people about who they're going to vote for in the New Hampshire primary, what you're asking is, "All right, it's months from the primary now: Who have you seen in the newspaper lately?" And that would be Donald Trump," Smith added.'" [Politico]
Links to this week's new 2016 polls:
-Jeb Bush's standing among Republicans continues to improve, while Donald Trump remains the least popular candidate. [NBC]
-Hillary Clinton continues to maintain a strong position nationally in the polls. [WSJ]
-Donald Trump lands in second place nationally to Jeb Bush, but doubts remain if he can sustain his position. [YouGov]
-Bush and Trump top the the GOP field in the wake of their presidential announcements. [Fox News]
-Bernie Sanders experiences an uptick in the polls and in favorability in New Hampshire and Iowa. [Bloomberg]
-A Suffolk University poll finds that Donald Trump is experiencing a post announcement bump in New Hampshire, while still remaining the least liked candidate. [WSJ]
THE CDC FINDS THE NUMBER OF AMERICAN HOMES WITH ONLY CELL PHONES CONTINUES TO GROW - Stephen Blumberg & Julian Luke: "More than two in every five American homes (45.4%) had only wireless telephones (also known as cellular telephones, cell phones, or mobile phones) during the second half of 2014—an increase of 4.4 percentage points since the second half of 2013. More than one-half of all adults aged 18-44 and of children under 18 were living in wireless-only households. ... The percentage of households that are wireless-only and the percentages of adults and children living in wireless-only households have been steadily increasing." [CDC]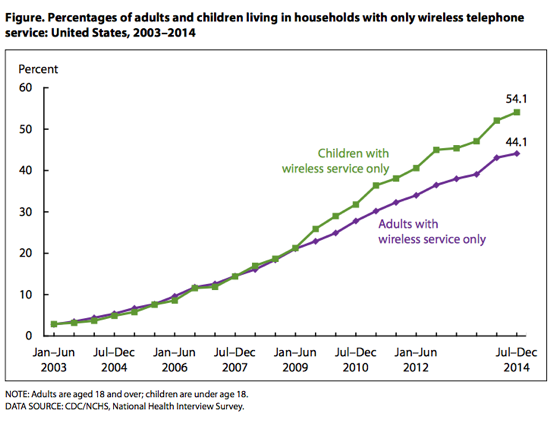 WHAT'S THE MATTER WITH POLLING? - Cliff Zukin: "Over the past two years, election polling has had some spectacular disasters… Two trends are driving the increasing unreliability of election and other polling in the United States: the growth of cellphones and the decline in people willing to answer surveys. Coupled, they have made high-quality research much more expensive to do, so there is less of it. This has opened the door for less scientifically based, less well-tested techniques. To top it off, a perennial election polling problem, how to identify 'likely voters,' has become even thornier." [NYT]
MORE POLLS OF THE WEEK
-Americans see two-year and four-year colleges as being of equal quality. [Gallup]
-Religious affiliation plays a role in who Americans say the would consider for president. [Gallup]
-A majority of Americans say it's time to discuss racism and gun control in the wake of the Charleston shooting. [HuffPost]
-Texans remain supportive of looser restrictions on handgun laws, despite recent incidents of gun violence. [Texas Tribune]
-Americans are changing their mind about what the Confederate flag represents. [HuffPost]
HUFFPOLLSTER VIA EMAIL! - You can receive this weekly update every Friday morning via email! Just click here, enter your email address, and click "sign up." That's all there is to it (and you can unsubscribe anytime).
THIS WEEK'S 'OUTLIERS' - Links to the best of news at the intersection of polling, politics and political data:
-Ritchie King and Harry Enten show how media interest in the Republican presidential candidates compares to public interest. [538]
-Lynn Vavreck reviews the gradual increase in support for the idea of a female president. [Upshot]
-Karlyn Bowman summarizes survey data on the strength of American communities. [AEI]
-Quentin Hardy looks at how SurveyMonkey is coping after the death of Dave Goldberg. [NYT]
-Adam Marcus and Ivan Oransky examine how the field of statistics plays a role in finding scientific fraud. [The Verge]
-Matt Singh reviews evidence of pollster herding in the UK. [Number Cruncher Politics]
-Canadian pollster Angus Reid is ready to do some "s-- disturbing." [National Post]