Equality has never tasted so sweet. On Friday, Ben & Jerry's renamed its iconic "Chocolate Chip Cookie Dough" ice cream flavor to "I Dough, I Dough," in celebration of the historic Supreme Court decision to legalize gay marriage nationwide.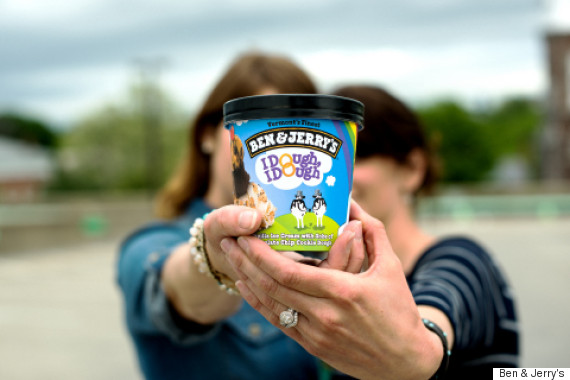 For a limited time, the specially named flavor will be available at participating Scoop Shops in a commemorative pint sleeve. If you want to celebrate with your own pint at home, the sleeve can also be purchased online through the Human Rights campaign, with all proceeds benefitting the organization.
"Ben & Jerry's is proud of the Supreme Court's landmark decision against discrimination as it boldly stands up for equality for same sex couples everywhere," Jostein Solheim, the CEO of Ben & Jerry's, said in a press release.
The company is a longtime supporter of equal rights. Ben & Jerry's writes on its website that in 1989, it was "the first major employer in Vermont to offer health insurance to domestic partners of employees, including same sex couples, and we haven't spent one minute regretting it."
In 2009, the company celebrated the legalization of gay marriage in Vermont by renaming the "Chubby Hubby" flavor to "Hubby Hubby." A year later, one of Ben & Jerry's Scoop Shops in Washington, D.C. served as the venue for a gay wedding, when same sex couples could first tie the knot in the district.
Watch Ben & Jerry's "Love is Love" video below.
Follow Us On Pinterest
|
Like Us On Facebook |

Follow Us On Twitter
BEFORE YOU GO
PHOTO GALLERY
18 Things You Never Knew About Ben & Jerry's