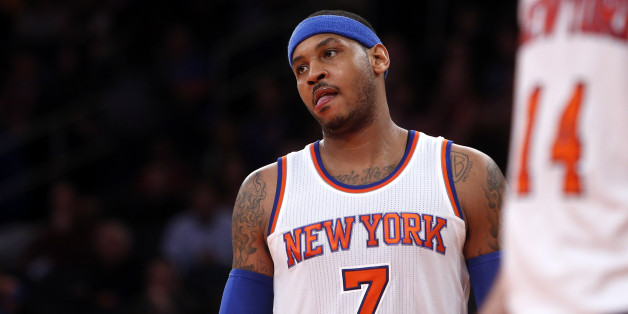 Hey, Knicks fan, did you think you were the only one wallowing? The only one furious about the New York Knicks picking Kristaps Porzingis, perhaps the draft's biggest boom-or-bust player, with their No. 4 overall pick?
Well, you're not alone. Reports say that Carmelo Anthony is not too pleased with Knicks president Phil Jackson's moves to bring the 19-year-old Latvian player to New York either.
"[Anthony's] livid. He feels completely hoodwinked and betrayed by Phil Jackson. He feels like he was lied to, like he was sold a bill of goods," said ESPN's Stephen A. Smith to SiriusXM's Mad Dog Sports Radio on Friday.
The Knicks player also reportedly reached out to his now former teammate, Tim Hardaway Jr., who was traded to the Atlanta Hawks during the draft in exchange for Notre Dame point guard Jerian Grant, the 19th overall pick.
Carmelo, according to source, called Tim Hardaway Jr. late Thursday to express his displeasure with Phil Jackson's draft night moves. Oh boy

— Frank Isola (@FisolaNYDN) June 26, 2015
And unlike the angry Knick fan, Anthony actually has to live out the Porzingis pick on the court. At 31 years old, Anthony knows his remaining window as an NBA superstar is limited.
According to New York Daily News' Frank Isola, Anthony said, "We have to wait three years for this guy?" when discussing the potential impact of Porzingis in New York. Anthony has four years remaining on the 5-year, $122 million contract he signed with the Knicks in July 2014 despite offers from better teams, namely, the Chicago Bulls and Houston Rockets.
Porzingis, a slender 19-year-old center with considerable shooting and dribbling skills for his size, "might take a year [to develop]," Jackson admitted to ESPN on Thursday night.
However, he also said he made the pick while still considering Anthony's present and future with the Knicks.
Regarding Melo, Phil was asked if he spoke with him about last night's draft. Phil said he texted him, but didnt mention how Melo responded.

— Chris Herring (@HerringWSJ) June 26, 2015
"Carmelo's always on my mind. He's our favorite son," Jackson told reporters at a press conference on Friday.
Regardless of Anthony and Jackson's current emotions, this Knicks team has plenty of growing up to do before the start of the new NBA year as they try to improve on last season's franchise-worst 17-65 record.
Maybe Melo can commiserate with this kid?
BEFORE YOU GO
PHOTO GALLERY
2015 NBA Draft