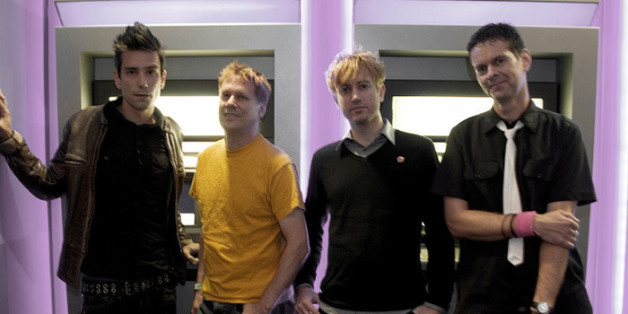 Pioneering "queercore" band Pansy Division is back in New York and ready to party.
Although their June 26 performance was booked weeks ahead of the history-making U.S. Supreme Court ruling on same-sex marriage, members of the punk rock group were already planning for a victorious performance.
"It's about time we win this one," Jon Ginoli, the band's lead singer and founder, told The Huffington Post in an email. "Our bassist, Chris, who lives in Los Angeles, got married to his partner last September, so our position is pretty obvious."
When Ginoli takes the stage alongside bandmates Chris Freeman, Luis Illades and Joel Reader at New York's Bowery Electric, it will also mark the start of a new musical era. Days after the performance, the band will return to the studio to begin recording a new album, their first since 2009's "That's So Gay." New tunes will feature prominently in their Pride Weekend set.
Ginoli looked back on Pansy Division's history and opened up about the band's future with The Huffington Post ahead of the big show. Here's what he had to say.
You're returning to NYC on the eve of LGBT Pride Weekend. What does Pride mean to you?
Pride brings all sorts of people together. Though I think it can be easy to get jaded about the commercial aspects of it (let's slap a rainbow on everything!), it's still useful politically as well as fun. It's less political in some ways than before, but visibility and a showing of numbers is important. What we do in places like New York and San Francisco resonates in certain other parts of the country where acceptance is a bigger issue.

As far as out entertainers are concerned, you and your bandmates were pioneers in the music industry. Where do you see yourselves in the music business, which has since embraced openly gay entertainers like Adam Lambert and Sam Smith, at present?
We're on the margins of the music business! We had a great run in the '90s when we toured all the time and sold some records and actually made a living off of it for five years. Now we reconvene every so often, usually once or twice a year, because none of us wants to live in a van anymore, and we all have non-music jobs. A couple of us went back to school; our lives no longer revolve around playing music. I am glad for people like Smith and Lambert to be successfully out, but part of our approach was to queerify rock and roll, and take on the hoary connotations of the typical rock star. It's still harder to be a gay rocker than a gay pop star, but all those distinctions are blurring. This is partly cause rock is slowly dying, but it's what we do, and commercial trends don't apply.

What surprises do you have in store for your NYC audience?
New material! We're about to begin recording a new album next week; the last time we were in a studio was 2008. I think the surprise might be the audience. We have a number of younger under-30 fans who were too young to see us in our touring days, but word of mouth about us has spread as we've been away. We're an underground band now, once again. You probably won't hear us unless you make an effort to seek us out.

What's special or unique about a New York crowd?
We have always had great shows here. I bet most performers will tell you that, but it's true. It's always exciting to visit, even if all the parking lots we used to use park our van in have now been developed. I still live in San Francisco, where our band began; I was thinking this week that every city where punk rock was a factor in 1976-77 -- New York, London, Manchester and San Francisco -- has been gentrified to the extent that something equivalent now would never spring from those places. Punk rock yesterday, luxury condos tomorrow! Somehow this was not the script, but we persist.
Pansy Division plays New York's Bowery Electric on June 26. Head here for details.
BEFORE YOU GO
PHOTO GALLERY
Songs Of Summer 2015