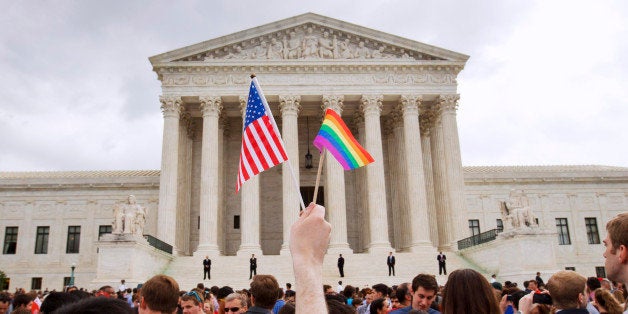 On the day the Supreme Court of the United States declared same-sex marriage legal nationwide, some took to Google to ask what the Bible had to say -- and people in America's heartland searched the most, data shows.
Google Trends showcased the analytics around the search term "same-sex marriage" Friday morning after the U.S. Supreme Court ruled 5-4 that all Americans can marry under protection of the 14th Amendment. The top 10 questions around the topic, per Google, included: "Where is gay marriage legal?" and "What does the Bible say about gay marriage?" and "What is marriage equality?"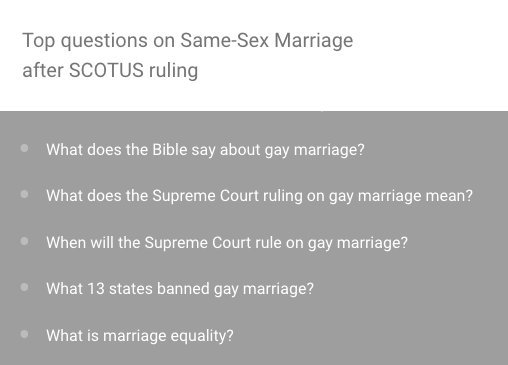 The most searched questions on Friday morning, according to Google.
Across the country, the search interest was noticeably concentrated in states where same-sex marriage had previously been banned. Although the District of Columbia had the highest search volume (same-sex marriage has been legal there since 2009), it was followed by Michigan, Ohio, Georgia, Tennessee, Kentucky and Texas. None of those states legally recognized same-sex marriage before Friday's ruling.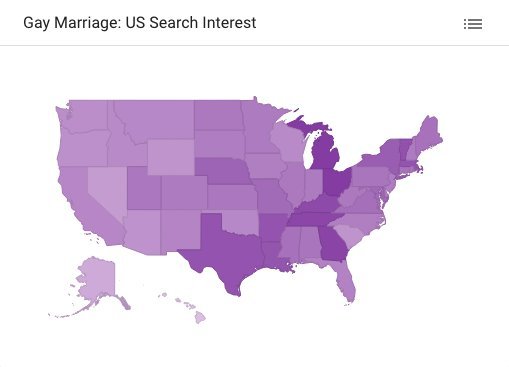 States with higher search volume appear darker in color.
"This ruling is a victory for America," he said. "This decision affirms what millions of Americans already believe in their hearts. When all Americans are treated as equal, we are all more free."
He added, "Today we can say in no uncertain terms that we've made our union a little more perfect. America should be very proud."

BEFORE YOU GO
PHOTO GALLERY
Politicians React To Gay Marriage Ruling