Early last week, a few artists painted murals on the walls of a warehouse around a vacant lot in Charleston, South Carolina, preparing for a celebration intended to fill the neglected space with sunlight, art and joy.
Then they learned about the racist attack at Emanuel AME Church, a historic black institution, that killed nine residents of their city.
Reeling from shock and sorrow, leaders of the community arts nonprofit organizing the event had to decide whether to cancel festivities planned for the solstice. It was a clear choice, Enough Pie executive director Cathryn Zommer told The Huffington Post.
"We felt that more than ever, the community needed to come together," Zommer said. They added a vigil with candle lighting, songs and prayer. Artists made changes to their pieces. On Saturday, people gathered for an experience that mixed joy with sorrow, surrounded by art.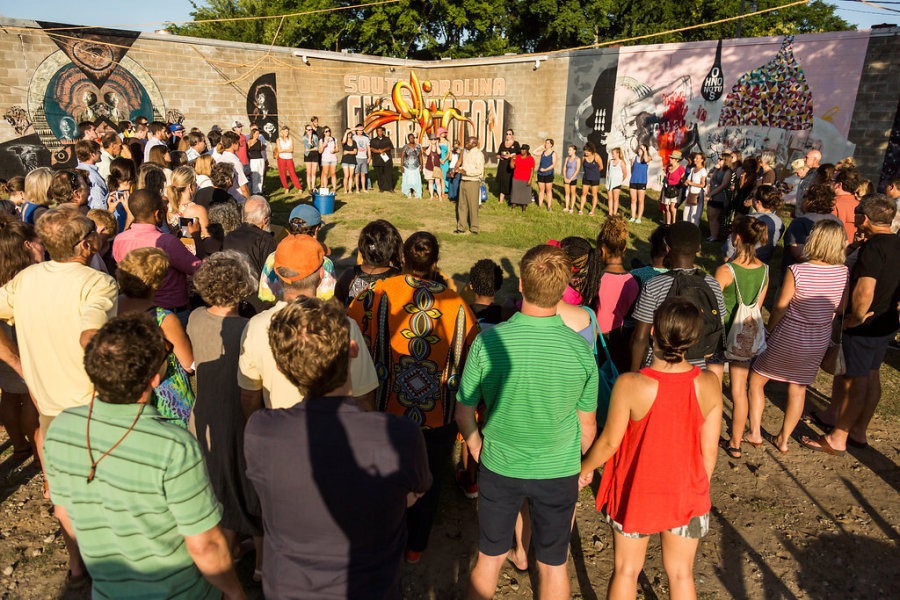 In the week since the shootings, many other Charleston residents have expressed their emotions in powerful and creative ways, from thousands of people joining hands in a unity chain to making handmade signs honoring the victims.
"People use creativity to make sense of all of this. They use the arts to express these deep emotions of sorrow and pain and loss," Zommer said. "The arts can do that. They can help us heal."
From designers and dancers in Charleston's tight-knit creative community to musicians who live hundreds of miles away, artists have addressed the killings. Their work, below, shows how art helps us survive and strengthen amid tragedy.
Artists used their craft to honor victims, and to grieve.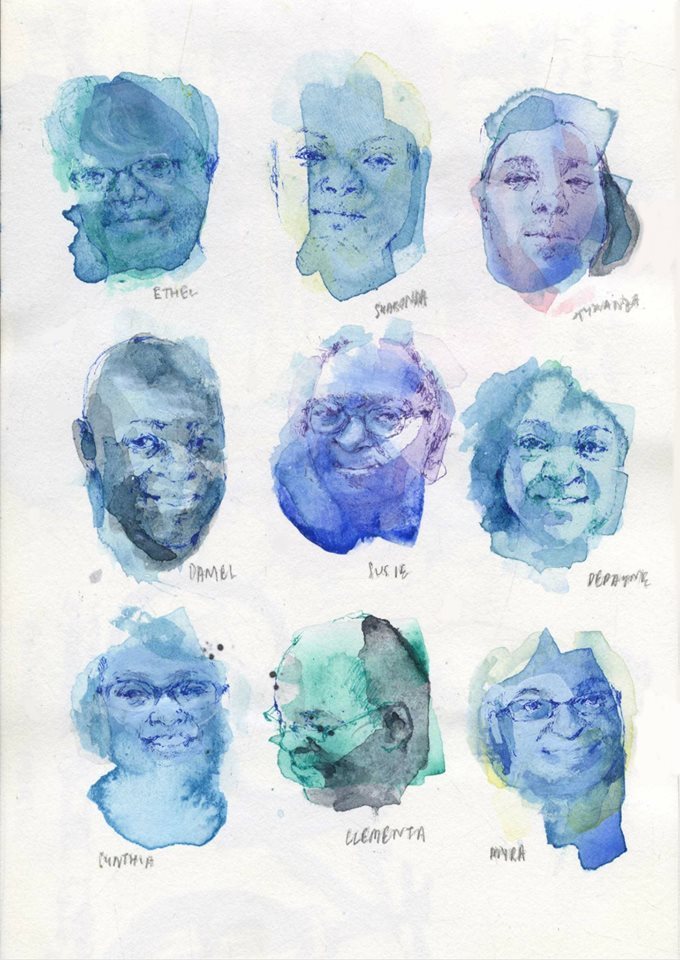 Jia Sung, a recent graduate of Rhode Island Institute of Design, said painting watercolors of each victim was her way of mourning.
It is primarily a process of grieving, trying to externalize the hurt. I didn't know what else to do, really. Taking the time to do those portraits, and spend those moments of intimacy with each person was my own laying flowers. It was my own small gesture of tenderness in the face of violence.
They illustrated the muddied pain that follows tragedy, in the flood of grief, anger and glimmers of hope.
Jake Reeves and Evan Lockhart/HuffPost
HuffPost created this artistic take to remind Charleston and beyond that #BlackLivesMatter.
Their work helped spread the victims' names and stories far and wide.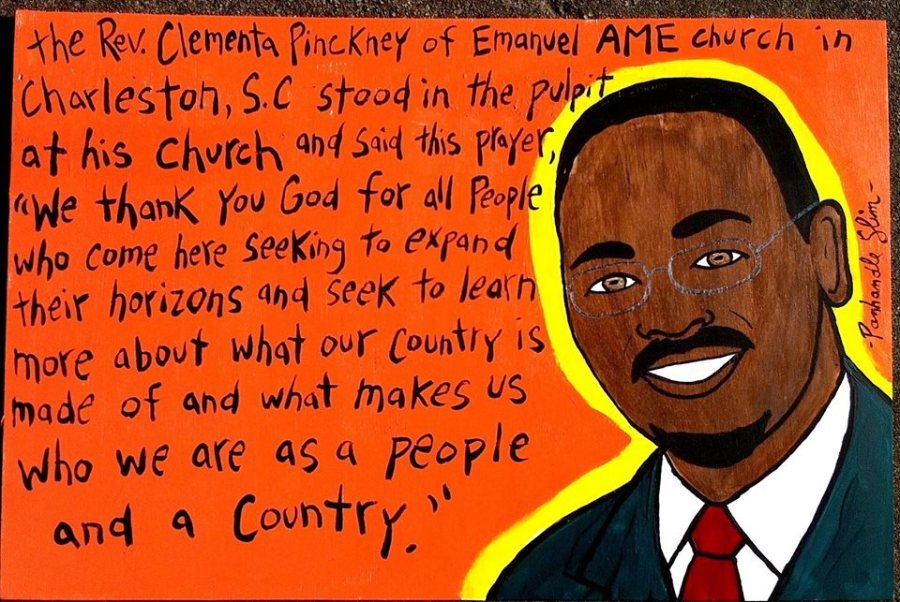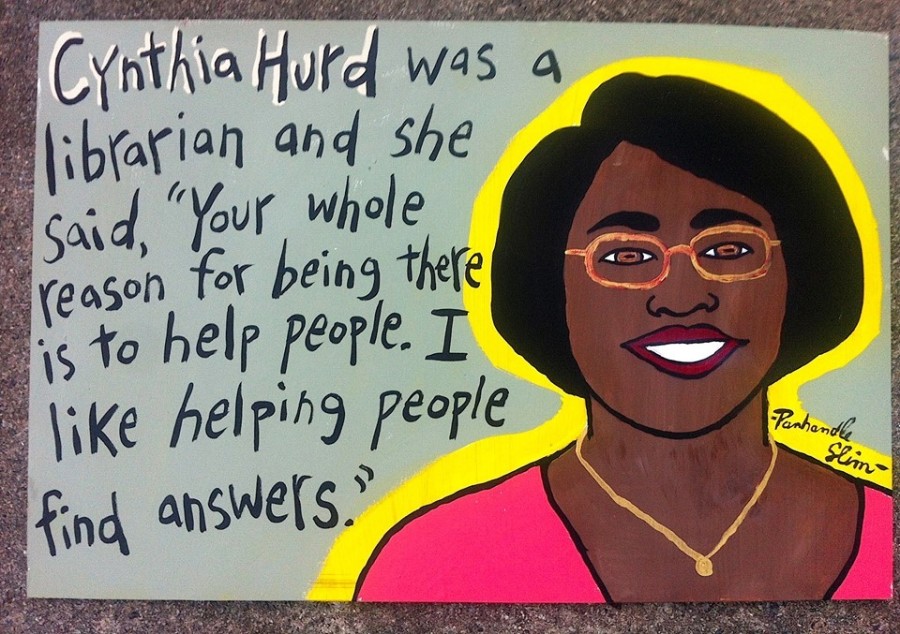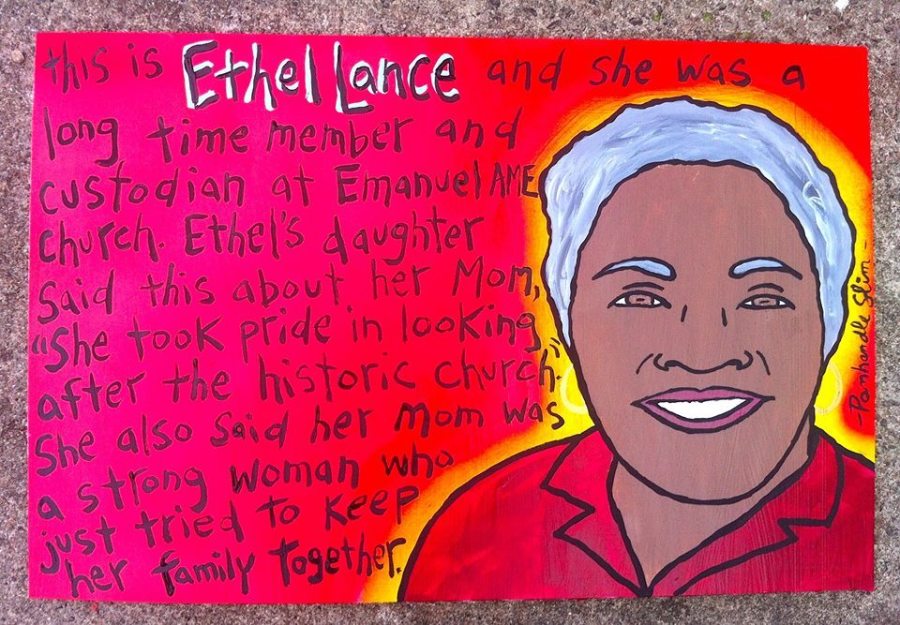 Scott "Panhandle Slim" Stanton has painted each of the nine victims, sharing snippets of their rich lives.
I started this series with Rev. Sen. Clementa Pinckney and ended with Ethel Lance. One preached the word from the pulpit of Emanuel AME church and he worked hard to keep his congregation's soul clean. One worked in the Emanuel AME and she worked hard to keep the entire sanctuary clean and she preached the word too. What an amazing group of people these 9 people are.
Some turned to the past to find insight into the present.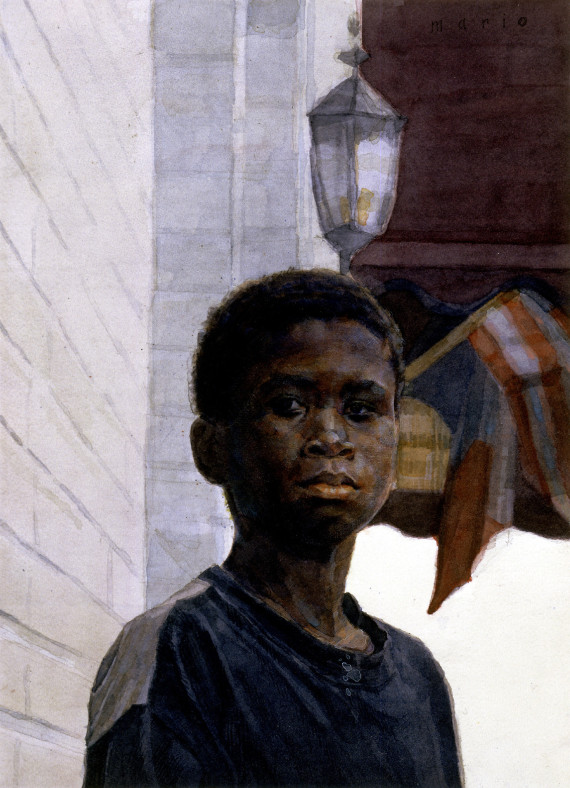 Painter Mario Robinson is represented by a Charleston gallery and visits the city often. In 2010, he painted "Sixteen Broad Street," a portrait of a boy he met in Charleston.
I told him I'd buy a rose if he would be kind enough to pose for a quick sketch. He agreed and after a few minutes, his eyes began to wander as potential patrons walked by us. I realized that he was counting the sales he was losing by posing for me. I reluctantly aborted the sketch and opted for a photograph. His demeanor sums up the entire experience. When I look at this portrait today, I wonder what his life is like as a young man. We are living in tumultuous times and there's no guarantee that he will be treated as a harmless preteen, in search of a few extra dollars.
Children too young to understand the killings use art to help cope.
A 7 year old drew this. Amazing! #prayforcharleston pic.twitter.com/T8Z2FYtQLT

— Talia D. (@just_talia08) June 20, 2015
Before 7-year-old Madeleine made this drawing, she kept asking her mother questions, WCIV reported. "Why is the world full of broken people?" asked the girl, who lives in Mount Pleasant, South Carolina.
Art gives solace to those who need it because they are old enough to understand.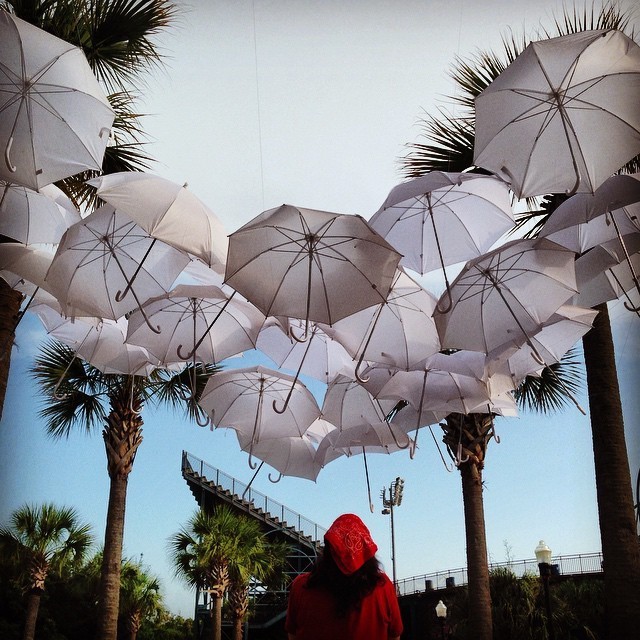 In Kris Manning's "Our Unified Heart," a bunch of nondescript white umbrellas become a silvery, sunlit heart. Manning created her public sculpture at the Unity Music and Arts festival, which she organized last weekend to support her music education nonprofit. They instead will donate funds to the victims' fund.
"When the tears of our community are falling, we unite and together we create shelter from the storm with love," Manning said.
Some illustrated the history of hatred that fed the killings.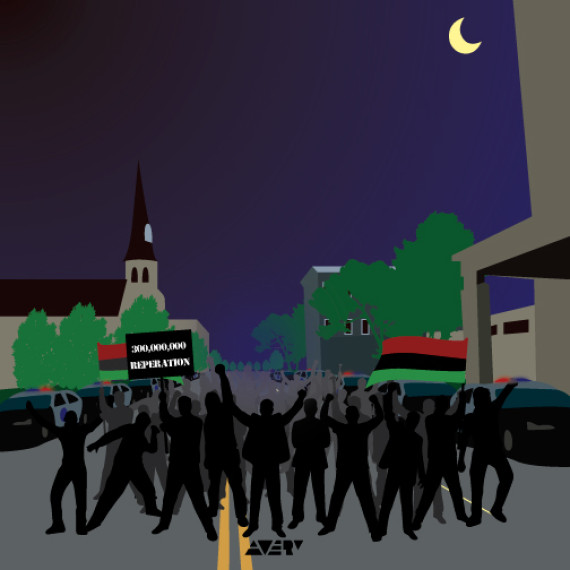 Charleston artist Mark Avery's illustration of protesters in Marion Square was infused with his city's legacy of racial oppression.
Last night as I walked with my black brothers and sisters, we took over the streets that our ancestors built. Rattling the houses that our people built, our voices spoke power on the forever, "Holy City." Activists from around the country came together at Marion Square to get our black people to unify and stand up for the black community in Charleston, and spoke nothing but facts about the psychological and systematic downfall of black people not only in Charleston, but around the nation. We are tired of forgiving these animals that kill our brothers, sisters, uncles, grandmas, aunts, grandpas, and even children. Here in Charleston, black people are the roots of the roots, so tell me who is, has, and still to the day, "taking over our land"? We need to really wake up and recondition our daily lives, until we do, our people will continue to perish on the land that we built, from the ground up.
Baltimore street artist Reed Bmore, given name Jon Struse, installed "Star Noose" above Market Street in Charleston. Made of wire, the piece depicts a Confederate flag hanging itself.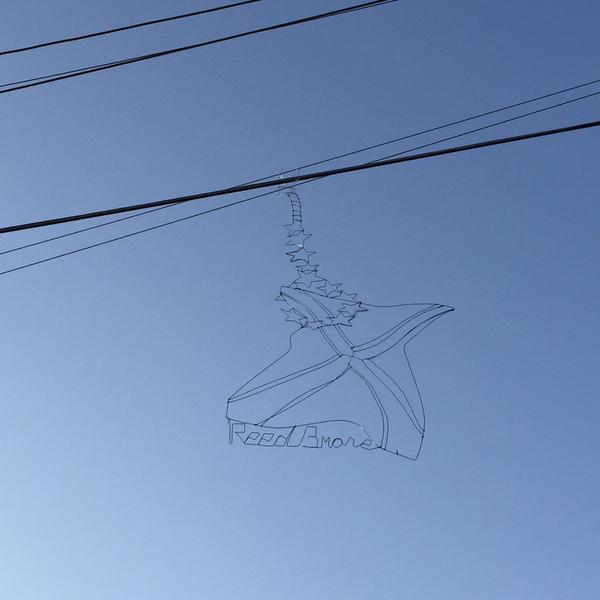 Ann Marshall
"Star Noose" reflects the counter context of a flag that is supported through a network of historical privilege. It is a discourse the shows moral frailty and depth of a system that blatantly separates one from another in order to maintain a history not sought by all. These issues of estrangement still affect the people of Baltimore and Charleston to this day.
In a moment when there is too much to feel and no words that seem right, poets have done justice to the unspeakable.
"Because I would rather hang a black cloth on a flag pole / than give the Confederate flag another glimpse of the sun," Charleston poet Marcus Amaker writes in "Black Cloth."
South Carolina poet laureate Marjory Wentworth wrote "Holy City" for Charleston's Post and Courier. She reads it in a video for the BBC: "As bells in the spires call across the wounded Charleston sky, we close our eyes and listen to the same stillness ringing in our hearts, holding on to one another, like brothers, like sisters, because we know that wherever there is love, there is God."
A dance performance demonstrates emotion, strength and collaboration.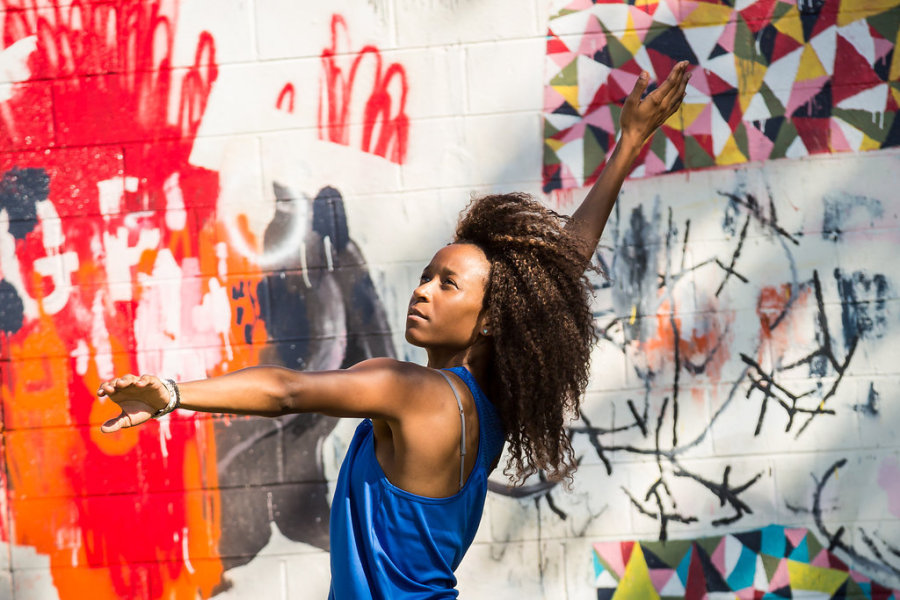 Charleston Characters Dance Co. member Megan Joanna Pue danced at Enough Pie's solstice event with other women in her troupe.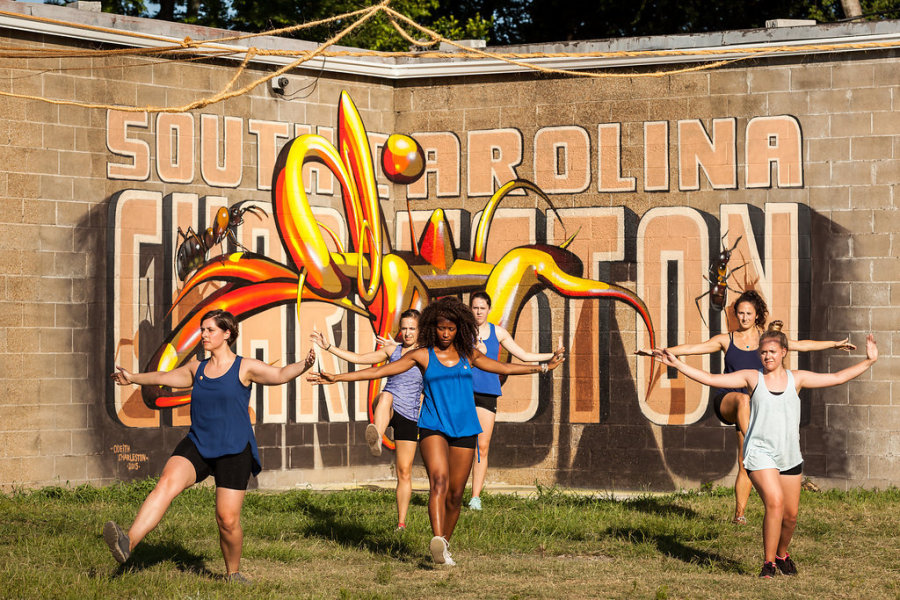 Some designers made simple graphics that resonated widely on social media, putting Charleston into the thoughts and timelines of people all over.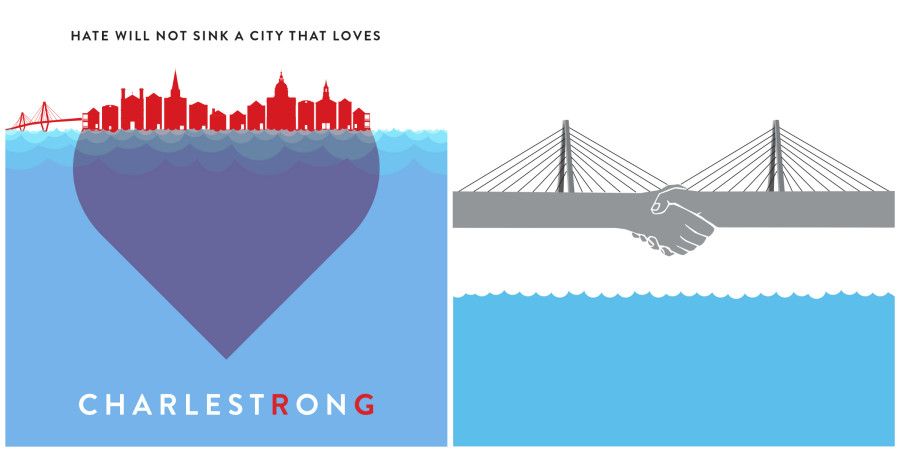 The night Craig Evans found out about the shooting, he couldn't sleep. Feeling helpless, he created the "Charlestrong" image, posted it to social media and finally went to bed. He woke up to an onslaught of messages.
I have been contacted by so many people saying how much they loved it and even thanking me for capturing a certain sentiment. The craziest moment was when I received an email from one of the track teammates of Sharonda Coleman-Singleton (one of the victims) telling me how much it meant to her and said it had touched her. That blew me away and made me happy beyond belief. I truly can't believe my little design had such a huge impact on people.
Evan's company, Y'allsome, is selling shirts and posters with the design. Profit will go to the Mother Emanuel Hope Fund.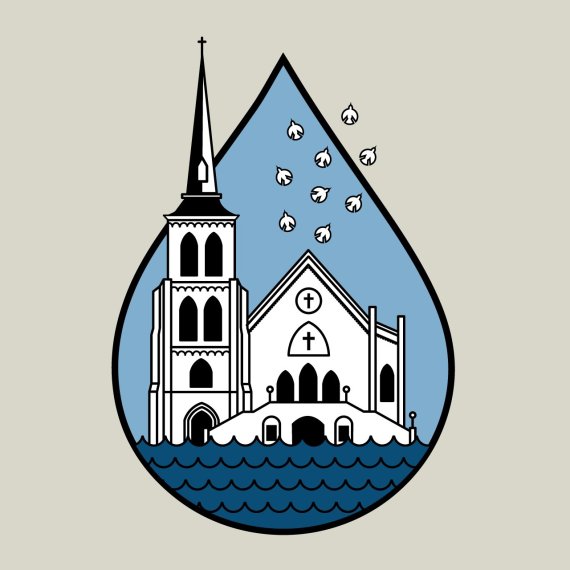 When Charleston designer Buff Ross saw that his image had begun to spread on Facebook, he made a poster-sized version that included a link to donate to the victims and the church, free for anyone to use.
Our streets here famously flood as our alluvial geographic nature continually pulls us back into the swampy miasma of our history. The flooding is something we all share and contend with here in Charleston. However on this brutally hot and dry morning the city felt flooded with tears. At least that was how I processed it and envisioned the image. … I truly believe that one of the unintended but beautiful consequences of social media is its power for collective grieving.
Others around the country called for change with songs and symbols.
"Faith Under Fire" #BlackLivesMatter #Faithmatter #AllLivesMatter #Violence #GunControl #ProtectPrayer pic.twitter.com/VJtjQq6f2q

— afranks3 (@afranks3) June 18, 2015
@SoloExMachina @Fengxii pic.twitter.com/SmAdBeGCIg

— Miguel, Trabajando. (@WorkingMichael) June 19, 2015
Milwaukee musician Peter Mulvey wrote a song pleading for South Carolina to remove its Confederate flag and asked friends to make their own version. Dozens have since recorded it, including Ani DeFranco, who pays tribute to victim Tywanza Sanders.
Many local artists, struggling with the same grief as fellow Charleston residents, are making work specifically for their city.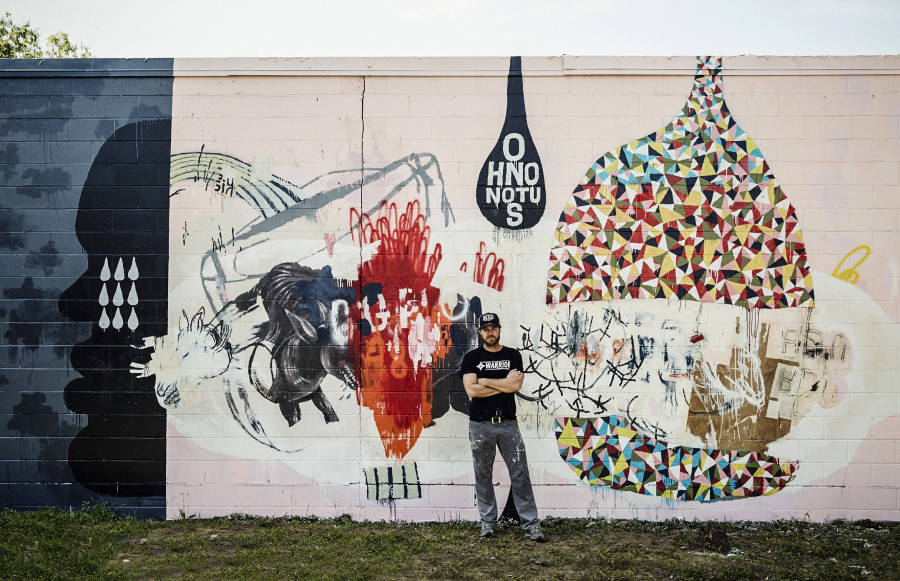 Sully Sullivan
Charleston artist Tim Hussey's mural-turned-memorial is vibrant and colorful, but intended to address "hidden class and race struggle in the city."
"We all know there is a huge gap between the 'haves' and 'have nots' here, but have no idea how to address it without having to move out of our comfort zone and leave the 'celebration' of everyday Charleston," Hussey said. "Well, it's not a celebration for everyone."
After the killings, Hussey added the silhouette of a man with nine tears to the piece, entitled "Oh No Not Us." He collaged notes from a nearby church's old ledger to emphasize "the personal and humanness of this tragedy."
Musicians and artists are using their work to inspire generosity in others.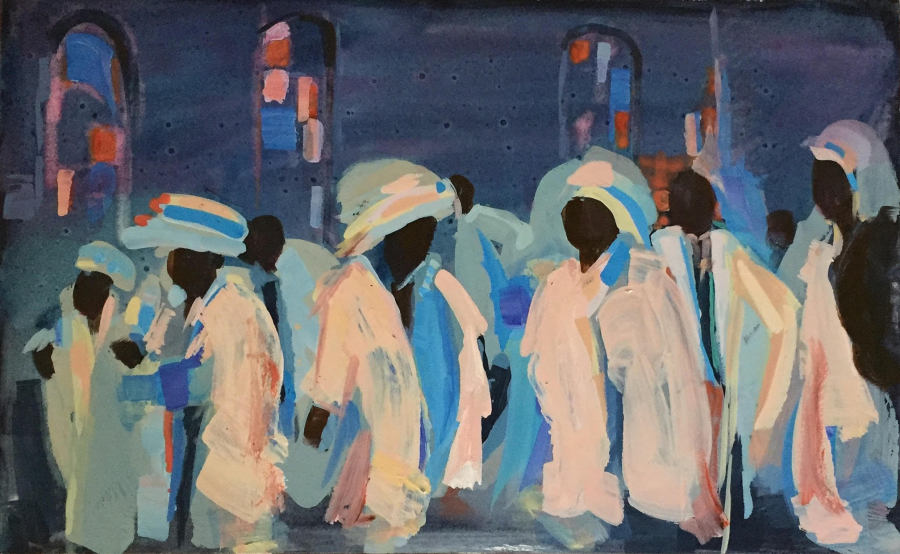 Gallery Robert Lange Studios is organizing a silent auction that has received 100 donations so far, including Anne Darby Parker's "Unity of Nine."
Earlier this week, a few thousand people attended a sold-out music benefit put on by Charleston's Pour House. The 25 bands that played helped raise more than $30,000 for Emanuel AME and the victims.
First performance of the night (inside) is already tear-worthy. #chsmusicheals pic.twitter.com/a1pMx0Fdo7

— Abigail Darlington (@A_Big_Gail) June 24, 2015
On makeshift canvases, people in Charleston have revealed hopeful visions of the future.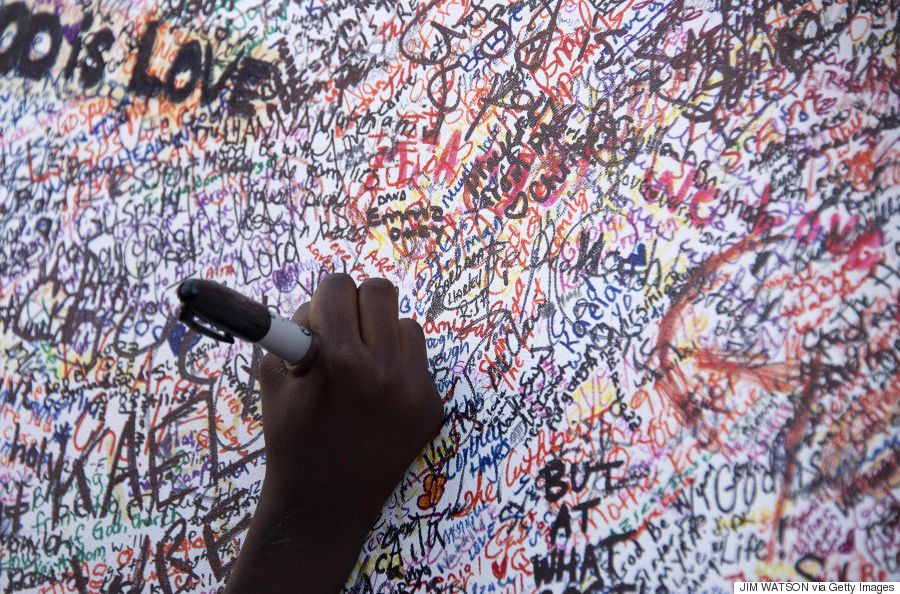 Jim Watson/AFP/Getty Images
Artistic offerings are just one way Charleston has rejected the hate that spurred a man to kill nine churchgoers who had been kind to him.

The actions of many in Charleston echo the Rev. Clementa Pinckney's call in April to "resurrect and revive love, compassion and tenderness." Pinckney was among those slain.
Enough Pie's Zommer knew Pinckney through the interfaith group Contemplative Alliance. She choked up as she called Pinckney a "sacred activist of the highest order."
"We're trying to move forward with the recognition that love is really what does unite us, and we find that creativity is an incredible way of showing love for this world and for life," Zommer said. "Reverend Pinckney says it best when he says, 'Only love can conquer hate.'"
BEFORE YOU GO
PHOTO GALLERY
Charleston Church Shooting Victims