On June 27 of last year, San Diego photographer and mother of three Vanessa Simmons launched Normalize Breastfeeding -- a breastfeeding awareness campaign that features photography, social media outreach, philanthropic endeavors and a website full of empowering stories and podcast discussions about nursing today.
To celebrate the one-year anniversary of the campaign and the incredible impact it's already had on women around the world, Simmons wanted to create an official day of recognition to celebrate the effort and progress made towards awareness and understanding of breastfeeding, wherever it happens. She submitted a proclamation request to San Diego Mayor Kevin Faulconer, who approved it and thus proclaimed June 27 the first International Day to Normalize Breastfeeding.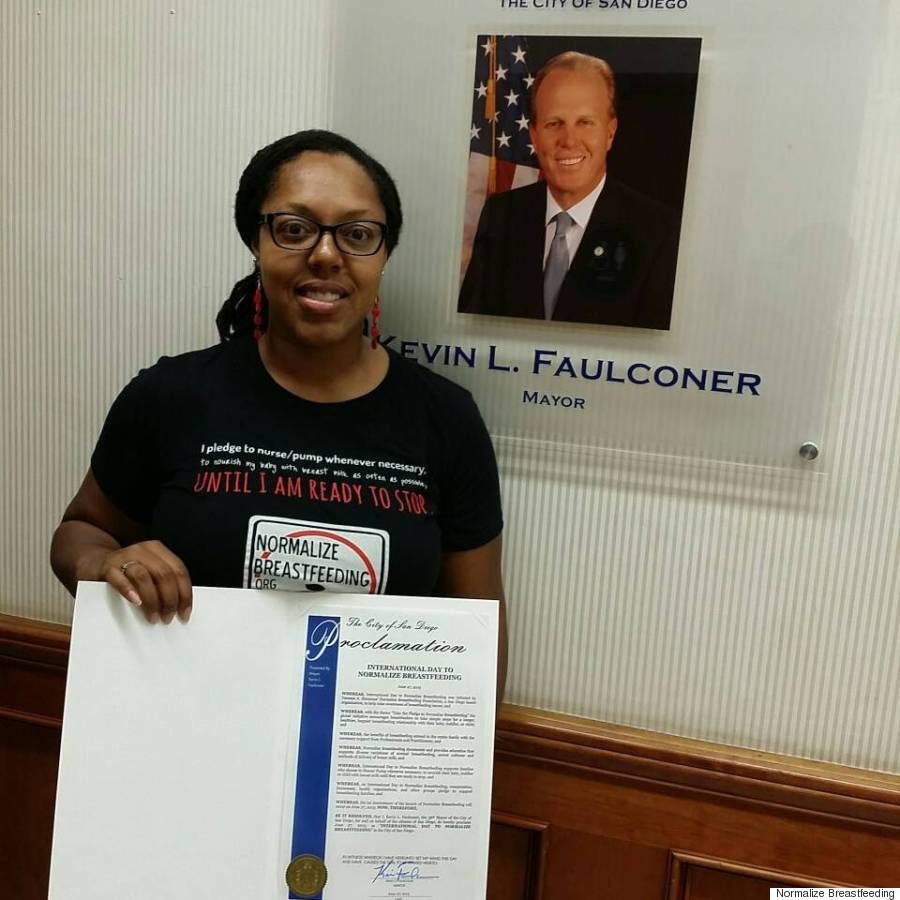 "This day is about mothers committing to nourish their children with breast milk -- whether nursing, pumping, and donor milk -- and the public committing to supporting them whenever, no matter how long they choose to breastfeed," Simmons told The Huffington Post. "My vision is to remove the taboo of public breastfeeding from modern society." The Normalize Breastfeeding founder said she was inspired to submit a proclamation request for the International Day after successfully helping to make National Women's Health Week official in 2010 through similar means.
For the International Day to Normalize Breastfeeding, Simmons looked at the list of "International Days" observed by the United Nations and saw that June 27, the date when she founded her campaign, was available. She created a press release and t-shirt, reached out to local breastfeeding groups across the country and even managed to get in touch with Australian supermodel Nicole Trunfio, who shared the Normalize Breastfeeding message and awareness day announcement on "Access Hollywood."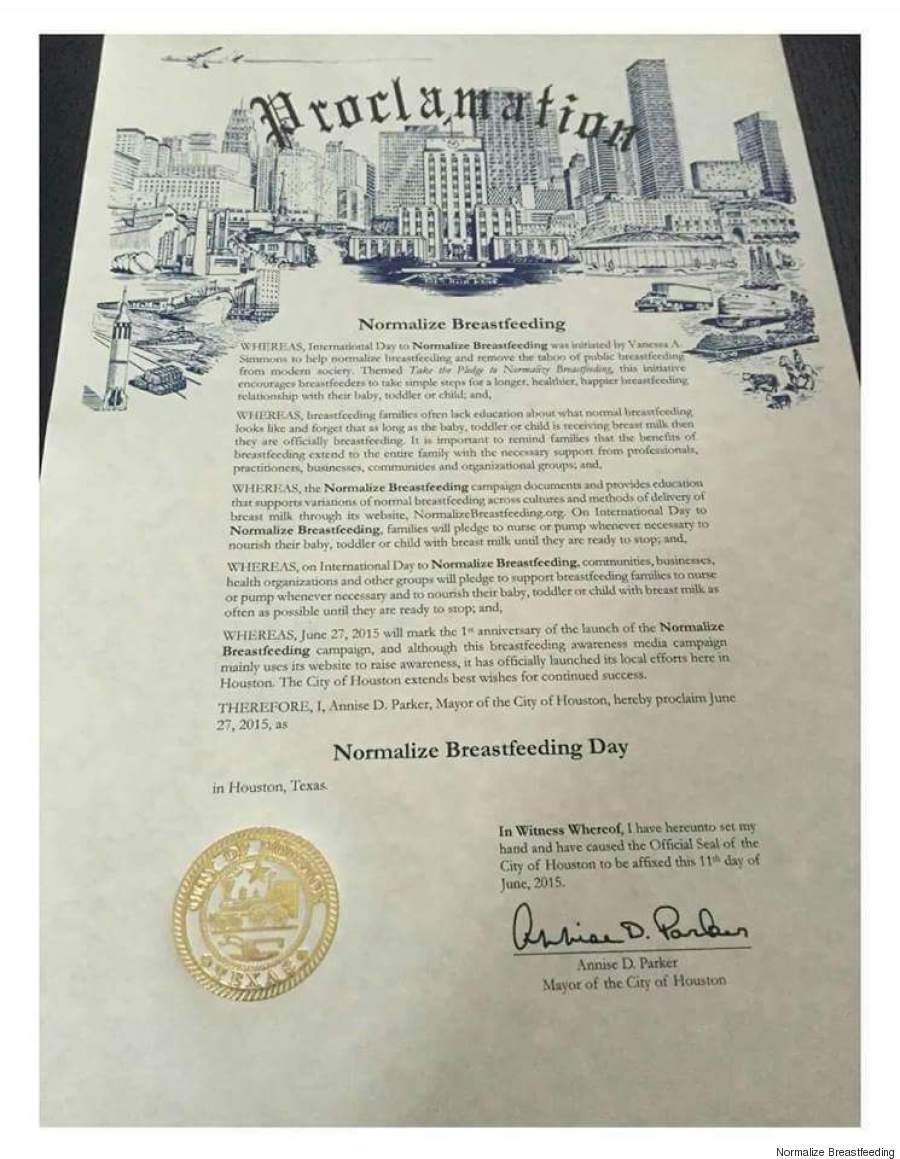 As a result of these efforts, the Normalize Breastfeeding team received published proclamations from the mayors of Houston, Texas and Kansas City, Missouri and organized local events in Nashville, Tennessee; Charlotte, North Carolina; Oklahoma City, Oklahoma; Mobile, Alabama; Katy, Texas; Sterling Heights, Michigan; and San Diego, California.
Simmons established a theme for the first International Day to Normalize Breastfeeding -- "Take the Pledge to #NormalizeBfing." She told HuffPost, "This year the theme is about creating excitement by getting supporters involved by posting status, images, and video to acknowledge the day online." The mom adds in her press release for the awareness day, "We are united for this one day, to normalize the many methods of delivery of breast milk diverse variations of normal breastfeeding."
Going forward, Simmons plans to continue supporting breastfeeding moms by going on tour to visit with local nursing groups and organizations in Sacramento, Detroit, and even South Africa. She also hopes to "promote positive breastfeeding in the media" during World Breastfeeding Week in August.
Wherever her travels take her, she will continue to photograph breastfeeding moms, as they inspire their communities to support parents and the choices they make for their families.
Keep scrolling for a sample of Vanessa Simmons' "#NormalizeBFing" photography.
PHOTO GALLERY
International Day To Normalize Breastfeeding
Like Us On Facebook |

Follow Us On Twitter |

Contact HuffPost Parents
BEFORE YOU GO
PHOTO GALLERY
Memorable Breastfeeding Moments In Hollywood