This is Makaia.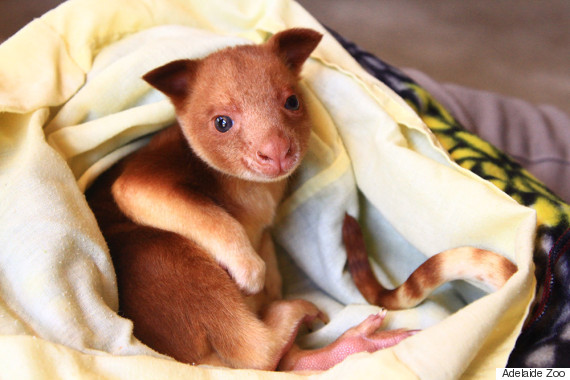 Makaia is an 8 1/2-month-old Goodfellow's tree kangaroo who was orphaned at the Adelaide Zoo in South Australia after a tree branch crushed his mother in November. Attempting to save the little joey, caretakers rushed to transplant him to the pouch of a surrogate mother. In a move the zoo is calling a "world first," they relocated Makaia to the pouch of a yellow-foot rock wallaby, an unrelated species that has shown great success with proxy parenting.
The zoo announced on Monday that it had officially saved Makaia, who will be featured in the July/August issue of Australian Geographic.
"Adelaide Zoo is famous for its cross-foster program and although it's never been done in completely unrelated species before, it was just something we had to try," Gayl Males, team leader of natives at the zoo, said in a video posted to YouTube.
Goodfellow's tree kangaroos, native to Papua New Guinea, are classified as endangered by the International Union for Conservation of Nature. Populations of the species have plummeted by more than 50 percent over the past 30 years due to habitat loss and hunting.
Zookeepers were initially concerned about the joey's adaptation to his new home, but Makaia lived successfully with his wallaby parent for three and a half months.
"Not only are tree kangaroos distant relatives of wallabies, they also have many behavioural and physical differences," David McLelland, a veterinarian with the zoo, said in a press release. "We had no idea if the yellow-foot would accept the tree kangaroo joey, but if we wanted to save the joey we had to try our luck."
Makaiya will now be hand-reared by Males -- who takes the joey home with her in the evening -- until he's 15 or 18 months old. The rambunctious fellow is already enjoying his life post-pouch, causing adorable mayhem around Males' house. Take a look at the little troublemaker below:
BEFORE YOU GO
PHOTO GALLERY
Baby Animals