The year was 2013, and Sheikh Hasina, prime minister of Bangladesh, had picked up the phone. She was calling Khaleda Zia, her arch-nemesis and the head of the opposition, in an attempt to convince her to end yet another round of violent strikes and demonstrations that had brought the country to its knees.
The conversation went like this:
Hasina: "We don't want to quarrel."

Zia: "You are quarreling."

Hasina: "You are the only one doing the talking. You are not allowing me to talk."

Zia: "Why would I do that? You are asking questions, I am replying."

Hasina: "I am not getting a chance to speak."
As writer Tahmima Anam noted in The New York Times, the transcript of this exchange may read "like a parody" -- but it's a real-life glimpse into Bangladeshi politics, where the "two ladies," as Hasina and Zia are known, have long battled in a dysfunctional, winner-takes-all jostle for power.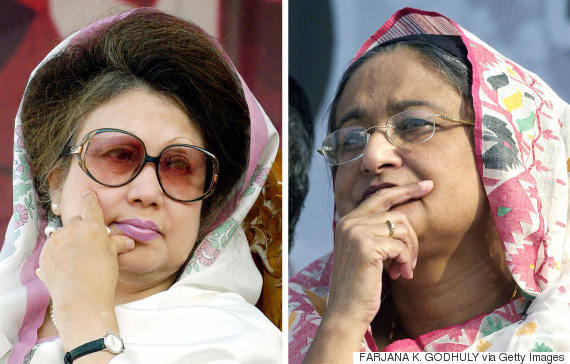 Khaleda Zia (left) and Sheikh Hasina at their respective political rallies in Dhaka on Dec. 21, 2005, and Feb. 5, 2006.
The position of prime minister has rotated between the two women since 1991. Both leaders have been praised for some successes, but both have also been accused of rigging elections and of corruption and incompetence while in office.
Each woman, while in the opposition, has used violent protests, including general strikes (known locally as "hartals") and blockades ("oborodhs"), to undermine the other. In the process, the country has plunged head-over-feet into chaos, time and time again.
Hasina, 67, and Zia, 69, have "acted as partisan authoritarians who divided the country into two warring camps," Badiul Alam Majumdar, general secretary of Bangladeshi nonprofit Citizens for Good Governance, told The Wall Street Journal earlier this year. "Our institutions have been undermined and civil society has been divided."
The personal animosity between Hasina, head of the Awami League, and Zia, leader of the Bangladesh Nationalist Party, runs deep. Some believe that former Bangladeshi president Ziaur Rahman, Zia's late husband and founder of the BNP, had ties to the men who assassinated Hasina's father, Sheikh Mujibur Rahman, former Awami League leader and the country's first president. Ziaur Rahman was himself assassinated a few years later.
The conflict between Zia and Hasina is further fueled by their parties' competing visions over the national identity of Bangladesh, a secular country with a majority-Muslim population. Hasina is staunchly secular while Zia's supporters include Islamists and those with Islamist ties.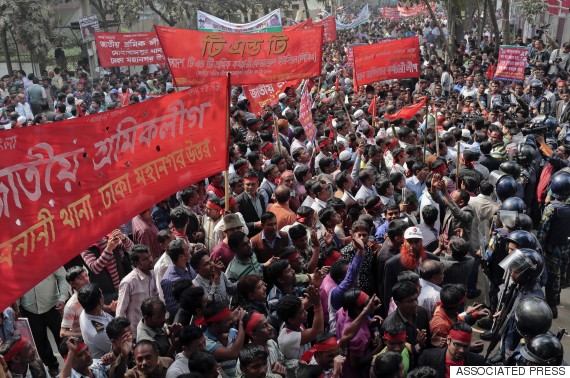 Supporters of the National Transport Workers League, a wing of the ruling Awami League, participate in a demonstration against the nationwide blockade and strike called by the BNP in Dhaka, Bangladesh, on Feb. 9, 2015.
The most recent clash between the two was particularly destructive. It began this year on Jan. 5, the anniversary of a fiercely contested 2014 election. Hasina and the Awami League had won that election, the most violent in the country's history, but only after it was boycotted by the BNP and its allies. At the time, Zia called the election a "scandalous farce."
In January, the BNP leader called on her supporters to launch an indefinite campaign of strikes and a countrywide transport blockade. The strikes and blockade, Zia said, were an attempt to force Hasina to hold new elections. They did not succeed.
More than 100 people were killed and many more horrifically injured in the ensuing conflict, which dragged on for three months and involved street clashes, roadside bombings and shootouts. More than 10,000 opposition activists were arrested during that time. As a result of the political unrest, Bangladesh's economy lost at least $2.2 billion, or around 1 percent of its gross domestic product, according to the World Bank.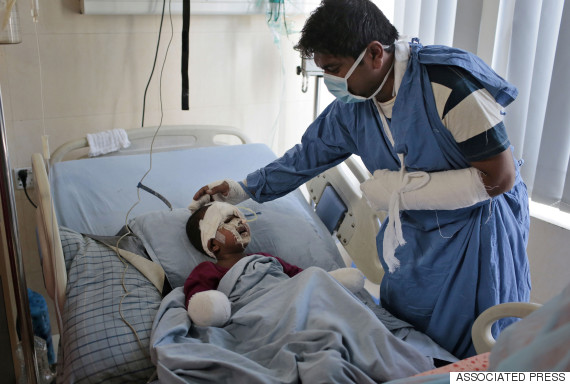 Saiful Islam, a doctor by profession, stands by his son, 2-year-old Safir Islam, who lies in an intensive care unit with burns to his face, head and other body parts from a bomb on Jan. 21, 2015.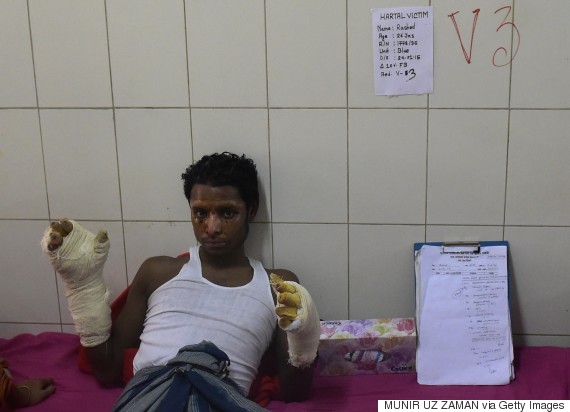 A Bangladeshi resident who suffered burn injuries in a petrol bomb attack during the blockade and nationwide strike receives care at the Dhaka Medical College Hospital on Feb. 13, 2015.
While hartals and oborodhs have been a fact of life in Bangladesh for decades, they have in recent years been "transformed into a wholesale replacement for democratic checks and balances," The Diplomat noted.
"Upset about inflation? Call a hartal. Think a court verdict is too lenient? Call a hartal. Think that same verdict is too severe? Why not call a competing hartal on the same day? Frustrated by the endless tide of hartals? Well, don't let a sense of irony stop you," the magazine wrote in 2013.
That year, Bangladesh suffered the worst political violence since its independence in 1971, leaving more than 500 people dead.

Bouts of politically fueled violence have become so commonplace in Bangladesh that several people told The Huffington Post residents seem almost "resigned" to it, choosing to get on with their lives as normally as possible.
John Lyotier, founder of Canada-based tech company Left of the Dot, was in Bangladesh for work in February in the midst of the prolonged hartal. "The general mood of the populace seemed almost resigned and annoyed by the strike and the inconvenience that this was putting on their everyday lives," he said.
Lyotier recalled seeing a bus on fire on a Dhaka street. "It was very odd. It was the middle of the afternoon just a few blocks from our Dhaka office, and the traffic was a little backed up. We saw a bit of a gathering on one side of the road, and as we drove past ... there it was, about 20 meters from us and simply on fire, kind of like you would see in the movies -- big flames and all -- and a few people looking on in mild curiosity. Our driver and hosts looked up, saw that it was a bus fire, then went back to their conversation. This was obviously nothing new to them."
The ongoing political battle between Hasina and Zia is worrying to many watching the region. Professor Bhumitra Chakma, director of the South Asia Project at the University of Hull in England, said the conflict between the two political dynasties has already "cost the country dearly."
"It has reversed the process of democratization … [and] has produced a culture of violence within the body politic of Bangladesh," he said.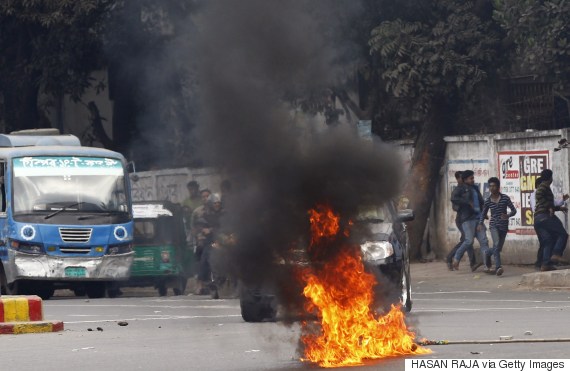 Activists run past burning material on a road close to the home of opposition leader Khaleda Zia in Dhaka on Jan. 5, 2015.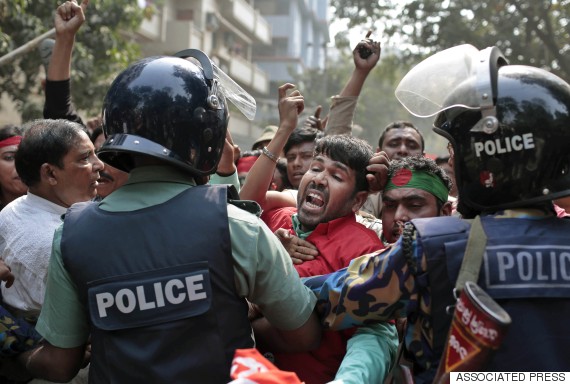 Supporters of the National Transport Workers League try to break through a police barricade in front of the BNP office during a demonstration against the nationwide blockade and strike on Feb. 9, 2015.
Continued political instability has also impacted economic growth, and there are mounting concerns that extremists and criminal networks could exploit the situation in their favor. Extreme Islamist factions are already being revived in the country. Earlier this year, three secular bloggers were murdered after writing against Islamic fundamentalism. Islamists have been linked to all three killings.
The recent migrant crisis in the Bay of Bengal -- involving tens of thousands of Bangladeshis and members of Myanmar's persecuted Rohingya minority attempting to cross in smugglers' boats -- points to another consequence of a broken system: People are leaving the country in droves.
With 160 million people living within its borders, Bangladesh is one of the most densely populated countries in the world. Though its economy is growing rapidly, more than 70 percent of its people live in rural areas and more than one-third live in poverty. Land is scarce, and rising seas driven by climate change are making it even scarcer. (According to some estimates, 17 percent of Bangladesh's land will be underwater by 2050, displacing 18 million people.)
Add to this the often appalling conditions for workers in the country (particularly those in the thriving garment industry); an alarming rate of violence against women, minorities and other vulnerable groups; and one of the highest corruption rates in the world -- and you're left with a pretty grim picture.
The rate of emigration has always been high in Bangladesh, where about half a million people legally leave the country every year seeking better pay and better living conditions. The majority of migrants from Bangladesh are less skilled and semi-skilled laborers, who go abroad -- mostly to the Middle East and Southeast Asia -- on temporary contracts. Bangladesh is the eighth-highest recipient of remittances in the world, according to the World Bank.
"While legal migration has been a historical trend, it has been on the rise in recent years for a number of reasons," Chakma told HuffPost. "[These include a] lack of liveable conditions in cities due to political violence, poor governance and environmental degradation and a lack of economic opportunities."
Bangladesh's Bureau of Manpower, Employment and Training says that about 8 million Bangladeshis are currently living overseas. That number is likely an extreme undercount.
While there are no reliable statistics for the number of Bangladeshis living illegally in other countries, it's been estimated that between 10 and 15 million Bangladeshis may live illegally in India alone. Illegal migration from Bangladesh's shores is also believed to be on the rise, with an increasing number of people relying on smugglers to get out of the country.
"The failure of the system to provide a minimum standard of a decent and dignified life to its population is the major reason" for this movement, Amena Mohsin, an international relations professor at the University of Dhaka, told HuffPost. "Maldevelopment, poverty, the lure of a better life are the push factors; the traffickers are the pulls."
Bangladesh, typically ignored by the international media, found itself in a rare global spotlight earlier this year after boatfuls of migrants and asylum seekers from Bangladesh and Myanmar were left adrift for days without food or water. Smugglers, fearing prosecution, had abandoned their human cargo, and several countries had refused to let the migrants land on their shores, prompting aid groups to condemn regional leaders for playing a deadly game of "human ping pong."
Horror stories from the migrants' boats began making international headlines: people suffering abuse at the hands of smugglers; migrants starving to death and killing other passengers out of desperation; men, women and children sitting cramped for weeks under the glare of the blistering sun, some becoming immobile because of malnutrition.
Saidul Islam, a 19-year-old Bangladeshi survivor whose sinking boat was rescued in May off the coast of Indonesia, told The Guardian that the vessel, which had about 700 migrants on board, was so cramped that he and his fellow passengers "could not stand up."
"When we asked for water, the captain hit us with wire," he told the news outlet. Another survivor, named Amin, said the captain shot dead passengers who asked for food.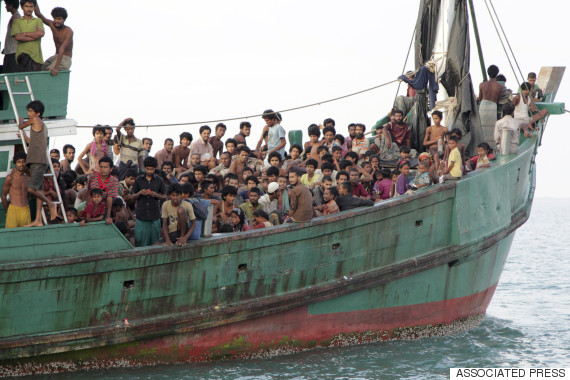 Migrants sit on their boat as they wait to be rescued by Acehnese fishermen on the sea off East Aceh, Indonesia, on May 20, 2015.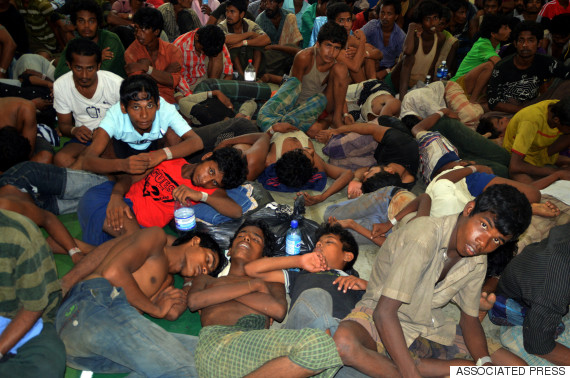 Migrants from Myanmar and Bangladesh arrive at the Langkawi police station's multipurpose hall in Langkawi, Malaysia, on May 11, 2015.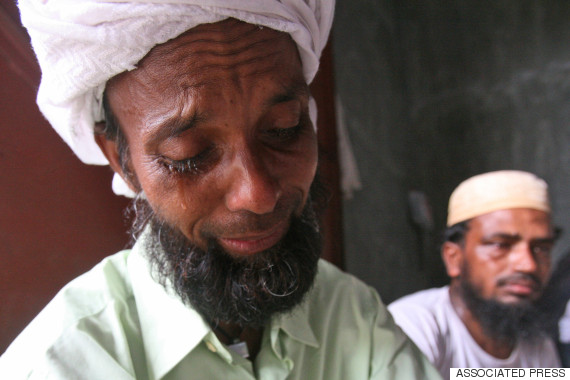 A Bangladeshi migrant weeps at a temporary shelter in Langsa, Indonesia, on May 17, 2015, after being rescued from a boat adrift at sea.
An estimated 25,000 migrants from Bangladesh and Myanmar boarded smugglers' boats in the Bay of Bengal in the first three months of 2015, according to the United Nations High Commissioner for Refugees, almost double the number from the same period last year. More than half of these migrants are from Bangladesh, said Chris Lewa, an aid worker whose reports first brought international attention to the crisis.
The International Organization for Migration estimates that at least 1,000 migrants have died in these crossings between October 2014 and May 2015.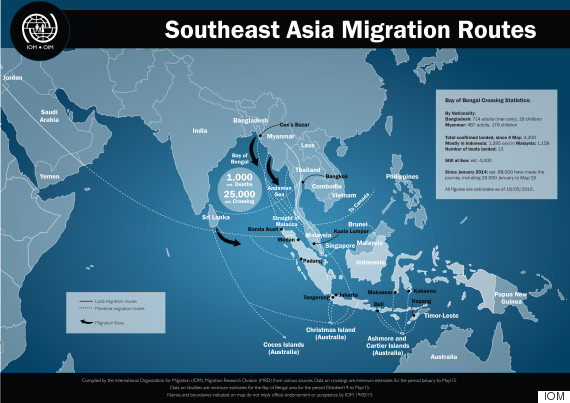 (Click here for larger image)
Aid groups say that the Bangladeshi government needs to be doing more to counter this boat exodus. For one thing, the lack -- and sometimes complicity -- of law enforcement, as well as corruption among government officials, has allowed smuggling and trafficking rings to act with impunity.
A representative for the Bangladesh chapter of the IOM told HuffPost that the agency is working with the government to strengthen counter-trafficking initiatives, such as providing training to law enforcement officials, raising awareness through grassroots campaigns and initiating programs to increase the skill set of potential migrants, thus reducing their vulnerability.
Bangladesh, however, may have to dig even deeper to solve this crisis.
"Illegal migration will continue in some form until Bangladesh can create a condition in which disincentives outweigh the incentives," Chakma noted -- a situation that may only be possible if and when peace returns to the South Asian nation.
The ongoing feud between the country's "two ladies" and their political parties may seem intractable ("There is no end in sight until the political parties are democratized," said David Lewis, a London School of Economics professor who has written extensively about Bangladesh) -- but it should be heartening to know that the two sides have, in the past, shown a willingness to cooperate to restore the country's democracy.
In 2008, for instance, the two leaders came together, waving a banner of democracy, to challenge a military-backed caretaker government that sought to remove them both from politics.
That banner, it seems, needs to be hoisted once more.
BEFORE YOU GO
PHOTO GALLERY
Myanmar And Bangladesh Migrant Crisis 2015