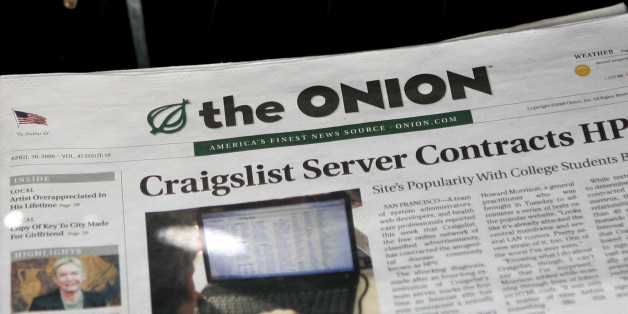 Reality continues to brazenly rip off The Onion.
On Quora, the social question-and-answer site, a user asked: "What are some The Onion articles that turned out to be prescient?" We've rounded up some of the best responses, and added more of our own. (Submit yours here.)
* * *
The Onion, January 16, 2012
'Arby's Now Charging $2.99 To Let Customers Go Behind Counter, Grab Handfuls Of Roast Beef'
Image from The Onion:
The Washington Post, August 24, 2014
'The $10 'Meat Mountain' from Arby's: It's exactly what it sounds like.'
Arby's faced a key problem as it moved to attract customers: People thought the restaurant served mainly roast beef. To change that, the company made this poster showing a tall stack of every meat on the menu, from bacon to brisket.

And then something unexpected happened.

"People started coming in and asking, 'Can I have that?'" said Christopher Fuller, the company's vice president of brand and corporate communications. So Arby's began granting their wish.
Image from Arby's poster:
The Onion, April 20, 2009
The Next Web, January 16, 2013
'Verizon finds US developer outsourced his job to China so he could surf Reddit and watch cat videos'
The Onion, May 22, 2006
'Insecure Brian Williams Only One Who Doesn't Trust Brian Williams For Latest News'
Although he is the most watched and widely recognized newscaster on American network television, NBC Nightly News anchor Brian Williams continues to be plagued with crippling self-doubt, admitting Monday that he would look to "just about anyone else" for in-depth analysis of the latest national and international news before himself.
CBS News, June 18, 2015
NBC said Thursday that Brian Williams will not return to his job as "Nightly News" anchor following his suspension for misrepresenting himself... Williams said he was sorry for saying things that weren't true, apologized to colleagues and viewers, and said that "I'm determined to earn back their trust."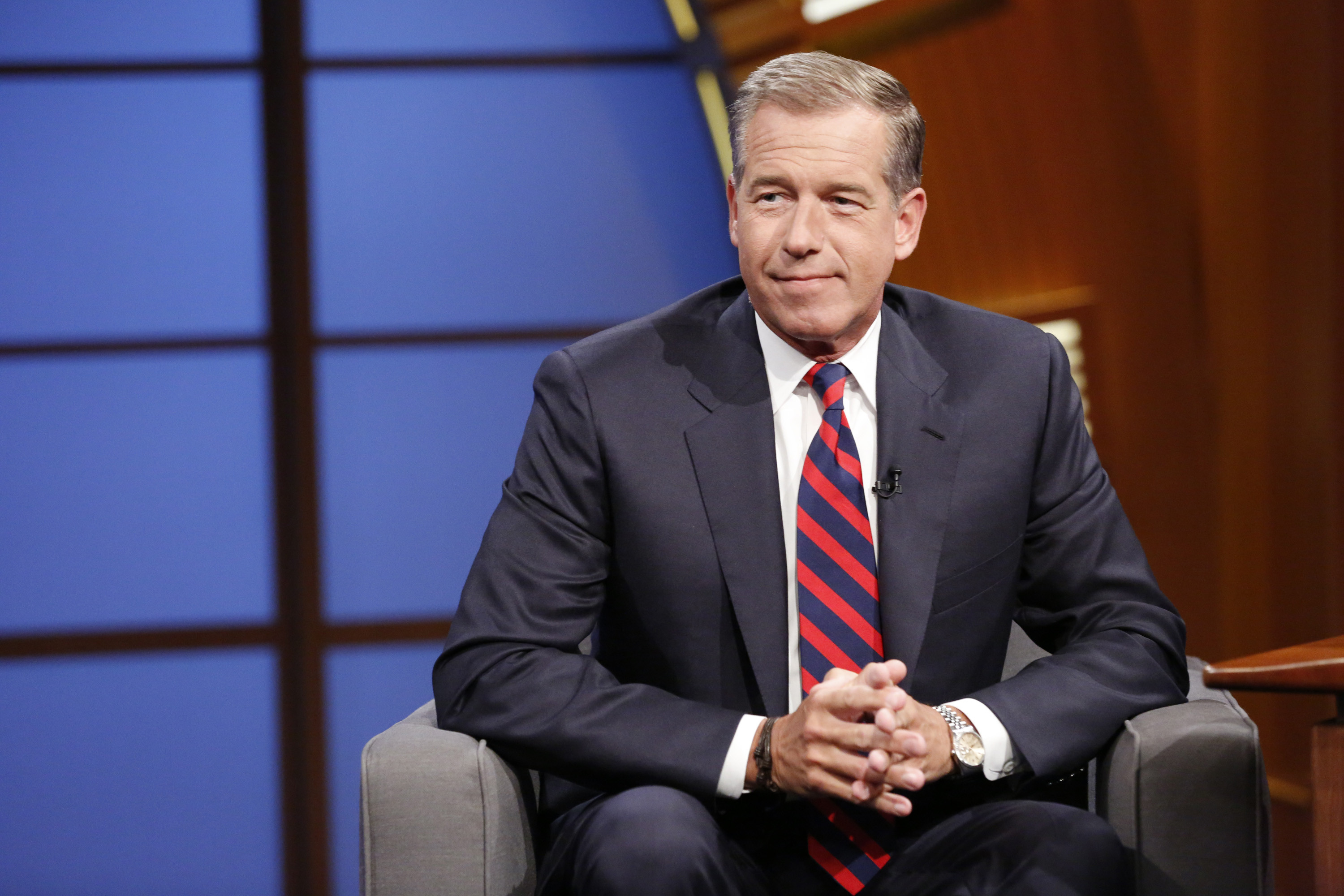 The Onion, July 1, 2008
'Sources Warn Miley Cyrus Will Be Depleted by 2013'
Miley at the 2013 MTV VMAs
The Onion, March 21, 2011
'CIA's 'Facebook' Program Dramatically Cut Agency's Costs'
The Guardian, June 6, 2013
The National Security Agency has obtained direct access to the systems of Google, Facebook, Apple and other US internet giants, according to a top secret document obtained by the Guardian.

The NSA access is part of a previously undisclosed program called Prism, which allows officials to collect material including search history, the content of emails, file transfers and live chats, the document says.
The Onion, January 26, 2000
'Area Man Consults Internet Whenever Possible'
Larry Wisniewski, a 36-year-old Columbus-area office manager, turns to the Internet for information whenever humanly possible.

"Are you trying to find out what time Angela's Ashes is playing at Crosswoods Marcus Cinema?" Wisniewski asked his wife Pamela, noticing her looking through The Columbus Dispatch's movie listings. "I can log on to the Dispatch's web site and check it in a flash."

"Now that my household is hooked up to the Internet, nothing is out of reach," Wisniewski said.
Everywhere, all the time:
The Onion, August 23, 2012
'Nation Celebrates Full Week Without Deadly Mass Shooting | UPDATE: Never Mind'
Cheers filled the streets and American flags waved triumphantly through the air today as the nation turned out in full force to celebrate an entire week having passed since the last time a madman opened fire on innocent civilians in some kind of fatal mass shooting.
Mass Shooting Tracker:
In 2013, there were 363 shootings in the U.S. that injured or killed multiple people -- about 7 per week, on average. In 2014, the number was 283 mass shootings.
The Onion, January 17, 2001
'Bush: 'Our Long National Nightmare Of Peace And Prosperity Is Finally Over''
Mere days from assuming the presidency and closing the door on eight years of Bill Clinton, president-elect George W. Bush assured the nation in a televised address Tuesday that "our long national nightmare of peace and prosperity is finally over."
The Huffington Post, December 1, 2008
'Bush: 'I Was Unprepared For War,' 'I'm Sorry' For The Economic Crisis'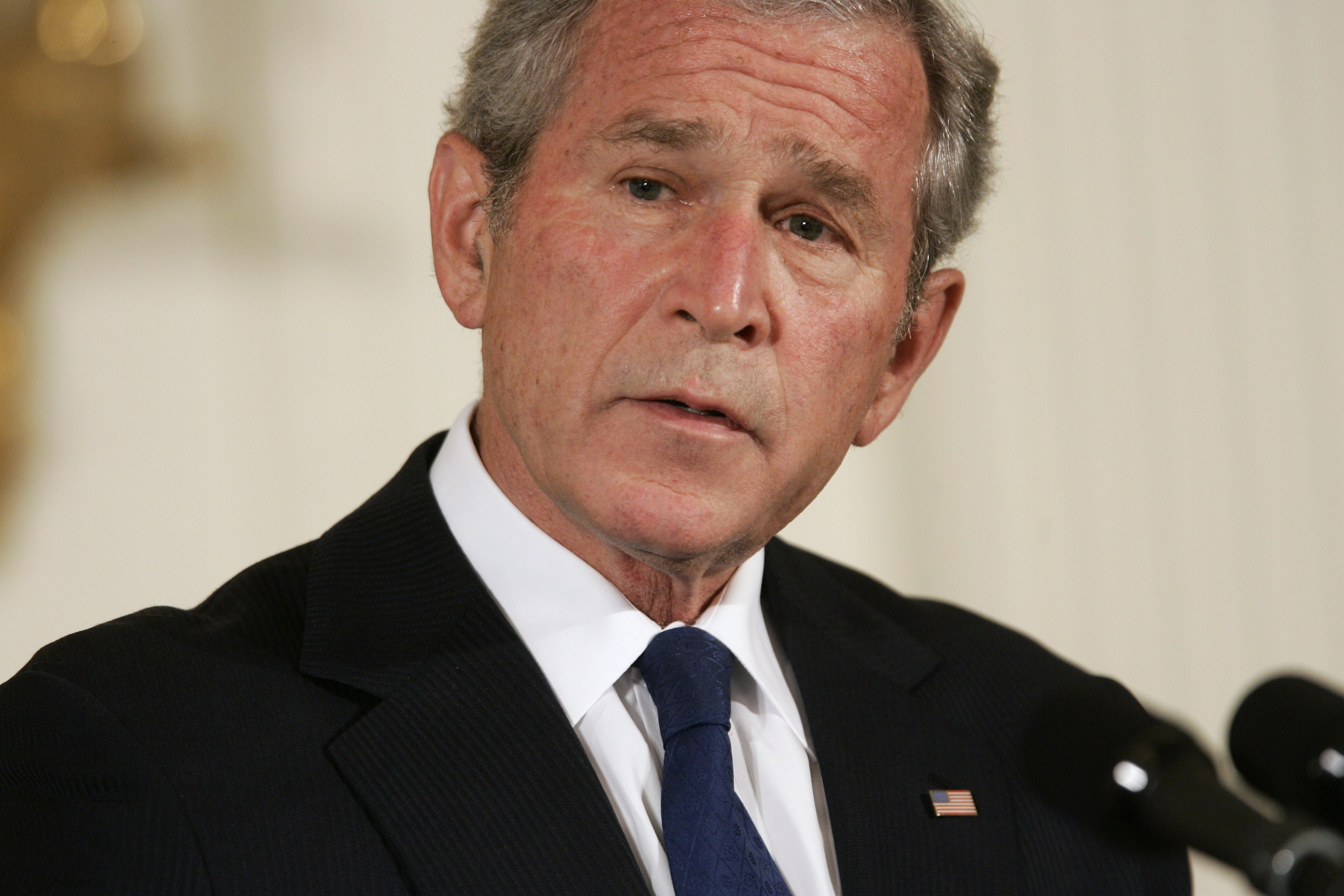 The Onion, November 5, 2013
'Overstock.com Announces Plans To Develop Original Programming'
In a broad push to offer new content to the website's millions of customers, executives from online retailer Overstock.com officially announced plans Tuesday to develop a slate of original online programming.
Hollywood Reporter, February 20, 2015
'Overstock.com Taking On Amazon With VOD, Streaming Services'
Overstock.com, which says it is second only to Amazon in retail sales on the Web, plans to launch VOD and streaming services, it was announced Tuesday at NATPE by company CEO Patrick M. Byrne.

The plan is to launch a video-on-demand service by mid-2015 with about 30,000 titles and then start a streaming service with both acquired content and originals.
The Onion, May 29, 1993
'Uneducated Forklift Driver To Address Nation On Rush Limbaugh Radio Show'
Media Matters, May 5, 2009
'Rush Limbaugh lists Joe the Plumber as someone who can 'articulate conservatism''
The Onion, May 26, 1999
'8-Year-Old Accidentally Exercises Second Amendment Rights'
Gun owners nationwide are applauding the patriotic, though accidental, exercise of Second Amendment rights by 8-year-old Timothy Cummings Tuesday.

"Timothy is a symbol of American heroism," said NRA executive vice president Wayne LaPierre from Cummings' bedside at Norfolk General Hospital, where the boy is in serious but stable condition from a self-inflicted gunshot wound. "While praying for his recovery, we should all thank God that his inalienable right to keep and bear arms has not been infringed."
New York Daily News, May 1, 2013
A Kentucky toddler was accidentally shot dead by her own brother as he played with a gun he'd been given as a gift, police said.

Adorable Caroline Sparks, 2, was killed after her 5-year-old sibling fired the .22-caliber rifle at their Burkesville home at 1 p.m. Tuesday. [...]

The Lexington Herald-Leader reports the weapon — a Crickett branded by makers Keystone Sporting Arms as "My First Rifle" — was given to the little boy last year.
The Onion, February 18, 2004
Gillette CEO: 'Fuck Everything, We're Doing Five Blades'
Would someone tell me how this happened? We were the fucking vanguard of shaving in this country. The Gillette Mach3 was the razor to own. Then the other guy came out with a three-blade razor. Were we scared? Hell, no. Because we hit back with a little thing called the Mach3Turbo. That's three blades and an aloe strip. For moisture. But you know what happened next? Shut up, I'm telling you what happened—the bastards went to four blades. Now we're standing around with our cocks in our hands, selling three blades and a strip. Moisture or no, suddenly we're the chumps. Well, fuck it. We're going to five blades.
CNN, September 14, 2005
Gillette has escalated the razor wars yet again, unveiling a new line of razors on Wednesday with five blades and a lubricating strip on both the front and back.
The Onion, March 31, 2008
'9/11 Conspiracy Theories 'Ridiculous,' Al Qaeda Says'
The New York Times, September 28, 2011
'Stop the Conspiracy Theories, Al Qaeda Tells Iranian Leader'
Al Qaeda has a message for President Mahmoud Ahmadinejad of Iran: enough with the conspiracy theories about Sept. 11.

The latest issue of the terror group's English-language magazine, Inspire, lashed out at the Iranian president for indulging in the claim that the American government — and not Al Qaeda — was responsible for the attack.
The Onion, March 26, 2013
'Supreme Court On Gay Marriage: 'Sure, Who Cares''
Ten minutes into oral arguments over whether or not homosexuals should be allowed to marry one another, a visibly confounded Supreme Court stopped legal proceedings Tuesday and ruled that gay marriage was "perfectly fine" and that the court could "care less who marries whom."
Wall Street Journal, June 26, 2015
'Supreme Court Rules Gay Marriage Is a Nationwide Right'